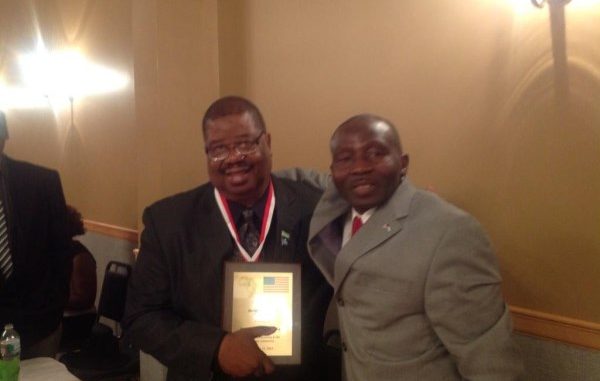 The Publisher and CEO of the COCORIOKO Newspaper , Rev. Leeroy Wilfred Kabs-Kanu , who is also Sierra Leone's Minister Plenipotentiary to the United Nations,  has received another coveted award for outstanding Journalism and Community Service. He was one of many distinguished Sierra Leoneans honored with the GEMS OF AFRICA Award yesterday night by the U.S.-based organization, SPRINGS OF JOY.
In a colorful and thrilling Awards ceremony held in New Jersey last night, Sierra Leoneans ranging from a medical doctor to  bureaucrats, technocrats, musical artists, community activists and leaders  and religious heads were recognized for the exemplary role they are playing in the society.
 TOP PHOTO : REV. KABS-KANU SPEAKING AFTER RECEIVING HIS AWARD . HERE, REV.KABS-KANU POSES WITH HIS COUSIN, PROFESSOR MIKE DILLO SESAY
The Chairman of the SPRINGS OF JOY organization, Mr. Abraham Siaffa ,  said it was  fitting to identify in the society people who were playing a great role to move the nation forward and to honor them publicly. The Springs of Joy,  a Christian organization,  had the New Jersey edition of its famous Gems of Africa awards. This  event has  been previously held at  Maryland, Virginia, Washington DC and  Philadelphia. According to the Mr. Siaffa , " its a unique time when  Africans especially Sierra Leoneans are honoured,   awarded and celebrated for their contribution to their respective communities."
REV. KABS -KANU( FAR LEFT ) AND OTHER HONOREES MR. AHMED KARGBO AND MR. AL. KANU
This great event , initiated by ABRAHAM SIAFA , has been making so much impact, with  many useful  people bing honoured.
MR. ABRAHAM SIAFA–THE CHAIRMAN OF SPRINGS OF JOY–  AND  ONE OF THE MCs
FROM LEFT ABRAHAM SIAFA , CHAIRMAN OF SPRINGS OF JOY POSES WITH  THE GUEST SPEAKER PROFESSOR MIKE DILLO SESAY AND AL KANU
ON THE FAR RIGHT, MR. PAVI JALLOH AND HIS SON, KANDEH ( HOLDING DADDY'S AWARD ) , AL KANU, AHMED KARGBO, KABS KANU AND MOHAMED CONTEH 
EVANGELIST KOLLEH SAMURA, ACCOMPANIED BY HIS LOVELY WIFE, RECEIVES HIS AWARD; IN ADDITION TO BEING ONE OF THOSE HONOURED, REV. KABS-KANU WAS ASKED TO SERVE AS ONE OF THE PRESENTERS
KABS KANU, AHMED KARGBO AND AL KANU
Yesterday night , a total of 25 people were honoured from New Jersey and New York.  Springs of  Joy is also working with less fortunate children in  Freetown and  Sami village in Sierra Leone.  Springs of Joy is also  known for its famous bowl of praise event in Sierra Leone , where thousands came to the national stadium for a night of praise,worship and music once a year in February. The next gems of Africa event is in December in Maryland.
ONE PART OF THE JAMPACKED HALL 
REV.KABS-KANU SAYS THANKS TO THE WELL-WISHERS WHO DANCED WITH HIM TO RECEIVE HIS AWARD
Yesterday's honorees were :
Here is a list of the awardees.
1-Alhaji Abdul Karim Savage
2-Mr. Mohamed Conteh
3-Serry Sam Productions
4-Rev. Wilfred Leeroy Kabbs Kanu
5-Sierraleone Committee of New Jersey
6-Shooting Stars Football Club
7-Dr Sulaiman Sannoh
8-Mr. Busari Savage
9-Mr. Ramanu Davies
10-Evangelist Kolleh Samura
11-Rev Sam Ticker
12-Mr.Pavi Jalloh
13-Ahmed Deen Kargbo
14-Haja Ramatu Ahmed
15-Mrs. Rugiatu Bah
16-Mrs.Julia H. Conteh
17-Haja Fatima Jarieu Bona
18-Mr.Al Kanu
19-Ms Pamela Williams
20-Ms. Jennifer Grey
21-Dr.Amy Amara
22-Alhaji Saccoh
23-Ms. Fatima Diallo
This is the 7th award the COCORIOKO Publisher has received in his flourishing  JOURNALISM and public affairs as well as christian ministry career .
In 1975, the Fourah Bay College Students Union gave him  an award for excellent journalism and service to the students community; In 2008, he  received an award from the great NOSLINA ( National Organization of Sierra Leoneans in North America -where all the "BOOK PEOPLE" are domiciled ) . He was recommended for the award by the illustrious Mass Communications Professor Cecil Blake , "who had to first  famously chisel my rough edges openly at LEONENET -UMBC  before thinking that I deserved an  award" (According to the publisher ) . Before that , even while criticizing them left and right in 2005 , the Sierra Leone People's Party (SLPP) NEW YORK CHAPTER decided that he deserved an award during their honoring program for personalities impacting the New York and New Jersey communities; In 2011, he was one of the Sierra Leoneans honored with an award during the 50th Independence Anniversary celebrations of  the country. That same year, he also got an award from the umbrella UNION OF SIERRA LEONEAN ORGANIZATIONS IN NEW YORK ; Last year, the great SAVE SIERRA LEONE FOUNDATION honored him  as recipient of their HALL OF FAME Award
On receiving his award, Rev. Kabs-Kanu thanked SPRINGS OF JOY  for the recognition given to him and the hard work he was engaged in to promote Sierra Leone internationally in the media and to serve his community. He said that the award will motivate him to work even harder as he knows that there are people who appreciate good things in the society. He said the awards program  was also a sign that Sierra Leoneans were uniting their communities  and President Ernest Koroma would be very happy to hear that, because it will give the Agenda For Prosperity the opportunity to work. He told the gathering not to be taken by the negative publicity being given President Ernest Koroma's Agenda For Prosperity by divisive elements, and asked everybody to jump onboard and throw their support behind the President to make the Agenda suceed because in this Agenda For Prosperity  lay the future success of the country.
Mr. Pavi Jalloh , the Dean of Devry University in New Jersey, on receiving his award, said that all those being honoured  must count themselves  blessed to be honoured in public .He said it was a unique experience because in our society, people no longer get honoured. They get bashed . Therefore , for them  to be standing there and be honoured was a great accomplishment and they must cherish the victory .
The Guest Speaker, Professor Mike Dilo-Sesay, among other things called for Sierra Leone to be united and to think about what they could do to help develop their country .He condemned the [PH.D (Pull him/ her down ) syndrome in the Sierra Leone society. He described what SPRINGS OF JOY had done as a model of what our society should be –upbuilding and appreciating the efforts of deserving people instead of perpetually trying to pull people down.
READ HOW KABS-KANU FEELS ABOUT HIS AWARD : http://cocorioko.net/?p=1719
© 2013, COCORIOKO. All rights reserved. – Discuss this and other related articles on the Salone Forum