Sierra Leone's Vice – President Samuel Sam Sumana yesterday fled his home, and sought asylum from the U.S. Embassy in Freetown, alleging that troops of soldiers had surrounded his house and that he feared for his life. But Sierra Leone Government spokesmen and officials have accused the Vice-President of  being paranoid and also playing games with the nation and the unsuspecting international community , because all that happened yesterday was an exercise by the Government to ensure effective quarantine measures around Mr. Sumana, who is on a self-imposed 21-day quarantine after one of his security officers died of Ebola few weeks ago. Government officials vehemently denied claims by the VP that his life was under threat.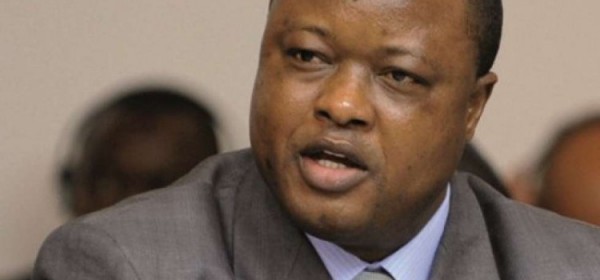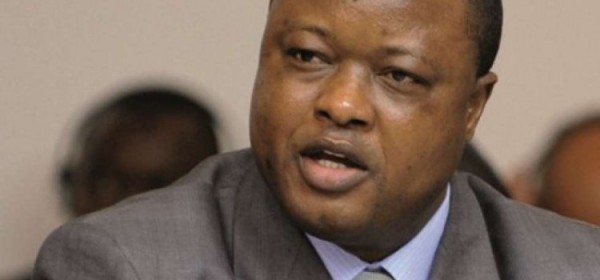 VP SAM SUMANA
The BBC reported yesterday that Mr Sam-Sumana said  he and his wife fled their home after "a tip-off" that soldiers were surrounding it. It turned out, according to Government, that the soldiers were only there to protect the VP and family to ensure effective compliance with Ebola protocols.  Officials swiftly accused Mr. Sam Sumana of playing games with the nation and the outside world in an attempt to gain public sympathy , following his ongoing saga with the ruling All People's Congress ( APC ) which expelled him a week and a half ago for allegedly fermenting chaos and discord within the party , orchestrating attacks against government officials and impersonating  to be a Masters degree holder.
Yesterday's events started when news hit the busy social media that the Government had sent troops to Sam Sumana's residence to disarm his security and personal guards and that the VP had fled to seek asylum at the U.S. Embassy . Without making any attempts to clarify the story, detractors of the government and supporters of the opposition Sierra Leone Prople's Party ( SLPP ) went on the rampage with a flurry of posts accusing  President Ernest Koroma of sending troops to arrest the VP and disarm his guards.
COCORIOKO  immediately went into action and called the relevant authorities in Sierra Leone for confirmation of the story. The officials  expressed shock and disbelief at the story and the claims by the VP  , describing them  as totally false and misleading . First of all, they said that it was absolutely unnecessary for the Government to send troops to harm the VP ,  because the government, which had built an impressive record for respect for human rights and the rule of law since it came to power in 2007  , did not operate like that; secondly, government officials asked why they would involve troops if they did not want Mr. Sam Sumana to continue acting as VP, when there were many viable legal and constitutional options open to them.Thirdly, State House sources said sending troops to attack anybody was antithetical to the character and leadership style of President Ernest Koroma, who has cut a marvelous niche as a tolerant, peaceful and democratic leader with profound respect for human rights and the rule of law.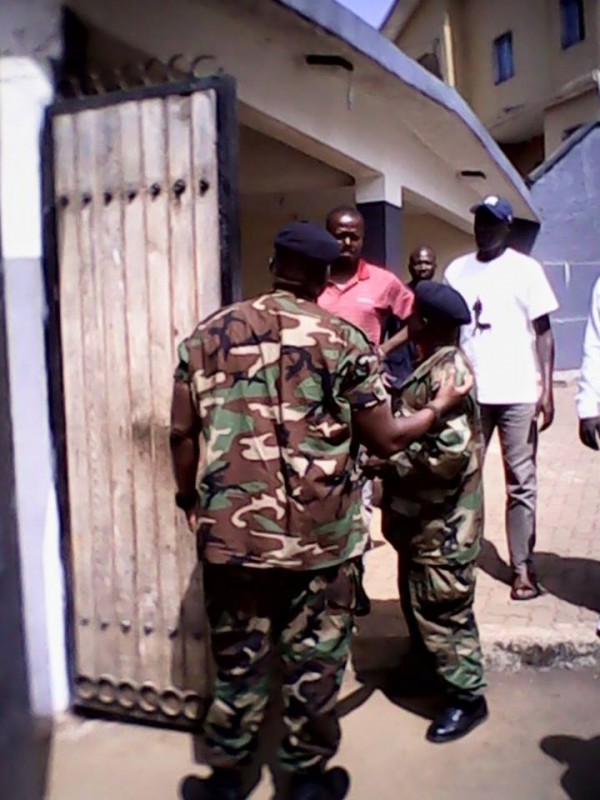 VP'S COMPOUND YESTERDAY : WHERE ARE THE TROOPS ? 
The Minister of Information and Communications, Mr. Alpha Sahid Kanu, and Outreach Coordinator of the Sierra Leone Government, Mr.  Abdulai  Bayraytay,  dismissed Mr. Sumana's fears , which Bayraytay described as "ludicrous"  . They  denied that troops were bent on harming the VP and stated that the  soldiers were deployed to ensure  effective quarantine measures around the vice president. "It is just the usual measures taken to ensure effective quarantine of Ebola suspects," Mr. Bayraytay said.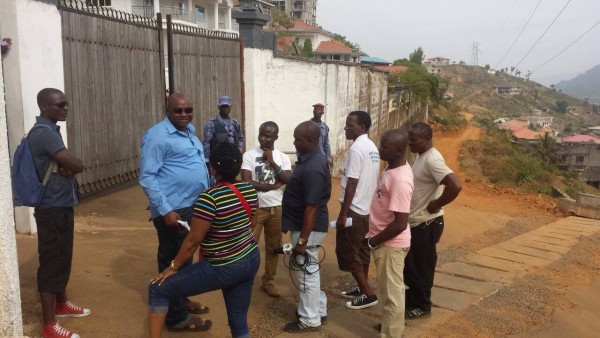 VP'S COMPOUND : CURIOUS YOUTHS BEING ASSURED BY ONE OF MR. SUMANA'S SECURITY OFFICERS THAT ALL WAS WELL
Sam-Sumana told the Associated Press that when he heard that troops were heading for his home , he tried to contact President Koroma , but was unable to get him and  he then called U.S. Ambassador John Hoover and requested asylum, asserting that  "They're having a meeting and they will get back to me."  But U.S. embassy spokeswoman Hollyn Green, who disclosed that Sam Sumana was not at the embassy,  told the press yesterday that embassy officials, including Hoover, had "seen the news" but could not provide any reaction. "There is no comment at the moment and there is no action on our part," Green said.
Mr. Bayraytay told a local radio station that President Ernest Koroma has fully guaranteed the safety of VP Sam Sumana and family , saying his government was obligated to ensure their security.
The problem between the VP and the APC  is being exacerbated by the extreme views  and eccentricities  of anti-government pundits in the social media ,who are ever ready to use the media platform to blow anything out of proportions in their crazed attempts to embarrass the government . Their tendency to spread false, damaging, malicious  and alarming stories is undermining the social fabric of society and beclouding  any issue that springs up, leaving Sierra Leoneans abroad confused about what next to believe about their country.
Government officials yesterday expressed disappointment at the attitudes of social media participants whose aim it seems is not to promote the truth about their country but to peddle lies and alarming reports.