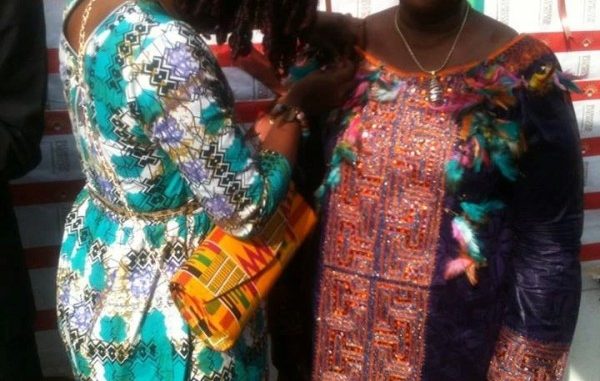 By ODA Communications Unit
Help the Helpless Consortium including Hope 4 Ebola Orphans, Embracing Children Adoption Services and Ripsta Culture GEDO has on the 1st May 2016 at Angola Town in Freetown honoured a Sierra Leonean Diaspora Philanthropist, Mama Mayila Yansaneh for her contributions to the less privileged children and women in Sierra Leone.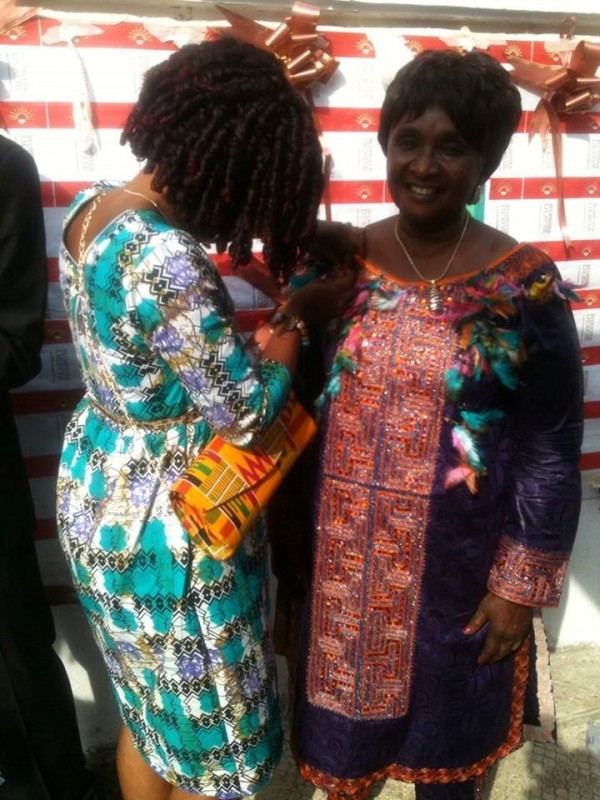 At the ceremony….guests bought rosette and pin on Mama Mayila Yansaneh for her great contributions to the less privileged children in Sierra Leone
As a way of demonstrating respect and recognition for her tireless effort towards children, the Consortium has named their Interim Care Center to "Mayila's Cradle''
Speaking at the naming and dedication ceremony of the center, the International Program Director of Embracing Children Adoption Services, Hedda Kristiansen Forquer said Mama Mayila Yansaneh really deserved the kind of commendation she is receiving now, because she has done so much for her home country Sierra Leone. "  Mama Mayila is a source of inspiration not just for women in Sierra Leone, but all over the world. I am honored to be able to work with her; also her effort to support children in Sierra Leone has inspired me greatly".  Said Hedda. She added that Mama Yansaneh never look back when it comes to issues of children, adding that she has passion to help helpless children; especially those children who were orphaned by the Ebola Virus. "It is no mistake that we are here today to officially name our Interim Care Center for Orphans to 'Mayila's cradle' in order to recognize her relentless effort to support children" Hedda Kristiasen Maintained.
In her statement, Ma ma Mayila Yansaneh who is a co- founder of Hope 4 Ebola Orphans said she started pursuing Children and women's issues years back and that she is still zealous to ensure that less privileged pupils are cared for. She explained that, when the deadly Ebola Virus was at its peak in the country, she travelled from Holland to Freetown with the motive to come and salvage the condition of children who had been affected by the outbreak.  "When I came to Freetown at that time, I and my team visited areas like Moa Wharf that was badly hit by the Ebola virus Disease, and we took some photos of children who were seriously affected by the disease" said Madam Yansaneh. She furthered that upon her return to Holland she used the photos to garner resources and later came back to the country to help  Ebola Orphans and other children who were affected by the Ebola virus
According to Madam Yansaneh, her charity Foundation Hope 4 Ebola Orphans has been doing a lot of good things for Orphans and other less privileged children in the country. Some of these good things she said range from the provision of school kits with pads, pens, pencils and bags, uniforms for Ebola orphans to the payment of school fees for quite a good number of these Ebola orphans. Madam Yansaneh also explained that she actually enjoyed her partnership with Embracing children Adoption Services and Ripsta Culture GEDO.  Madam Yansaneh informed that she has been provided acres of land by the government to construct a center for children in the country. She however thanked all those who have supported her including Corr Hoogendoom from Holland Shipyard Company in her strive to help develop the lives of the less privileged children in the country.  "I am calling on sponsors to provide me the required resources, so that we will continue to improve the lives of these vulnerable children.
Chief Pa Alimamy Komeh of Moa wharf Community commended Mama Yansaneh for her commitment to improve the lives of children in the country. He described Madam Yansaneh as a 'mother' of less privileged children in Sierra Leone.
Meanwhile, statements were also made by several speakers who praised Madam Yansaneh for her good work towards children and women.
The dedication and naming ceremony of the Interim Care Center was climaxed with the release of an album title: "Help Ebola Orphans "by the Sierra Leone music Ambassador to Europe, Obi-Phrase and the Ripsta Culture Band.