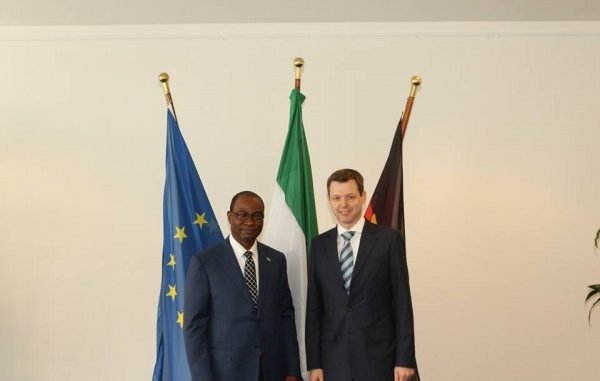 By Umaru S. Jah — Information Attaché, Germany :
The Minister of Foreign Affairs and International Cooperation, Dr. Samura Kamara has expressed confidence that the country will soon be proud to have their son leading an enviable institution should he be elected President of the African Development Bank any time soon.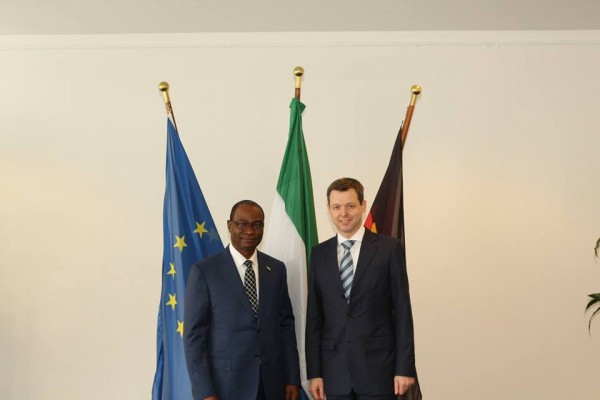 He made this disclosure during an exclusive interview with Sierra Leone's Information Attaché to the Federal Republic of Germany, Umaru S. Jah, during his recent meeting with Germany's Governor at the African Development Bank in Berlin, Thomas Silberhorn. Mr. Silberhorn is also Parliamentary State Secretary to the Federal Minister for Economic Cooperation and Development.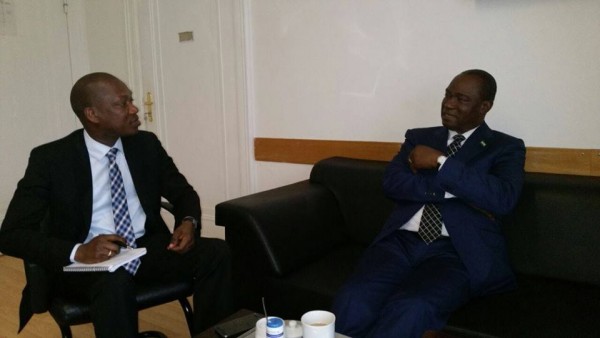 Immediately after the Minister's meeting with Mr. Silberhorn, Umaru Jah engaged the Hon. Minister on strategic issues regarding – among other things – his candidacy as President of the African Development Bank and the country's future in terms of international cooperation and development. Please read the full interview below: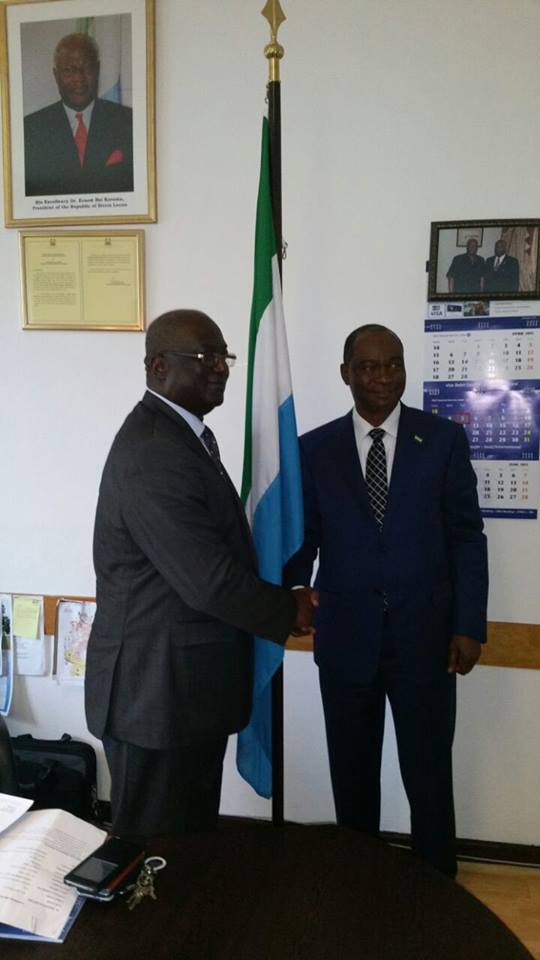 Umaru Jah: Any time soon the African Development Bank Board of Governors will vote to decide the successor to President Donald Keberuka, and you happen to be one among the eight candidates contesting for that position. What is your campaign strategy and how far have you gone in articulating your vision?
Dr. Kamara: I have been engaged in building on President Koroma's outreach strategy. He has done a lot of telephoning and writing letters to his colleague Presidents including Barack Obama in the US, Russia, France and China. He has also met them personally at international meetings to inform them about my candidacy. So it is a combination of telephone by the president and our own efforts as an individual with my colleagues at bilateral meetings and ministerial level. But also we've used the diplomatic channels to talk to our diplomatic and consular core in Sierra Leone through them to their respective countries. We have also developed documentation like brochures and magazines explaining our vision. So it is a combination of print and electronic media, personal contacts by the President and personal contact at Ministerial level.
Umaru Jah: What is the significance of you being the President of ADB to the people of Sierra Leone and the country as a whole?
Dr. Kamara: It's huge; you are taking Sierra Leone to the International community more forcefully than ever before. Having a Sierra Leonean as President of ADB, the people of Sierra Leone will be very proud that they have their son leading such an enviable institution, which is the prime international financial institution for Africa. It will carry a very positive image for Sierra Leone and it will show that Sierra Leone is now ready to stand up, raise his voice and influence in the international arena. I think it will also help economically because I am sure that investors will come to Sierra Leone thinking that they have a reputable Sierra Leonean in one of the top most institutions in the world.
Umaru Jah: It is no doubt that the bank under the leadership of president Keberuka has made major improvements in critically needed infrastructure and technical advice both of which have contributed substantially to the sustained economic growth that Africa has witnessed thus far. How prepared are you to take over the helm as you will be spearheading ongoing implementation strategy for 2013-2022?
Dr. Kamara: I think preparatory work comes from experience one has acquired over the years in meeting development challenges on a broader perspective. My years in leading post-conflict recovery of Sierra Leone have exposed me to a number of development challenges that are central in any African country. Issues like road Infrastructure, Energy, water, Information and Communication Technology, Human Development and Governance are very important in managing economy. I have been dealing with development issues for over 30 years. As a former Finance Minister, the governor of the central bank, and now in my current capacity as Foreign Minister, I have played a major role in the revitalisation of both Sierra Leone's domestic economy, and its commercial relations with the region, continent and beyond. I have demonstrated an ability to help my country navigate its way back from civil war and through the recent Ebola crisis—an ongoing challenge. These are significant issues requiring highly engaged and nimble international coordination. So it is a broad based type of development experience which I would now like to apply for the benefit of all Africans.
Umaru Jah: Despite the huge funds at the bank's disposal, efforts towards developing the African continent are being frustrated by corruption and political instability. What is your vision for the role of the bank in dynamic emerging economies and for their role in governance?
Dr. Kamara: Governance is a very big challenge in all countries and it is also a very big challenge at cooperate level if you want to develop the private sector. But I think many African countries including Sierra Leone have made tremendous improvements in governance, and governance comes with issues of accountability, transparency, service delivery and utilisation of public funds. In Sierra Leone for example, we have one of the strongest Anti Corruption Commission (ACC) and also the strongest Public Financial Management Reform (PFM) trajectory. We started PFM reforms since 2002 and we are still continuing with it. I have made strong inroads in the use of public expenditure management, internal revenue generation, public procurement, performance of government institutions etc; and I think a lot of African countries have done the same as well. But the bank needs to come in strongly in that because that is the foundation for the use of donor funds. Now moving forward, Africa's challenge comes from the post 2015 development agenda which is broader now. Many countries have made tremendous improvements in pursuing economic growth and human development but there are still huge gaps. For instance, we still have poor road networks, energy is still weak both in terms of generation and distribution, our health and educational institutions are also very weak so you can see that the bank may have resources but the resources are in no way adequate to meet African development challenges. But you can use the bank's resources to leverage resources from other international donor institutions.
Umaru Jah: Let me take you back to your specific responsibilities as Sierra Leone's Minister of Foreign Affairs and International Cooperation. What impact have you created in that ministry and how do you cope with the challenges faced so far?
Dr. Kamara: I think the foreign service of any country is the eye for that country in the world. So you need to strengthen that Eye. If the lens is very small you need to make it bigger. You also need to have a lens that actually captures what is right, what can be used to raise Sierra Leone's voice and influence the international arena – that's the role of the foreign ministry. When I was in Finance, I did that through my meetings with the IMF, ADB and international financial institutions. Now I am doing this through countries and institutions that look at foreign policy. As I always tell my colleagues, the perspective I have for the Foreign Service is one that requires us to think deeper into economic diplomacy where you transform the Foreign Service more fully as a development agency in terms of resource mobilisation, and that is why they call it International Cooperation. International cooperation is about going to countries, encourage them to come to your country and invest, at the same time seeking for development support in all dimensions. The routine function of the Foreign Service has been political diplomacy which is good but I don't think it is sufficient. But you can combine it with how to make sure that Sierra Leone increases its voice in the international fora mostly to encourage people to come to Sierra Leone as an investment destination.
These are the key challenges including other issues like capacity building within the public service. Since my appointment as Foreign Minister, I have developed a Foreign Service agenda which was launched by President Koroma in February. In that agenda we looked at nine pillars that needs re-examination and re-assessment, clear lines of responsibilities, the appointment of Ambassadors, consuls, integration of sectors like the appointment of Information Attachés, local recruitment policy and everything that has to do with building capacity and strengthening the outreach of the Foreign Service. At the beginning we gave a small overview with the key elements comprising modern diplomacy — political, economic and cultural diplomacy, and put them together in a document. This is our agenda. In finance I led the development of the Agenda for Change and the later the Agenda for Prosperity. At the central bank I led the development of Sierra Leone's financial sector so I thought it fit to do another one at the Foreign Service. I am sure if I am to go back to any ministry I will try to first of all understand and then develop a trajectory and that what's guides you but implementation is the most difficult.