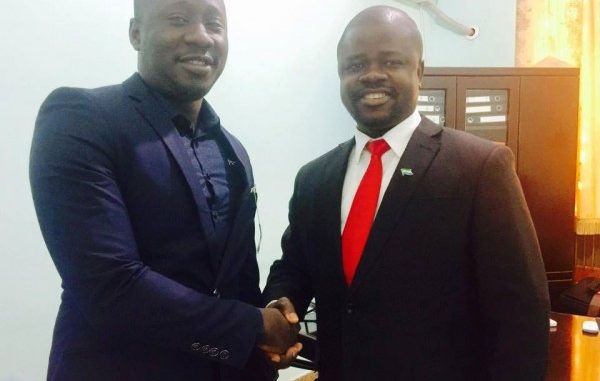 John Baimba Sesay- China
Sierra Leone offers huge untapped touristic potentials, with high-end ecotourism experiences, added to the hundreds of kilometers of prime beaches. It thus has unique landscape, scenery and cultural heritage unexplored.
The sector could, when fully exploited, account for substantial proportion of employment and revenue generation.
Creating the needed incentives for the internal market in a bid to support the industry and induce greater local private sector involvement remains an existing challenge. Government remains committed to see the sector grows as it is vital for the country's economic growth.
Sidi Yayah Tunis is the country's tourism and culture minister.
On the invitation of the Chinese government, he was, together with his professional heads- Director of Tourism Mohamed Jalloh and Yassin Kargbo, General Manager, National Tourist Board, in China for the 2016 Guangdong 21st Century Maritime Silk Road International Expo.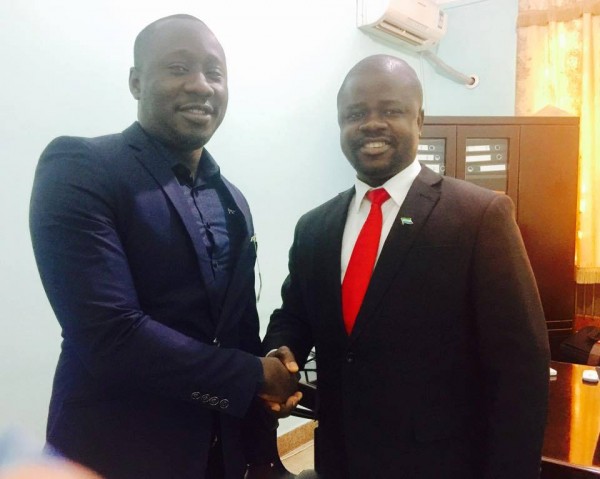 The expo, from October 27th-30th, 2016, was part of efforts to implement China's national development strategy of the "Belt and Road" Initiative and set up a new cooperation platform for Guangdong and countries (regions) along the Maritime Silk Road to expand cooperation areas, a report said.
In this interview, minister Tunis spoke on his visit, the potentials that the tourism sector has and what has been accomplished by his ministry. We started off by looking at the China visit:
SYT: The event was attended by Prime Ministers from countries like Malaysia, Thailand, Indonesia and other south East Asian countries. I was the only African minister that attended. I had side meetings and was privileged to meet with the leadership of both Guangdong province and Guangzhou municipality. I was chosen as one of the ministers for the Ministerial Forum to speak on possibilities of Chinese investment abroad. This was a platform I used to highlight the investment potentials of Sierra Leone.
JBS: And to what extent did you discuss our potentials as a country?
SYT: Well, I first spoke on government policies and agenda; starting with the Agenda for Change to the Agenda for Prosperity and the successes we have scored in agriculture, our investment in energy, health, education amongst others. I also spoke of the policies government has put in place to encourage Foreign Direct Investment like the 'One-stop-shop', the tax concessions and duty waivers given to companies.
I spoke of how our economy was doing well and how probably China is leading in Sierra Leone in the area of Foreign Direct Investment. You know, our economy was growing well until ebola struck but I told them, that government had to reprioritize and came up with an economic diversification, focusing on agriculture, tourism, fisheries and trade. These are areas that Chinese investors could also focus.
I also used the opportunity to appeal that, in as much as we are not part of the Silk Fund as a continent, they should start thinking of expanding beyond the south East Asian countries.
I was able to bring it to their (Guangdong province officials) attention that as they are thinking of moving some of their production companies abroad, let them also remember that about 90% of export from China to Sierra Leone comes from Guangzhou directly. They have the ready market in Sierra Leone. So they should make Sierra Leone a priority for some of their manufacturing companies thinking of going abroad.
JBS: Tourism is a major sector especially in our post ebola economic drive. Since you came in as minister, what is new in the sector and the ministry?
SYT: When we came in, we focused on three main areas-capacities within the ministry and the industry; infrastructure and; marketing.
For capacity building, we have been able to increase capacity by adding on our staff through the Public Service Commission. We now have more Tourist Officers in place and Cultural Officers as well.
We have also been able to look at our regulations by reviewing some. We are in the process of popularizing both the tourism and cultural policies. We are in the process of sending in, a cabinet memo, requesting for cabinet to grant permission to review the 1990 Development of Tourism Act.
We realized some of these Acts are obsolete and we have people taking advantage of these lapses, which is impeding tourism growth. So we want to strengthen the Act and clear those bottlenecks.
We have reviewed the Monument and Relics Act 1962. We just need to take it to cabinet for approval and eventually to parliament for enactment.
We have had several meetings with stakeholders and we have been able to setup structures. For instance, we introduced what we now call the 'Tourism Think Tank', made up of people from different Ministries, Departments and Agencies and stakeholders from the tourism industry.
This is like an advisory body that would be advising the ministry on promotion and implementation of tourism projects. It is not there to take the job of Tourist Board, which is limited with small amount of people. This is an expanded body that includes policy makers and stakeholders having to do with tourism.
In terms of infrastructure, we have succeeded in reclaiming some of our lost properties. For instance, at the Lumley Beach, people were just encroaching on the land and we were able to demolish many structures. Those that held to lands they have not developed, we have been able to reclaim such lands.
JBS: Has much been happening with marketing?
SYT: We are approaching this area from three fronts; traditional marketing that has been going on- that is, going to other countries and taking parts on international events like the one we just attended here in China.
We have targeted few countries. In the 1990s we had a tourism boom in Sierra Leone. The French market was our major market. This year we were able to attend one of their biggest marketing fair on tourism. From there we were able to score successes. We had two Tour Operators that expressed their desire to do business with us. This November, they should be coming with their first batch of Tourists from France and then in December, 2016 and January, 2017.
We also had a spotlight in the US. We were invited at the Diaspora World Tourism Awards. And because of our engagement so far at the international level in rebranding our country, we were awarded. We were also at the UN General Assembly and we were able to showcase the country.
We are also working on documentary to be aired on international stations. This is the second thing we are doing. The third is doing our website. We have completed that, just a matter of publicizing it. We are waiting for our Tourism Master Plane, which we are working on and we want to have that on our website as well.
Through the Tourism Master Plane, we went across the country to identify all the tourist attraction places we have. We were able to discover new sites. There is no district in Sierra Leone without a tourist attraction.
JBS: What is being done to encourage local tourism?
SYT: Domestic tourism is also very important. Our focus is how we can increase on it and not just focus on international tourism. We are thinking of expanding outside of Freetown. What we have decided to do is to set up offices in the regions. We have been able to establish Tourism Promotion Office in Makeni. Next year we are doing same for Bo and Kenema.
Bonthe is strategic. We have investors that have expressed interest in Bonthe. We are still having discussions and hopefully we are making gains.
But we also have undertaken two major projects; we have almost completed construction of Cultural Village, just outside of Six Mile. The idea of this village is for us to be able to develop our cultures and traditions further. We are almost losing that aspect of our livelihood. It is going to be a centre where people can visit and learn more about our culture and traditions.
We are also in the process of constructing a National Arts Gallery. We have done the fencing and soon, we will start the construction on a BOT (Build, Operate, and Transfer) base.
We have had three different investors in China who have expressed interest in the Arts Gallery, added to those who have expressed similar interests from Russia and Italy.
In fact, in China, there have been discussions to take it further like having a Sierra Leone-China Cultural Exchange Programme wherein, they would send people to Sierra Leone to learn about our culture and we can also send our people to China to do likewise. We have had people who have expressed interest in constructing shopping malls, movie theatres, and fun parks for kids.
JBS: …and the hotel industry, how much is happening in there?
SYT: We have some good hotels as far as facilities and services are concerned. We have some brand new hotels-Radisson Blue amongst others; we have Hilton coming up which is going to be a full five-star hotel plus others coming up. We have couple of small decent hotels coming up. Once all of these hotels are completed, we would have good accommodation for tourists.
But what we are also trying to achieve is changing the perception especially at the international level. So many positives have happened in the country but every time you goggle about Sierra Leone, it is either about blood diamond or the war. That is a perception we have to change. I have started engaging the UN because our country is still listed as a crisis country and that is impeding tourism growth. That is having a negative impact on us.
By next year, we want to focus on having ecotourism sites in different districts. With that we can be able to organize activities in these districts. So, we are focusing on both domestic and international tourism.
JBS: What message do you have for tourists wanting to visit?
SYT: Sierra Leone is a beautiful country in West Africa. We are a peaceful country, tolerant, with thirteen ethnic groups with different cultures and traditions but all interrelated and practiced with no problem. We have beautiful beaches and natural attractions!
— with Philip Donald Kargbo.