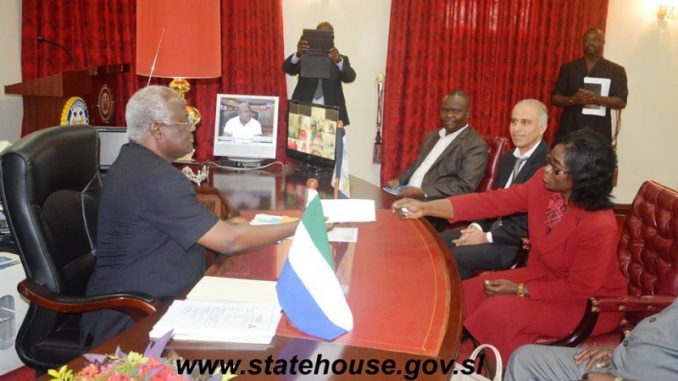 Apar t from its many side interventions made since the inception of the ebola outbreak in the country, Sierratel has donated the generous sum of two hundred million Leones (Le200,000,000) to the President of the Republic of Sierra Leone to help combat the growing malaise.Presenting the cheque to President Ernest Bai Koroma at State House on behalf of the Board and Management of Sierratel, the Board Chairperson Madam Alice Onomake revealed that Sierratel is a government company, that is  operated and owned by the people of Sierra Leone and as such "the company exist for the people of this country" she noted.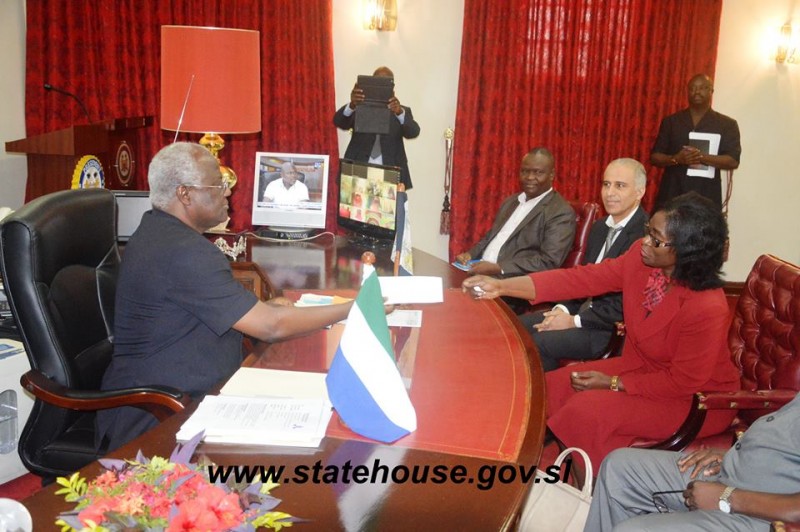 In this respect, Madam Onomake reiterated that "We seek the interest of the people of Sierra Leone and whatever affects the people of sierra Leone affects the company" She stated. In this regard "we are here to support the fight against this deadly virus with the sum of two hundred million Leones which we know is not enough but we give this as a show of solidarity to what your government has been doing ever since the outbreak of this deadly virus" she expressed to the President. The Chairperson also informed the President among other things that the company is ready to support the government in many other ways in the fight against the Ebola disease as the "burden is not for you to bear alone" Madam Onomake revealed to the First Gentleman.
Receiving the Cheque President Ernest Bai Koroma thanked the Sierratel Board and  Management for their timely intervention in the fight against the Ebola disease. The President alerted that "the Ebola virus is deadly  and its serious, if we don't join to fight it, it  will have a gross health, social and economic effect on the country".  The President also noted that "a disease that affects Sierra Leone in this manner should be of interest to every Sierra Leonean and we must all have hands on deck to ensure that we put this behind our back".
As part of his commendation, the President stated that  I believe Sierratel has responded to my appeal to fight against Ebola and I encourage  other institutions to join in the fight against this deadly virus.
Present at the presentation at State House also were General Manager of the Company, other members of the Board and Staff of Sierratel.