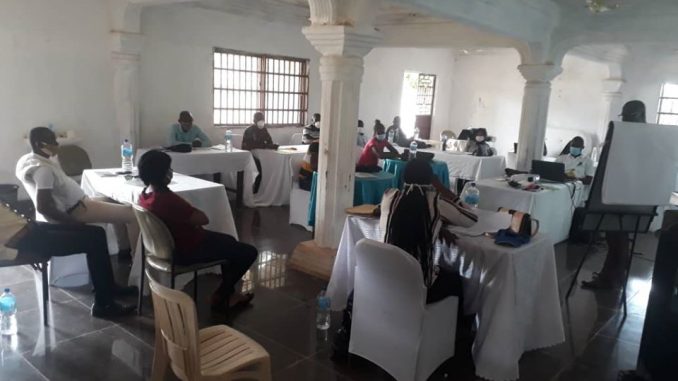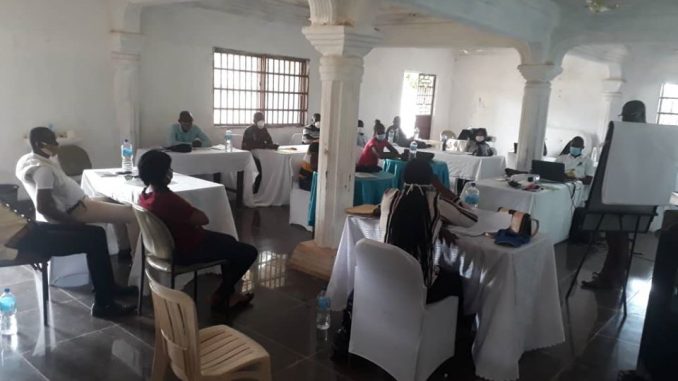 A five-day training of journalists in the Eastern Region of Sierra Leone on Ethical Reporting on COVID-19 ended earlier on today, 27th April, 2020 at the Amuloma Hall, Reservation, Kenema Town.
Organised by the Sierra Leone Association of Journalists (SLAJ) Eastern Region with support from WHH, the training targeted 50 journalists from the region in five batches spread across five days from the 23rd to 27th April, 2020.
Lead facilitator Dr. Francis Sowa, dealt with Ethical Reporting of COVID 19, SLAJ CODE of Ethics, the Independent Media Code of Practice and other statutory instruments related to operations of journalists in Sierra Leone.
Another facilitator, journalist Sam Alpha Lahai, spoke on journalism and its practice using the 5Ws & H in reporting COVID-19 and on Emergency Risk Communication and its principles.
A representative from the District Emergency Operations Committee (DEOC), Francis Suma, spoke on the emergence of coronavirus, dangers, signs and symptoms, status report, and expectations from media on COVID 19 messages and reportage.
During the opening ceremony statements were made by WHH, DEOC and Right to Access Information Commission (RAIC).
According to lead facilitator, Dr. Sowa, journalists during the training acquitted the required information and skills on Ethical Reporting on COVID-19.
"We expect them to go back to their media houses well equipped to provide the correct and appropriate messages on COVID-19," said Dr. Sowa.
Meanwhile, the SLAJ Regional Chairperson Eastern Region Victoria Bernard, described the training as very timely and absolutely relevant as journalists are fully involved in the national response effort.
"Our role as journalists in the fight against the COVID-19 is very important, for our people now rely on us to give them reliable information on daily basis. Therefore, it is our responsibility to report professionally and accurately, and be good examples of what we talk about to instill hope in our people," said Victoria.
The training was climaxed by the presentation of 50 face masks to journalists in the region which were part of a donation of 300 masks by the Deputy Minister of Information and Communications, Mamadi Gobeh Kamara, to SLAJ.