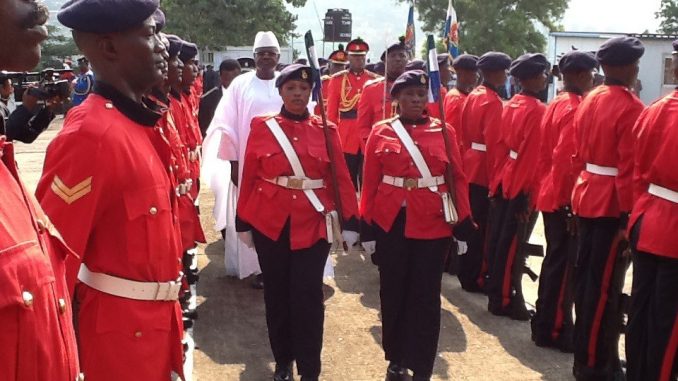 PRESIDENT Ernest Bai Koroma  stirred hope and optimism in the hearts of  Sierra Leoneans with a rather inspiring speech from the throne at the State Opening of the Fourth Parliament of the Republic of Sierra Leone. We bring you a  comprehensive analysis of President Koroma's speech by Mass Media professional Sheriff Mahmud Ismail :
President Koroma today inaugurated the First Session of the Fourth Parliament of the Republic of Sierra Leone. In his very first sentences, he thanked Sierra Leoneans for mandating him for what he called "the second and last time" to implement a "social contract" with an "economic imperative"( the "Agenda for Prosperity). He promised "equitable distribution" of the national wealth through a diversified economy and vowed to promote national unity as well as youth employment.
In an apparent reference to the many boycotts/walk-outs by the opposition in the last parliament, he said provocatively "I warned some of my friends in the last parliament who were in the habit of boycotting that one day the people will boycott them. Today I look around for many of them but I could not find them". The President encouraged especially the new Members of Parliament to always remember their commitment to their constituents and to put national interest above all else. "Dialogue is better than boycott". President Koroma played the statesman's card by committing to serve his people irrespective of region or ethnicity. He impressed many and enhanced his democratic credentials with the reference to "the last and final term". Such a definitive declaration means that the president will not take advantage of his parliamentary majority to amend the constitution to allow him a third term. As in many countries, Sierra Leone's constitution provides only for a two consecutive terms of office.
The Parliamentarians, like President Koroma, were dressed in white–A symbol of purity , victory and peace
APC Parliamentarians
APC Secretary General Victor Foh in blue and Political Affairs Minister Alpha Kanu
 SLPP Parliamentarians
APC Parliamentarians
President Koroma inspects a Guard of Honour before the occasion
Regarding the various things he would do in the next five years, the speech did not provide any specifics nor did it identify any priorities whether in the short, medium or long term. In 2007, the Agenda for Change blueprint which identified the priorities including the modus operandi for the implementation of that agenda was generated during a retreat with his ministers. If this is the pattern he would follow, then we would have to wait at least a month to get a better picture of the immediate tasks of this new administration since the president is yet to announce his new cabinet (expected any time between now and the Monday).
The highlights of the Speech:
A new city main land airport and will be constructed at Mamama, just after waterloo.
Youth Empowerment and Employment- The president committed to pay a greater time of the next five years on youths. The activities will include scaling up local content and exploring internship programs to be implemented by the National Youth Commission (NAYCOM). Emphasis will be on training to ensure employability in the new mining and petroleum economy through the transformation of the educational system to meet the country market/private sector demands.
Education: To ensure youths become more employable, the curriculum will be reviewed in tandem with contemporary labor and professional management needs. The enforcement of free primary education will be supported by the revival of the feeding program in schools and subsidized bus services for schools in Bo, Makeni, Kenema and Koidu.
Economic Diversification and social Equity: More investment in agriculture, introduction of cottage industry and better and more efficient management of natural resources. The coverage of the National Social Security and Insurance Trust will be expanded to petty traders, bike riders and artesans.
Energy Generation and Distribution: The government will exploit existing hydro projects, explore additional hydro power potential, harness solar power and clean energy. Reduce dependence on thermal plants which are too costly to manage and increase the installation of prepaid meters to foster better revenue collection. The focus will be a public, private partnership.
Health and Sanitation: Continuation of the free health care program possibly expanding the coverage to other social groups; more hospitals, clinics, more efficient and effective service delivery Sanitary Inspectors will be reintroduced and better sewage system to be developed
Water Supply systems. Government will explore the full utilization of the country's surface and underground water resources, improved access and deal with unauthorized tampering of Guma infrastructure.
Gender Equality: Government will implement 30% quota across MDAs and give women the opportunity to hold positions hither to unthinkable for women.
Access to Housing: The government will strengthen the Lands and Country Planning Ministry to ensure better planning of existing and new settlements, improve the housing mortgage scheme It will engage private investment and development partners in this direction.
Transport, Information and Communication: Boost ICTs through the completion of fiber optic project to facilitate high speed internet connectivity and improve penetration of land line and mobile telephone throughout the country. Construct regional airfields, more roads with appropriate bus stops, provide more buses and introduce toll system for some of the roads. Improve the safety and dignity of travelers.
Good governance. Strengthen separation of powers, access to justice, review the 1991 Constitution; strengthen local and chiefdom governance- review the Local Council Act, review local boundaries and re-establish Town Councils, timely fill up chief and section chief vacancies and enact/implement chiefdom finance bill to address chiefdom finance challenges. Encourage bi-partisan dialogue and promote national unity.
Foreign Policy: Promote international business investment, condemn coups and undemocratic ascension to power, and support international economic diplomacy. Sierra Leone will also review its international missions for effectiveness and efficient promotion of national interest. This means the closure, merger and or establishment of mission as, when and where necessary. The government will fight against drug, and child trafficking as well as money laundry.
Photo credit : Jarrah Kawusu-Konte