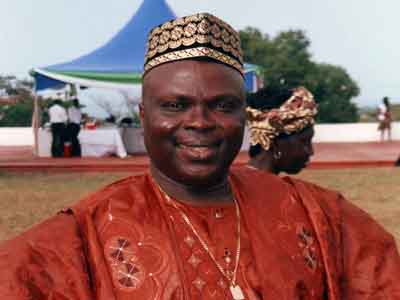 By KABS KANU :
On  Thursday afternoon,  one of  the most transparent and accountable ministers in the  President Ernest Bai Koroma  government , Hon . Leonard Balogun Koroma , forwarded me   SMS texts pertaining to  exchanges he had made with popular radio journalist,  Dr. David Tam-Baryoh with regards to allegations made against him by  a so-called lady friend  that  Mr. Koroma planned to deal with Dr.Baryoh for being an SLPP  member and for "pretending" . The three text exchanges were shocking to me  because I had known both men to be great friends , and when I had read and digested them, I was left in deep thoughts for long.
LEONARD BALOGUN KOROMA :  ONE OF THE BEST MINISTERS ,  A  DEMOCRAT  AND  A GOOD FRIEND OF THE MEDIA
To be sincerely honest,  both Transport and Aviation Minister, Hon. Leonard Balogun Koroma and the famous presenter of the MONOLOGUE program, David Tam-Baryoh ,  are two of my finest friends and I hold the highest respect for both gentlemen . I have known Mr. Balogun Koroma for over 40 years and we were  teenagers , along with the President of Sierra Leone, Dr. Ernest Bai Koroma and prominent members of the ruling government like Ambassadors Bockarie Stevens , Andrew Gbebay Bangali, Soulay Bashirou Daramy , Osman Yansaneh, Ibrahim Sourie , S.B.B .Dumbuya , the late Hindolo Trye , the late Kemoh Kanji Daramy etc. etc. when we attended Fourah Bay College in the early to  mid-1970s . It means that whatever I write about these gentlemen will always be authentic because I knew them as youngsters and at a time when we were all unguarded teens , so to speak ( full of youthful exuberance  that is  ) and never dreamt that there would have come a time when we would be ruling our beloved country— It was a time when the true character of a man  had been formed and when he had no reason to pretend to be what he was not.
DAVID TAM-BARYOH : A FRIEND  AND A BRILLIANT JOURNALIST
Since our college days, Logus Koroma has  never been known to be anti-press or anti-democratic. He was a leading APC Youth activist on campus while, as Editor-In-Chief of Cocorioko and Spotlight student newspapers and a regular contributor to Chuks Press , I was part of the FBC  media that kept the Dr. Siaka Stevens -led APC Government sitting on tenterhooks with biting criticisms. Though we held opposing views about national governance at the time, Logus Koroma at no time  bred any animosity against me.  He used to read my brutal attacks on the government, as did Ernest Koroma,  Bockarie Stevens, Yansaneh,  SBB, Ibrahim Sourie and others. It  never affected our relationships. Therefore, I will be the first to rebut anybody who tries to cast these men  as individuals  hostile to the media or undemocratic.
The fact, in fact, is that Logus Koroma is one of the Sierra Leoneans who upholds the primacy of the tenets of Freedom of Speech and Freedom of the Press. Even in his text responses to Dr. Tam-Baryoh, one could see that Mr. Logus Koroma demonstrated profound respect for  Dr. Baryoh's position as a journalist. Logus was characteristically civil and very polite. In denying the allegations, he  admonished Dr. Baryoh : "Please continue to be professional: you are, and will remain my friend and brother. "
Logus Koroma has always loved the media and in demonstration of this fact, he has maintained a close , friendly and professional affinity with us, feeding us details of every event happening under his watch. When he was part of the APC peace delegation that came to the diaspora  in November to conduct reconciliation talks and organize a convention for the  APC branches  , Mr.Logus Koroma was  the one member of the delegation who kept  in constant touch with us in the media, giving us vital information and updates from Belgium, Germany and England . When the delegation arrived in the U.S, Logus not only immediately established contact with me but was even very loving and sympathetic  to me when he learnt that I was suffering from painful and burning feet. Therefore, Logus Koroma is a loving friend of the media. He is not only one of President Koroma's best ministers but a man of good heart who would never be part of any plot to harm anybody.
Now to Dr. David Tam-Baryoh.  Oftentimes, in the interpersonal relations between individuals, there are some people who naturally develop a personal liking for each other.  Even without first knowing each other well, they quickly develop the  synergy and ambiance that nurture and propel mutually good  and friendly relationships. That was what happened between me and David. We took a liking to each other after reading each others' articles and when we met for the first time in 2010 in New York when David was a member of a Sierra Leone delegation that came to the UN , we hugged and embraced each other like friends who had known each other for long. We worked together very amicably and cooperatively. David and I have profound personal respect for each other and we also respect each others' professional output. In addition, I think he is a great journalist and a patriotic one at that . He may have offended many people in the exercise of his duties as a journalist , but that is not strange. There is no journalist who has not offended people before during the execution of his job. It is part of life. Therefore, though he has hurt some people I also hold dear, I see a lot of potentials in the young man and he must be encouraged to do even better.
Logus and David are dear to me for the reasons I have given.
Therefore , given the kind of relationships and ties existing between me and both Logus Koroma and David Tam-Baryoh and going by what I know about them , the only role I will play in this affair is that of a peacemaker.
I believe that what has happened  between Logus and David is just an unfortunate event between two great brothers. With the kind of politics playing in this world, it is not uncommon for two decent friends or brothers to get caught in such an unfortunate misunderstanding. The lady friend of Logus Koroma who whispered to Tam-Baryoh that Minister Logus was planning to hurt him must have overplayed her hand and acted as a catalyst in  the rift, with all the other surrounding circumstances . How often has this not happened in the kind of cut-throat and dog-eat-dog politics that often tends to play itself out ? How many times have gossips not tried to destroy the relations between peaceful and innocent persons ?
Significantly , the Bible warns that gossips divide good friends and brothers. It is in recognition of this fact that those closer to President Ernest Koroma say that he does not encourage gossip. The King James Version of  Proverbs 16 : 28 clearly states that "A froward man soweth strife: and a whisperer separateth chief friends." I love the way it is put in the New Century Version : "A useless person causes trouble, and a gossip ruins friendships." It is very important that we eschew  gossips  if we want to maintain precious and intimate relationships.
David Tam-Baryoh played a wonderful role in breaking the feathers of pseudo- Politics in Sierra Leone during the last elections and every effort must be made to ensure that he does not fall out with the present government.  I suggest that leading members of government and men and women of goodwill in our society bring the two men together immediately and help to convince them to reconcile, drop the claims against each other and become brothers once again. They must move fast before the divisive elements and avaricious politicians in our midst who capitalize on such frictions to win over those they want to use to promote their power-thirst, reach out to the two men .
We all know that there are troublemakers and unpatriotic and divisive elements  in our midst whose  only reason for existing presently is to use any thing against the reigning APC Government , blow it out of proportion and manipulate it to satisfy their depraved cravings to destroy the good name of the government. Dr. Tam-Baryoh has done pretty well in life and must not allow destructive and divisive people in our society to latch on to him to satiate their perverse intentions. He must know that many people proclaiming support for him are not doing it out of love for him, but because they see the conflict as another alibi to seek to harm the good name of this government. If  this problem had been between him and a member of the  opposition SLPP , they would have ganged up against him and spewed all manners of nasty expletives against him. Please let reason prevail .
Logus and Tam -Baryoh are true brothers and I want to appeal to both of them to allow peace and reconciliation to prevail . I call on the Minister to drop his complaint at the CID and I enjoin Dr. Baryoh  not to believe what that so-called lady friend told him about the Minister. May God bring YOU GUYS  back together as soon as possible.
WE BRING YOU THE TEXTS FORWARDED TO US BY MINISTER LOGUS KOROMA
Mr. Balogu Logus Koroma, i just heard from a lady friend of urs that u plan to 'deal' with me because, according to u, i am an slpp and dat i am pretending. Ur reason is dat i always interview more slpp people on my program. My brother, walls have ears. Ur threat is coming at a time that a few people in high places are mechanising plans to burn down my station. Well, i may be unassumingly helpless, but i am not without terrible info on such and many other plans. Am shocked at ur new plans against me. However, i am at liberty to trust our mutual friend, d president, 4 my security. By copy of this text he is duly informed.
Thanks. Dr. Tam Baryoh.
______________________________________________________
Brother Dave Tam Bayoh, I am surprised at your unfounded allegations . Apart from the fact that you are my Kono brother, as A.P.C. Elections Coordinator for the 2012 elections in which my President and party emerged victorious in the 1st round; you aired all my interviews from every part of the country and gave me air time on your popular programme whenever i needed it. I expect you to do the same for me in 2017/18, so why should I have anything against you.
Your information is far from the truth; in fact FALSE. Who is this lady friend who gave you such false info that you have not in your trade mark style tried to corroborate? Please continue to be professional: you are, and will remain my friend and brother. As advised by you, I have also copied my response to H.E. the President, my Boss. I will call you later today.
Logus Koroma, M.T.A.
___________________________________________________________________
My brother David, as indicated in my earlier text message, I wanted to call and have a one on one meeting with you with a view to understanding where you are coming from by associating me with people you claim are planning to "burn your radio station".
However, I understand you are with the Hon. Vice President in Kono, and on your return, taking into consideration the seriousness of your allegation, I want you to corroborate it by calling forward the so called Lady friend of mine who told you that; I am sure she is alive and you can bring her name forward.
You have always been a professional journalist and I am sure you want to maintain that position; except if you have an agenda against me by making such wild allegations.
Logus Koroma