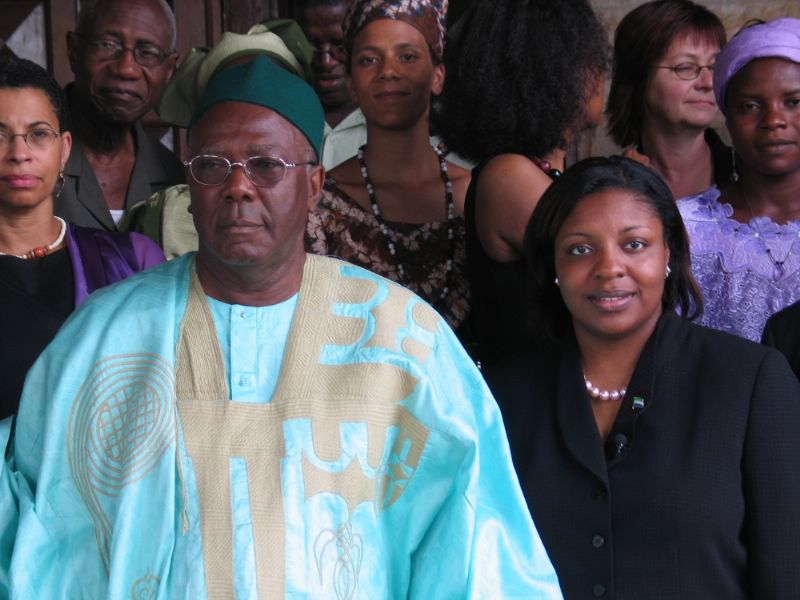 TRIBUTE TO ALHAJI DR. AHMAD TEJAN KABBAH FORMER PRESIDENT, REPUBLIC OF SIERRA LEONE, AND LEADER OF THE SIERRA LEONE PEOPLES PARTY 1995 -2007
 BY ALHAJI AMADU DEEN TEJAN-SIE. BARRISTER AT LAW, 
FORMER  AMBASSADOR TO THE KINGDOM OF SAUDI ARABIA
Alhaji Dr. Ahmad Tejan Kabbah, Former President of the Republic of Sierra Leone died peacefully at his residence, No 1 Kabbahya Drive, Juba Hill on Wednesday 13th March after a protracted illness.  May His Soul Rest in perfect peace.
Pa Kabbah, as he was fondly known was born on the 16th February 1932 to both Haja Adama Kabbah 'nee Comber' and Alpha Sidique Bah Kabbah both of blessed memories and was named after my late father Alpha Sheik Ahmed Tejan-Sie, an Islamic scholar and the  first Arabic and English teacher at the Bo Government Secondary school. Haja Adama was the mate to my late aunt Mariama Sawaneh, the first wife of Alpha Sidique Bah Kabbah. Aunty Mariama had raised Pa Kabbah,   Mrs Mariama Sanu and Nkoya now residing in Conakry and Hawa Kabbah currently residing in Mali. They were all raised at 38 Regent Street, Freetown. Thus paying a tribute to a mentor and a dear brother in the name of Alhaji Dr Ahmad Tejan Kabbah is certainly not an easy assignment considering his achievement nationally and internationally.
Pa Kabbah and I grew up in the same house at No 38 Regent Street, Freetown. He was older than me but as I grew up, he cultivated immense interest in me because of the care which my late mother had demonstrated in him during his formative years both at elementary school and secondary School. As a child, I quite remember my late mother always calling Pa Kabbah her husband "Me Man" and dishing extra food for him apart from the general meal that was served to his colleagues.
Pa Kabbah attended Islamia School at Magazine Cut, then proceeded to St Edwards Secondary.  He was a serious and committed student, on leaving school he worked for a short while before proceeding to the United Kingdom to further his education at Aberresworth University in Wales where he graduated with an Honours Decree in Economics.  He was motivated into going to Wales because his Uncle Mr Coomber a retired seaman was a resident in Cardiff. One of the greatest and enviable qualities of Pa Kabbah during his days in secondary school and in University  was his strong commitment to work hard with a view to succeeding in his exams. Because of his commitment and focus, he was never known to have failed any public exam.
He returned home in 1956 and joined the Civil Service as an Administrative Officer. His unique qualities of hard work, loyalty and his high commitment, and determination to make a success of whatever assignment he is given, or undertakes earned him several promotions in the service ranging from Assistant District Officer to District officer in Moyamba and Kambia, his late father home District. He was appointed Permanent Secretaries in Trade and Industries, Education and works. He also worked as Provincial Secretary in both the South and Eastern part of Sierra Leone.
 As an administrator Pa Kabbah was steadfast but tolerant and exceptionally modest. He was a fervently believer in team work. His high sense of responsibility and his exemplary leadership qualities attracted and impacted his bosses in the Service. He was trusted and admired by his senior colleagues. I want to believe that these fine qualities contributed  to his rapid promotions in the Sierra Leone Civil Service and soon become the envy of his contemporaries especially after his promotion to the position of Permanent Secretary at the age of thirty two years, and became the first African to have held that position in Sierra Leone.
 The Country's first coup d'état took place in 1967 and Pa Kabbah's burning desire and enthusiasm  to pursue further careers in the legal field led to his departure from Sierra Leone in 1967 and returned to the United Kingdom to Study Law. With his honours degree in economics, he was able to gain admission into Grays Inn in London to read for the Bar Exams which he passed after only three years at the Law School. He did his pupil age in England and was one of the Counsels that defended the John brothers when the latter were charged in the early seventies for occupying the Sierra Leone High Commission in London following a number of students demonstration locally. It was while in London, he married his first wife the late Patricia Tucker also a renowned and learned Barrister, who sadly passed away in May 1998. Mrs Patricia Kabbah was fondly known as "Aunty Pat''  They had a son Ahmad Tejan Kabbah commonly known as Junior who also sadly passed away three years ago after a short illness. He was shocked by the sudden death of Junior who was on a business visit to Nigeria but accepted the decision of Allah.  
Determined to pursue a carrier in International affairs, Pa Kabbah applied for a job at the United Nations in 1972 and was subsequently appointed at the United Nation Developmental Programme. Again his unique qualities of modesty, hard work and, a very high sense of responsibilities soon led to his promotions as Resident Representative of the UNDP and was posted to Uganda, later to Lesotho, Tanzania and in Kenya. He later returned to Headquarters in New York and headed the UN East Africa Division, a position he held for a number of years before his subsequent promotion to the position of Deputy Director of Administration UNDP in 1979.  In 1983 he was promoted to the position of Director of Administration and personnel, a position he held until his retirement in 1992.
Pa Kabbah returned home the same year and set up private practice with his late wife at Walpole Street, Freetown. I visited him a few days after setting up his Chambers and in our conversation he expressed the wish to study the Holy Quran once again especially the Haddith of the Holy Prophet as he was not too comfortable with some of the interpretation of the Quran by some of the younger Islamic scholars at that particular period. However, his desires were thwarted and stifled when he accepted the appointment to head  the Constitutional Committee set up by the NPRC to review the then Constitution.
He entered politics in 1995 when he was elected flag bearer of the SLPP. He thus became the leader of the Party and served the Party for a period of eleven years. This decision to enter politics was a thorny issue in the close and neat family of Pa Kabbah. His late and dear wife was vehemently against his decision. For the first time in their marital relations they were poles apart on this particular issue. Aunty Pat was of the view that politics in Africa was very dangerous and extremely risky. She felt that the reason for coming back to Sierra Leone was to enjoy their retirement, help people in need and build up their legal practice.  Pa Kabbah on the other hand viewed his decision to enter politics as a national call to duty to help salvage the economy, improve the socio economy of the people of the Country and above all restore peace to a nation that was beginning to feel the devastating effects of a rebel war in the Country. Good friends and relatives like Bishop Ganda, Dr Peter Tucker, Dr Banya and others succeeded in getting the once happy couple back together. It is worth mentioning that after the impasse Aunty Pat not only supported her husband but joined her husband's campaign team and also formed her own movement whose objective was to improve the status of women in the Country regardless of political affiliation, colour, religion or creed.  Her Movement was called Sister's Unite of Sierra Leone. 
This organisation in spite of its noble objectives regrettably faded away after her demise in 1998.
In politics Pa Kabba was tolerant. He believed strongly in the principle of democracy and did everything in his power to make it a reality in this Country. As A Lawyer, he was committed to the principle of the rule of law and fought very hard to re enforce it in the Country by strengthening the agencies and relevant institutions such as the Police and the Judiciary with a view to restoring the efficacy of the rule of law which had almost disappeared during the years of the rebel war in this Country. Being a committed democrat, he utilised unashamedly the principle of inclusion rather than exclusion which was the modus operandi in the Country when he assumed the reins of Government in 1996. In pursuance of that belief and conviction of inclusion, he appointed cabinet members, Ambassadors and Board members who were not members of his Party. Some of these appointments were very unpopular within the party,  there was vehement and strong opposition to this policy, In fact, I was fortunate to witness an encounter with an elderly party member who was bold to raise up the matter with him at the his Hill Station Lodge while we were having dinner. He retorted angrily by telling the individual that election had taken place and voters had voted for his policies and he was therefore not prepared to accept any lecture from any Party member on his decision to appoint qualified Sierra Leoneans in Government positions. On reflection we see the real Pa Kabbah who would stop at nothing to pursue objectively something that he was convinced was good for the nation in bring people together for the good of the entire Country. 
One of the many legacies of this great former President was restoring peace in the Country. The restoration of peace and the revamping of the economy were his election promises to the nation in the 1996 Presidential elections. He had introduced effective measures to revamp the economy and as the economy began exhibiting signs of improvement, the military staged the May 27th of 1997Coup. The attendant effect of this untimely Coup d'état was to take the Country back. Happily it only lasted for a year but without doubt greatly affected the Country's economic recovery.
In pursuant to his unshaken determination to restore peace, tranquillity and stability in his Country, he willingly and enthusiastically signed the Lome Peace Agreement in Lome the Republic of Togo in July 1999. In spite of the many criticisms, and opposition from a cross section of society against the terms of the Agreement he signed the Lome Peace Accord in Lome because he believed it will restore peace to the Country. This wise decision demonstrates unequivocally that a leader must be ready to make decision that will benefit the nation regardless of the popularity of that decision or otherwise. Every patriotic Sierra Leonean will continue to thank you Pa Kabbah for this great achievement.
Pa Kabbah had his difficult qualities and cannot be regarded as a saintly person. He could be stubborn and temperamental at certain time. He was a financial disciplinarian both in person and the utilisation of Government funds. He always considered tax payers funds as sacred and not to be selfishly misused especially in a Country whose budget then was almost 90 percent aid driven.  In money matters he trusted very few and loathed corruption and enacted the First Anti Corruption Legislation in this Country in 2002.
With regards Pa Kabbah peace building achievement, I was extremely delighted at the recognition accorded by no less person than His Excellency President Dr Earnest Bai Koroma, who recently commended the peace building efforts of Pa Kabbah in the presence the UN Secretary General. The recognition itself did demonstrate that President Earnest Bai Koroma is President of Sierra Leone and in hindsight; President Koroma had done a lot to strengthen, sustain, and maintain the peace exercise he inherited from Pa Kabbah. As patriotic Sierra Leoneans we should commend him for that regardless our political affiliations.
Apart from the restoration of peace, Pa Kabbah's Government created several institutions such as NASSIT, NRA SLRT IMC to name a few and these institutions are functioning well and bringing funds to the nation.
 He was kind and very helpful when the circumstances arise. He frequently helped people who are in need. He pays school fees for deprived school children. . 
To his dear wife Iyesatu Jabbi Kabbah whom he married in May 1998,  and fondly called 'Iye' I appeal to you to accept the will of Allah. As a wife, you have performed the role of looking after him through his long illness and many will commend you for your love, patience and efforts in performing that role. To his children Mrs Mariama Akkari, Mrs Mariama Davies, Mrs Adama Labor, Mahmoud, Abu, Micky and the other members of the family, I urge us all to be strong and accept Allah's decision. Death is one of the certainties of mankind. Parting without doubt, is a great and unbearable pain but we cannot challenge the wish of Allah our maker. Pa Kabbah has performed his duties honourably to this great nation and has done so deligently and with distinction. In international forum he was highly respected. He became the first African leader to chair a meeting of the then Organisation of Islamic Summit Conference in Tehran in the 1998 Summit. He was a great and eloquent speaker and his smiles and strong handshakes will be missed. We shall no more listen to the jokes of this great man. He was diligent and exemplary in every assignment he undertakes and these were his hall marks. Pa Kabbah has sadly been called by the Almighty Allah, but memories of his love of his children and grandchildren, his kindness, patriotism, duty to mankind, and the many lives that were saved with his help will continue to linger in our minds. 
MAY YOUR SOUL BRA TEJAN REST IN PERFECT PEACE
INNALILA WA ILLAHI RAJIHUM
—