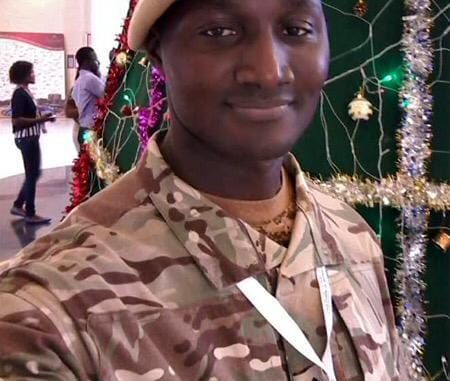 There are many troubling questions surrounding the fate of one of the soldiers arrested last year by the Bio Government as soon as it came to power . The soldiers were members of the security of former President Ernest Bai Koroma.
According to a Ministry of Defence statement then, "Captain Patrick Edwin Kamara Kamara and the two others are ONLY being detained and investigated for an apparent disappearance of a large cache of ammunition and some arms, which they had ALLEGEDLY signed for, collected and kept while working in the former President's security detail. The MoD/RSLAF believes that the disappearance of such ammunition and weaponry poses SERIOUS THREAT to national security. "
The soldiers were then taken before a military tribunal and slapped with  five counts charges "ranging from conspiracy, larceny by servant, willful neglect and ordering damage to service property, willful damage of service property, to conduct that was prejudicial to the group order and military discipline, contrary to the Armed Forces of the Republic of Sierra Leone Act No.34 of 1961 as amended".
The case had been going on, but yesterday , a BBC Correspondent in Sierra Leone published a troubling report in the social media.
THIS WAS THE NEWS PUT OUT BY THE PRO-SLPP BBC REPORTER IN SIERRA LEONE, UMARU FOFANA
"Breaking News: Capt . Patrick Edwin Kamara, who is facing a court martial on allegations of arms and ammunition not accounted for after last year's presidential election has escaped from military custody at the Wilberforce Barracks, sources at the Republic of Sierra Leone Army have confirmed to me. Kamara was Officer-in-Charge of the Presidential Guard Force before Julius Maada Bio was elected president. The circumstances surrounding his escape are yet unclear but some soldiers and military police are being investigated."
The report soon drew sharp responses from a cross-section of Sierra Leoneans in the social media.
Jeremiah Lawrence SLPP stop confusing people, because you put the young man in high detension under the comand of your men right… ok now the question is WHO LET HIM GO or was it a game plan in other to confuse common sierra leone or OTHER WAY ROUND…
THE ATTORNEY REPRESENTING THE MILITARY OFFICER TWEETED THE FOLLOWING :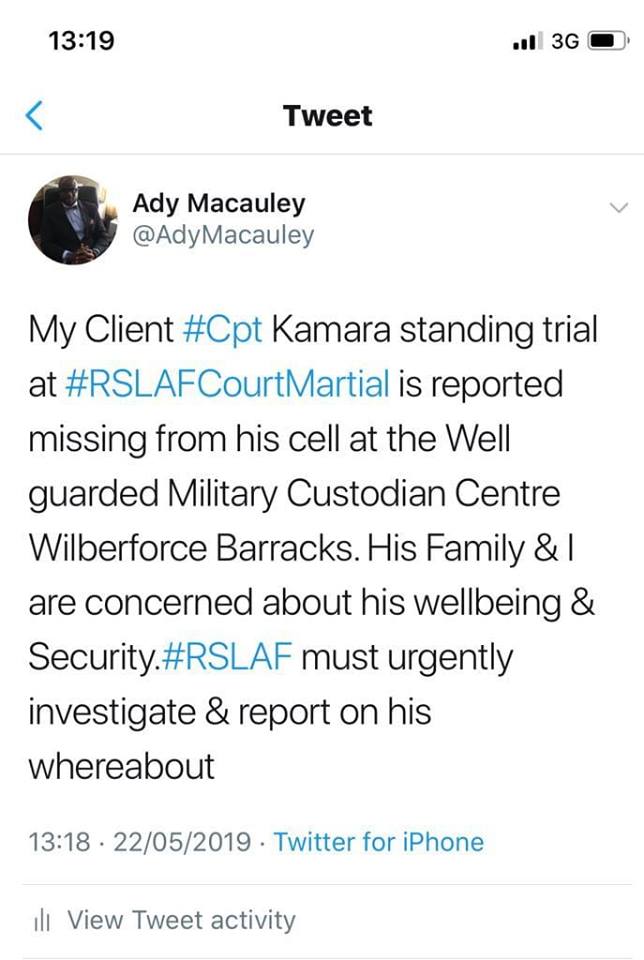 Breaking News*
News reaching this medium suggests that Maada Bio and his SLPP caboodles are bent on eliminating perceived APC officers in both the military and the police.
News of the "disappearance ' of long time incarcerated military officer Captain Patrick Edwin Kamara is said to be part of the SLPP's latest diabolical plan to get rid of officers from the North and Western parts of the country with a view to perfect their annihilation strategy for political gains.
Reports are that Captain Kamara was moved from his prison cell to an undisclosed location for possible execution under the pretext that he escaped from prison.
Stay tuned for details as the country sits on a time bomb.
How did Captain Patrick Edwin Kamara disappear from custody? where is he and what happened? Umaru Fofana with the BBC reported yesterday that Captain Patrick Edwin Kamara "escaped from military custody at the Wilberforce Barracks." He further said that "sources confirmed the news at the Republic of Sierra Leone Army." Under normal circumstances, one would accept that for sure the Captain escaped; he is a fugitive on the run. However, current events playing out in Sierra Leone leads me to question whether his disappearance was an escape, or an ominous act ordered by the summary executioner who gives the orders from above.
First, we should not overlook the captain's previous closeness to former president Koroma and his security details while he was in office. Second, in recent weeks, officials within the SLPP government amped up their out-of-bounds command for Koroma to stepdown from chairing the activities of his APC party. Third, just last week without consulting with Koroma, their mission was to expunge all security personnel assigned to the former president's security details. 1-week later, they are claiming a key figure once responsible for the former president's security "escaped" from their custody.
Hmmm something does not sound right at all. Claiming the captain escaped is a misnomer until further details emerge. And until further details emerge, Captain Patrick Edwin Kamara's disappearance is a serious cause for concern. Because President Bio is hell-bent on trampling on the democratic rights of all those who are close to his predecessor, what looks like an escape might be something sinister. This is a worrisome development, when we think about what happened in 1992, to Bambay Kamara and 28 others under the supervision of the one who is back in Statehouse.
Bio and the NPRC removed detainees from Pademba prison, they tortured  them mercilessly and later killed them in cold blood. They informed us later that they were attempting a coup. How can Someone is solitary confinement plot a coup ?
Today, a captain who was in their custody, has magically disappeared. We know this is not true. We know for a fact that all those that were guarding him are extremely loyal to Maada Bio.
We are calling our the international community to immediately, as a matter of urgency, investigate this incident. Enough
So when I hear the news that former Security chief of former President Earnest Bai Koroma, Captain Edwin Kamara who was on Court Martial escaped from his detention cell at the Wilberforce Barracks I laugh but then I started crying because I knew something bad must have happened to that brave Soldier whose crime was only for being the officer in-charge of the former president of Sierra Leone security guard. I know Guard Room at the Wilberforce Barracks very well because the father of one of my best friends was a senior Military officer and I have lived with them for about two years at the Wilberforce Barracks close to guardroom area. Even the Wilberforce Barracks people know that no one can escape from that cell and no one has escaped from the Guard Room cell before as stated by the SLPP government. Today we know the truth! they killed him. But gust what? when we write about these bad things President Bio is doing in the country his supporters simply defend him by saying that the previous government did the same. So please you guys come and tell us which one of the security guards of former president Kabbah that was arrested and killed by President Koroma's government. Just remember that power is not forever and God is watching. RIP bro. Captain Kamara.