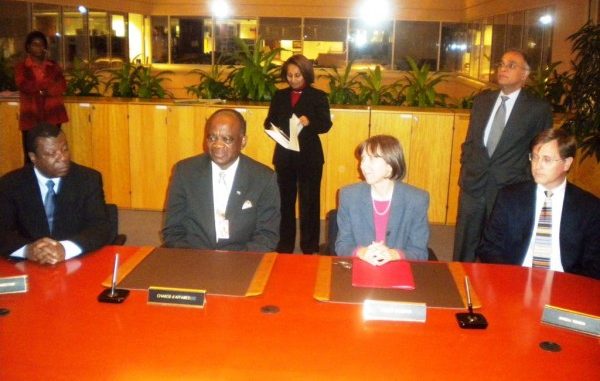 Sierra Leone's President Ernest Bai Koroma was highly commended yesterday  December 3, 2009 by a World Bank official during the signing ceremony for the World Bank Development Financing Agreement for Sierra Leone's Third Governance and Growth Credit.  Ms. Antonella Bassani , the World Bank Sector Manager for the African Region, who signed on behalf of the World Bank,  commended the Government of His Excellency Dr. Ernest Bai Koroma for progress so far registered in the development strides of the country, particularly the  recent commissioning of the Bumbuna Hydro-electric Power and the very successful Sierra Leone Trade and Investment Forum recently held in London.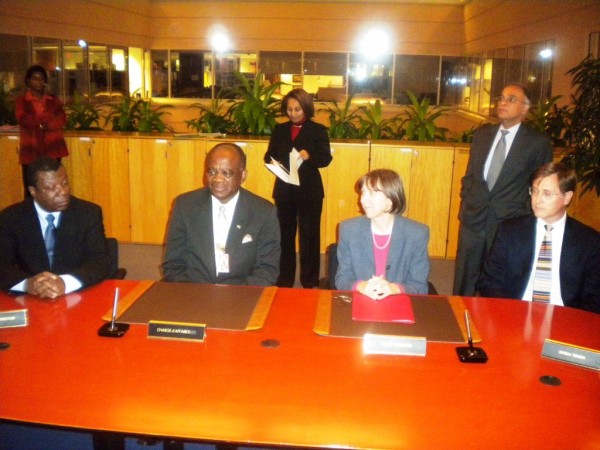 Ambassador Ibrahim S. Conteh, Charge d'Affaires  of the Embassy of the Republic of Sierra Leone in the United States of America , signed on behalf of the Government of Sierra Leone for the amount of SDR6.4million or US$10million , which constituted the  World Bank Development Financing Agreement for the Sierra Leone Third Governance and Growth Credit.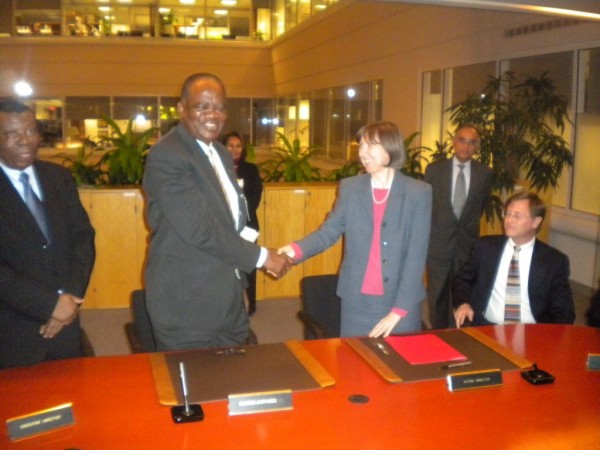 Responding, Ambassador Conteh, on behalf of the Government and people of Sierra Leone,  thanked  the Bank  for the realization of the signing  ceremony. He added  that as  a  country, Sierra Leone was  quite aware of the  untiring efforts and the deep sense of commitment to the country's  cause by the Bank to help bring about a positive turn- around in the  country's affairs. He  assured the Bank that Government would do everything possible to use  the amount for its intended purpose.While noting that it was not the first time such ceremonies have been held in the Bank, he expressed every confidence that with the Bank's continuing  abiding  interest in the country it would certainly not be the last signing ceremony .Ambassador Conteh then took the opportunity to also appeal to the Bank to continue to promote Sierra Leone's interests  to enable it  realize its developmental objectives as soon as possible .
Accompanying Ambassador Conteh at the signing ceremony were the Counsellor and Acting Head of Chancery and the First Secretary, Meesrs. Sheku Mesali and Saspo Ibrahim Sankoh respectively.
 This was the second signing ceremony of  a financial transaction between the Government of Sierra Leone and the World Bank within two weeks. On Thursday November 19, 2009 , in what was seen as growing confidence in the economic development  of Sierra Leone,  accelerated by sound economic management, the World Bank released $30 million dollars to the government of Sierra Leone .  At a signing ceremony  at the eighth floor of the Bank's Headquarters in Washington D.C.  described as overt confidence by the World Bank on the fiscal policies of the West African nation, Sierra Leone's  Ambassador to the USA. H.E. Bockari K. Stevens, who is also accredited to the Bretton Woods Institution,  signed on behalf of the Sierra Leone Government  two more credit agreements with the World Bank. The World Bank Country Programme Coordinator for West Africa, Mr. Sergiy Kulyk , at the time of the  signing on behalf of the Bank,  praised the government of President Koroma for its hard work , which has been noted by  the Bank
Department of Media and Public Affairs
Sierra Leone Embassy to the United States of America,
Washington DC