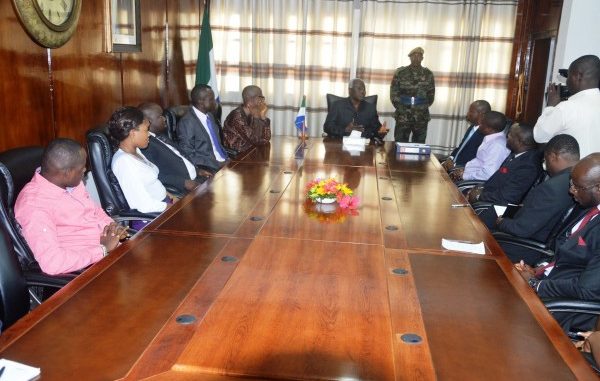 By State House Communications Unit :
As government continues to intensify efforts to end the Ebola outbreak, the Young Professionals organization has described President Ernest Koroma's social mobilization drive for community involvement and ownership of the fight against the disease as very effective and exemplary. They made this commendation during a courtesy call on the president at State House on Monday 12 January, 2015.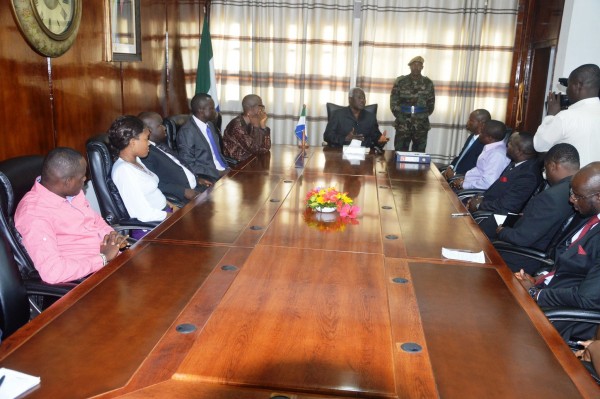 Giving an overview of the Ebola spread across the country, President Koroma clearly stated that government has increased its capacity in labs, treatment and holding centres and human resource capacity. He pointed out that with the decline in new confirmed cases coupled with sustaining the efforts and gains already made, he expressed firm belief that turning the corner of the outbreak is imminent.
The president further said that government had already initiated actions on utilizing the Kerry Town Treatment Centre as a location to develop the Sierra Leone Centre for Disease Control and Prevention with keen interest shown by the World Bank and the African Development Bank to support the project. He added that government is currently working on reopening of schools, and urged the organization to continue to make itself relevant in society.
Speaking on behalf of the Young Professionals, Mr. Brima Koroma said the group is aimed at cultivating a charity culture with plans for advocacy and campaign on health, infrastructural development in post-Ebola in order to avoid recurrence of such an outbreak. He suggested that the government institute a nationwide door-to-door surge, timely payment of hazard incentives, and a coordinating office among others. Mr Koroma also stated that the fight against Ebola doesn't need a soft approach, and informed the president about earlier contributions made in the fight against virus.
Mr. Brima Koroma added that President Koroma's social mobilization drive has not gone unnoticed.
The Young Professionals registered as a company by guaranty on 19 November, 2014, and is putting together plans on carrying on the work of a charity company, particularly in health related matters and setting up a foundation that will be giving technical advice on gender-related issues and to raise the profile of Sierra Leonean education.