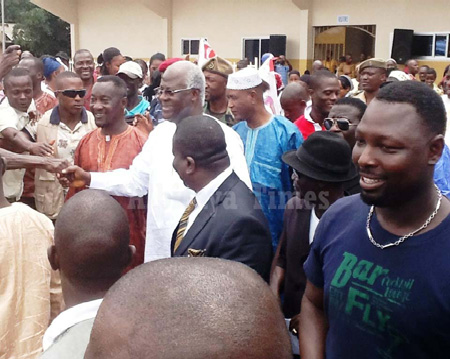 By KABS KANU :
The youths of Sierra Leone have tremendous confidence in the leadership of President Ernest Bai Koroma. They have demonstrated it in many platforms and in sundry occasions that they respect President Koroma and believe that under the leadership of the man variously called "EBK" , "The World's Best" and "Nesto",  Sierra Leone is in very good hands.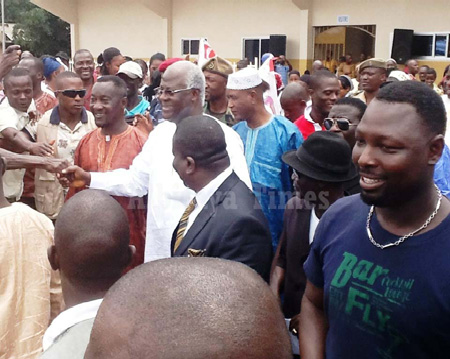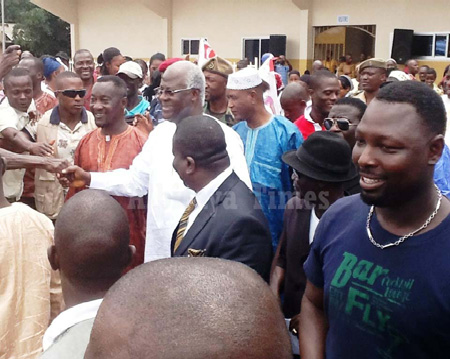 PRESIDENT KOROMA AND THE YOUTHS
The youths of the ruling All People's Congress ( APC ) in their annual National Conference  last weekend enunciated ,  drummed home and re-echoed the views of the generality of youths in the country. The President of the National Youth League , Mr.  Bai Mahmoud Bangura stressed that "The Youth League is of the conviction that President Koroma's contribution to the stability, unity and progress of the party is still needed and is of great value to the party's continued stay in governance." He and various speakers extolled the President's Agenda For Prosperity which is giving birth to impressive socio-economic and political change and national development through the length and breadth of the country.
When on looks at all the national development taking place in the country under the leadership of President Koroma, it is obvious that the confidence the youths have in him is not misplaced. It is justified.
The sentiments expressed by youths in Makeni last weekend represent a profound  victory not only for the nation but the ruling All People's Congress. At a time when youths in many African countries and even in the diaspora are kicking against their heads of state and seeking the downfall of their governments , their compatriots in Sierra Leone are so impressed by their President and government that they are even asking for more time to be given the President to complete the magnificent job he is doing for the nation.
The youths constitute the majority of the population of any country ,which is why their voice is often said to be the microcosm of the wishes of a nation. They made many more suggestions at their congress last weekend about how Sierra Leoneans can move their nation forward.
Let us , as a people,  sit down , and in an atmosphere divorced from partisan politics , ethnicity and personal vainglory ,  give our thoughts to the recipe for more national development prescribed by the youths. We shall revisit the issues raised by the youths on a regular basis as we go along.
Sierra Leone is our country. We know better what we need in our country to develop it . Outsiders cannot decide for us how we move our country forward because every nation has its own peculiar circumstances. What is good for one country may not be good for another. Let Sierra Leoneans decide on the way forward for their country and our national destiny because we know the best formula  not only for  the socio-economic and political transformation of our country but uniting our great people .
HERE IS A PICTORIAL DISPLAY OF THE APC YOUTHS NATIONAL CONFERENCE YESTERDAY