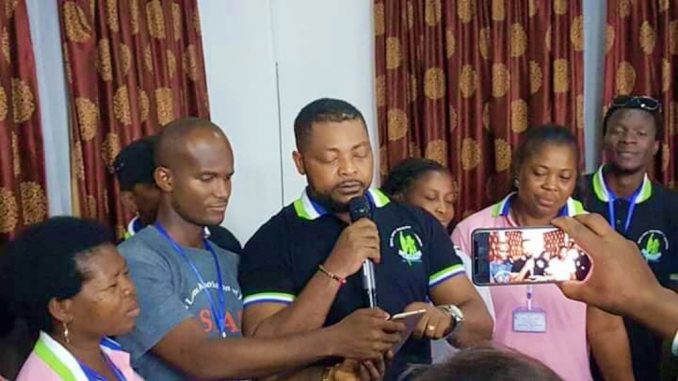 VICTORY SPEECH
Thank you!
Thank you!!
Thank you!!!
Thank you!!!!
Thank you!!!!!
Thank you all for voting me as your president for the next three years.
I assure you I will not disappoint this confidence you have reposed in me.
I am deeply honoured.
For those who do not have that confidence in me, I say thank you also. I assure you I will surprise you.
I now have your mandate. I will be president for all SLAJ members, not a SLAJ faction.
Congratulations to my colleague candidate, *Mustapha M K Sesay*, for sparring with me in this contest in a civil manner. Together we have shown the national body politic how candidates should participate in democratic elections.
I recognise your contribution to SLAJ. You are an asset to SLAJ. My administration will work with you. This is also your victory.
Fellow colleagues, this victory is proof that you believed in my agenda.
You believed that welfare, gender, mentorship and unity are more important to SLAJ than ID cards, library and chairs.
Together, we'll pursue this agenda to the last.
We have noted the challenge the Hon Vice President of our beloved country, *Dr. Mohammed Juldeh Jalloh*, threw at us during the opening session of this Triennial Conference. We are greatly encouraged by the fact that the issues he raised resonated with our SALT Manifesto under welfare.
We accept the challenge and we will initiate a process to start engagement with the current government through the VP's office.