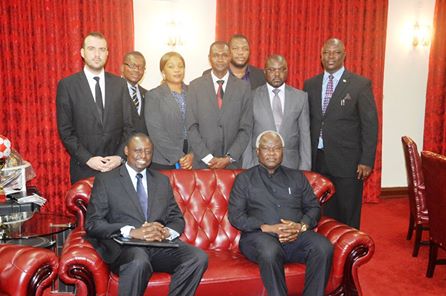 By State House Communications Unit :
As a form of collective approach in the fight to eradicate the deadly Ebola virus disease (EVD), the Sierra Leone Bar Association on Tuesday 5th August donated the sum of one hundred million Leones (Le100, 000,000) to President Dr Ernest Bai Koroma and also unveiled its newly elected executive at a quiet ceremony at State House.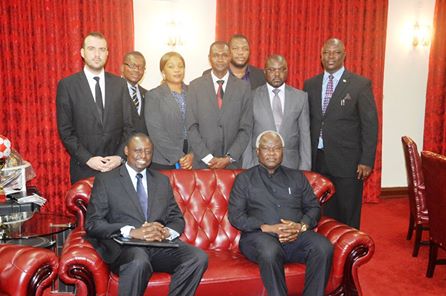 Congratulating the association on the election of its new executive, President Koroma wished them the very best in their term of office, and thanked the association and all Sierra Leoneans for supporting and abiding to the Stay at Home call on Monday.
A Presidential Taskforce on Ebola has already been setup, the President said, adding that it is part of government's continued effort to make sure that the country is not isolated from the rest of the World as a result of the outbreak.
President Koroma described the epidemic as a distraction from the development and transformational process of the country, whilst expressing optimism that after the ninety days of the Public Health Emergency, the Ebola epidemic will be a thing of the past.
President of the Sierra Leone Bar Association, Ibrahim Sorie profusely thanked President Koroma for the opportunity accorded to the association to present its new executive.
He described the battling of the deadly disease as a trying time in the country and assured President Koroma of the association's fullest support towards the fight against the disease.
Ibrahim Sorie informed President Koroma of earlier engagements with officials of the Ministry of Health and Sanitation, including mobilising funds with relevant key players by holding interactive sessions to enhance a collaborative approach in fighting the menace.
Presenting the delegation earlier to President Koroma, Secretary General of the Bar Association, James Forna Sesay described the current Ebola situation as a test for the country, and further reiterated the association's commitment towards the eradication of the EVD in Sierra Leone.
By way of closing remarks, The Public Relations Officer, Julian Cole, reaffirmed the association's commitment, saying that they are always at the beck and call of the government to give their meaningful contribution to issues of national concern. The association has also offered to actively participate at the level of the Presidential Task Force on Ebola.