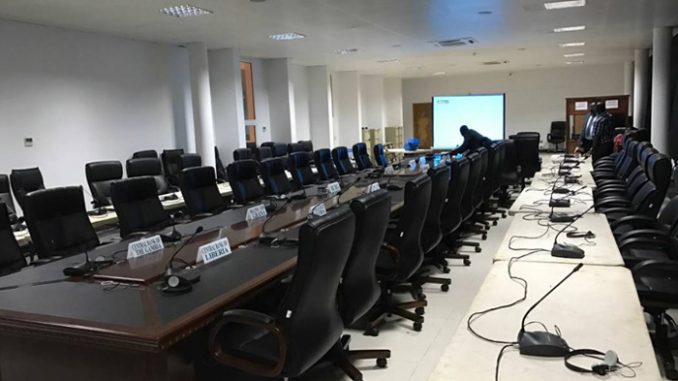 THE COCORIOKO NEWSPAPER BRINGS YOU A SAMPLING OF VIEWS FROM SIERRA LEONEANS ON THE PROPOSED BINTUMANI PEACE CONFERENCE PLANNED BY THE PRESIDENT MAADA BIO GOVERNMENT.
President Bio is being very realistic here, and you may say practical. A democracy is not a junta ; and their are foundational principles in a democracy that cannot be breached without drawing international attention . This reconciliation conference could have well been advised by the international community and our development partners aka donor nations. I give the President credit for listening to his people and the world.
You must put a check on this your Paopa attitude. It is not everything you bulldoze your way pass.
During the war, when peace was eminent what happened? There was a ceasefire. Not only on the side of the rebels, but all belligerent forces. Pro as well as anti government forces had first to show commitment to peace by allowing quietness. In the end, the process was successful.
Now you are running a show of stubbornness and defiance and you call it a conference for peace and cohesion? Come on! That is the attitude of an opposition party. A responsible government swallows its pride and does what is right to embrace and welcome opponents before making decisions that will affect the entire nation.
Where your intentions are genuine, there would be no rush especially because you need everyone's cooperation. But no. Not you guys at all. Everything you want must go the way you perceive to be right? Do you think you are infallible?

You have taken the mantle of leadership over a year ago. Stop being the troublemakers and focus on delivering what you promised your voters. They count on you.
You very well know that if you do good, the opposition cannot condemn you when they know the masses would not be paying them attention. Just reflect back when the former regime had road construction as a flagship program. You then in opposition condemned all of them and went on to describe them as cosmetic roads. The people who saw the good in the roads never supported your negative remarks. Even in your stronghold regions, the ordinary people testified the goodness, timelines and necessity of the roads constructed by the then government. You were the ones bothering yourselves with quality, value for money and over estimations.
Today, I am sure you won't bother spending money on any road that was done and completed in the last regime.
On this Bintumani III conference, you have continued attempting to misinform the public almost on everything.
Halt yourselves and rethink your approach.
Bintumani 3 conference is a manifestation that Sierra Leone politicians thought process after 23yrs had not progressed in anyway forward for the betterment of the country. These politicians and civil society leaders are just reinventing the wheels by attracting donor's fund for financial gains. I don't like to sound pessimistic, but with the present civil society and political leaders in the country, I don't see any quick fixes to the widespread poverty and lack off opportunities in the country.
Even if we have Bintumani 1,000 it won't change a thing. Until this president gives on to Caesar what belongs to Caesar there will be no peace. The Speaker and deputy speakerships positions he hijacked from the APC have become a thorn in the flesh of his administration and it will continue to be so until that is overturn. Until then, there will be no peace.
CONCERNS CITIZENS CALLS SLPP BINTUMANI 3 A HYPOCRITICAL GIMMICK
Just like bitimani 2 was a gimmick in the sense that, the chairman of NPRC 1 was ousted by palace coup allegedly for wanting to perpectuate stay in power when he had already sanctioned the outcome of bintumani 1 for elections to go ahead. The new leader now developed the gimmick of peace before election, which he wanted the people to support, but it became clear that he was the one who wanted to perpectuate his stay in power and the people check mated his gimmick
The propose bitumani 3 with emphasis on national cohesion is also a gimmick because the present government is the one destroying national cohesion by their systematic act of constitutionsl abuse, human rights violation of political opponents, political witch hunt, ethnic cleansing of professional government employees, etc.
Now they want to pretend that they are building national cohesion when they are the worst perpetrators of its destruction. This is the worst hypocritical gimmick.
Mr. David Michael Kamara UN World Democracy Coordinator (UNWDC). Goderich Peninsulal
—————————————————————————————————
Bintumani 3 Is A Perfect Dialogue Platform
By Ranger
Amidst the tension and the apparent divide in the country, Bintumani Three provides the perfect platform for people from all works of life to air out their views and concerns about things affecting their lives, operations and associations. It is not only confined to politics and is not in any way confined to the differences between the two main political parties (i.e. APC & SLPP).
Whilst it presents a perfect opportunity for those parties to seat together and speak frankly about their differences and challenges, it also provides the same opportunity to other Sierra Leoneans to be able to air out their own concerns too. Like the other two Bintumani Conferences preceding this, it is seen as a forum to articulate the challenges each sector is facing.
Thus it is incumbent on the various sectors and participants to embrace this opportunity so as to arrive at the formulation of a concise document for national cohesion and enhance the future of the nation. It could be recalled that the absence of such a consultative conference, led to the civil war which claimed the lives of thousands of our compatriots and the maiming of many.
This led to the Truth and Reconciliation Commission (TRC) set up to look into the causes of the war. The TRC Report disclosed that several factors were responsible for the unholy events which overtook the country.
Among the things highlighted were injustice, unfair treatment by state functionaries of citizens, corruption, the huge disparity between the 'haves' and the 'have-nots' and a host of other challenges. Unfortunately the recommendations were not implemented and today the society is moving apart. Bintumani Three therefore is the hope for reconciliation and an opportunity for Sierra Leoneans to blow their mind, an opportunity to speak freely about what is troubling them. Everybody or group of people have their own concerns and their stories should be heard. It is only in the open National Dialogue that the way forward can be charted.
President Bio on taking office realized that the country he has inherited is divided, as he had acknowledged on several interviews both in the national and international media. It is in this vein that he has proposed this National Dialogue Conference dubbed 'Bintumani 3'; to give every Sierra Leonean the opportunity to speak freely about what is of concern to them. It does not only have to do with politics, though it will definitely touch on that, but has to do with the way people feel about life in general in the country. Issues like hate speech, tribalism, regionalism, ethnicity, sectionalism, marginalisation, discrimination, harassment etc.
Whilst the politicians will want to talk about their treatment by the government, the latter also has concerns about what it terms unfair and unconstructive criticism of its programs and actions. These should have the opportunity to air out their concerns, which will all be documented and looked into for further actions to chart the way forward.
At least it will form the basis for the beginning of a better understanding between brothers. Other sectors too have their concerns; citizens will want to talk about treatment in the hands of the police like the Motor Drivers, Bike Riders, and Commercial Drivers Unions. Traders too have their story. All these need to be heard, including Civil Society Organisations and the Press.
As President and an expert in Peace and Conflict Resolution, with a Doctorate Degree to show for it, President Bio thought it fit to convene a National Dialogue Conference at Bintumani to give everyone the opportunity to speak their mind, with the ultimate aim of bringing about a lasting peace and enhance National Cohesion.
After all, Democracy is about government of the people, by the people and for the people. Democracy is not served if peace does not exist and it is in no one's interest to see the country in turmoil. Without unity no country will progress and all gains will be lost.
Often we pledge our love and loyalty to our country, so at such trying times in the country's history, it is the best opportunity to ensure national unity that should be embraced. It is at this point that true patriots are seen. Posterity will judge us all by what we do with this God given opportunity.
WHY IS IT NOT OKAY FOR THE APC PARTY'S LEADERS TO ATTEND BIO'S FALSE BINTUMANI PEACE CONFERENCE?
President Bio has no regret for the pain and suffering that supporters of the APC party have endured due to the actions of SLPP thugs since he took office one year ago. If president Bio has any regret for the despicable action of SLPP thugs under his watch, why did he not speak against it?
In the first video, Bio openly urged SLPP supporters to attack members of the opposition APC party. He praised those who had already carried out the dirty job of attacking APC party supporters when addressing his audience. The utterance of those divisive words emboldened SLPP supporters to defend him and constantly attack APC supporters for speaking against his failed policies.
In the second video, Bio publicly waged war against the leadership of the APC party instead of finding ways to address the divisions he created since he became President.
Does Bio need a Bintumani conference to fix the constitutional violation and human rights abuses, which his government and supporters have committed against the opposition?
Never trust president Bio and the entire SLPP membership.

Fellow Sierra Leoneans, The President Bio Bintumani 3 event is a waste of time for our people. The reason is simple. The President and his ruling party the SLPP are not sincere and committed towards promoting Peace, unity and tolerance in the country. Why should my APC people participate in such event. President Bio is obsess with the name Bintumani. He has drag us to a Bintumani 1 & 2 now he is calling for a bintumani 3 whiles planning for the Bintumani 4 & 5. Please comrades dont waste your time on this.
GLOBAL PEACE AMBASSADOR – CHIEF SAM-SUMANA.
MY CANDID ADVICE TO CHIEF SAM-SUMANA SHOULD NOT ATTEND THE BINTUMANI III CONFERENCE BECAUSE HE HAS NO SECURITY AND HE IS ONE OF THE SIERRA LEONEANS SEEN AS TREAT COME 2023 ELECTIONS. TAKE YOUR TIME YOU ARE IN A COUNTRY FULL OF EVIL TRAITORS. MAY GOD CONTINUE TO GUIDE AND PROTECT YOU.
WHEN YOU RECONCILED WITH YOUR FORMER BOSS – EBK. BIO AND HIS SLPP GOVERNMENT WITHDREW YOUR SECURITIES. SUPPORTERS OF SLPP,, HOME AND ABROAD WERE ON SOCIAL MEDIA CASTIGATING YOU,, FORGETTING THE FACTS PEACE IS THE FOUNDATION FOR ALL DEVELOPMENT IN ANY NATION.
Supporters of SLPP government are full of vengeance which will definitely make H.E. Bio government will awfully failed.
I Rest my case,
SLPP supporters not interested in any PEACE AND RECONCILIATION,, all they care about nar we yone time,, nar we dae nar power. Even in Kono they are victimizing our people just like their predecessors. SALONE NA WE YONE.
Sierra Leone news updates
PRESIDENT JULIUS MAADA BIO in a political state of dilemma now begging the opposition political parties in the country to enter into a political marriage of convenience through the BUNTIMANI 3 PEACE CONFERENCE
Hey, Salone Don completely alaki under slpp Bio leadership
By Alhaji U Njai #Meejoh #Jata
So going into Bintumani 3, the discus has been the apparent lack of elder statesmen in Sierra Leone. Some how the very system that has perpetrated partisan politics in hiring for jobs or government appointment now complains about the lack of independent or apolitical citizens. How can you have a crop of decent independent statesmen or women when laybelleh politics is the order of the day. How can people maintain the highest level of dignity and integrity when party card politics, regionalism, and exclusive governance has been the status quo since Bintumani 1.We mask our failures at inclusive governance by putting out the false narrative of widespread lack of capacity in country. This narrative then allows good Sierra Leoneans with the right technical skills to be sidelined in favor of sometimes less qualified foreign nationals. So if you truly want to build a next generation of Sierra Leonean Statesmen or women, start by building a merit based apolitical technocrat base along with genuine inclusive governance where diversity and equity are front and center.
@AlhajiNjai #Meejoh #Jata