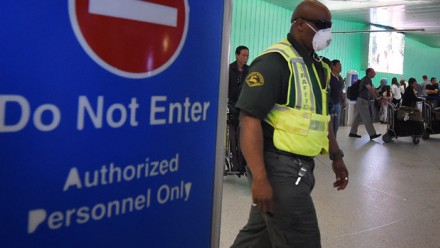 From schools to borders, 'hysteria' surrounding the Ebola virus is leading some to shun contact with Africans
Increasing anxiety and fear over the Ebola virus has led to what many commentators have dubbed "Ebola racism".
"People are being shunned and mocked for having visited, or even for simply having been born in, Africa – and anywhere in Africa will do, afflicted with Ebola or not,"  writes The Intercept's Andrew Jones.
He argues that the "hysteria" surrounding the virus in the West is an example of "ignorant discrimination that immigrants in general and Africans specifically have endured for decades".
So, how are Africans being discriminated against?
In everyday life
A young Guinean football player was driven off the pitch in Pennsylvania following chants of "Ebola" from the opposing team. "There were tears coming down his eyes," his guardian told ABC news. He was "visibly shaken" because he still has family in the region and fears for their safety, he added. Other African immigrants speak of people moving seats on buses and trains because of their skin colour and accent or refusing to shake their hands.
In education
In the US, Navarro College rejected applications from Nigerian students due to Ebola fears, even though the country has since been declared Ebola-free. Several people also pointed out that Texas had had more cases of the Ebola virus than Nigeria in that week. The college said in a statement: "At this time, we believe it is the responsible thing to do to postpone our recruitment in those nations that the Centres for Disease Control and the US State Department have identified as at risk."
Closer to home, a school in Stockport banned a healthy nine year old boy from attending class because he was from Sierra Leone. His mother told the Daily Telegraph it was the result of a "wave of hysteria" from "ignorant parents". She said: "We've been met with leper-type attitudes from wealthy people overreacting and trying to protect themselves from a threat which isn't there."
When house-hunting
A student from Sierra Leone was refused accommodation by two Norwich landlords due to Ebola fears, The Guardian reports. The refusal letter he received read:  "Under normal circumstance[s] your profile would be a great profile to be one of our lodgers. However [due to the] epidemic, we have decided not to accept anyone that has been anywhere near the outbreak."
When travelling
Several countries, including Jamaica and Colombia have closed their borders to anyone arriving from Sierra Leone, Liberia or Guinea. Republicans in the US are calling for Obama to do the same in order to "protect the nation", despite contradictory advice from global health bodies which say such efforts will only serve to worsen the situation. The UN's chief said such measures were an example of anti-African prejudice, the New York Times reports. · 
Read more: http://www.theweek.co.uk/world-news/61013/ebola-racism-how-the-world-is-discriminating-against-africans#ixzz3HMxBPQnX