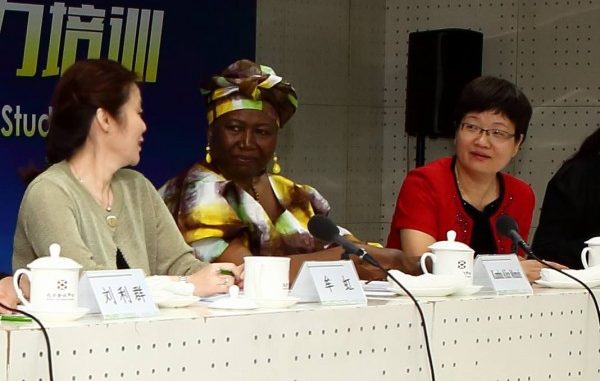 Charge de Affairés, Embassy of Sierra Leone in the People's Republic of China, Sunday 19th July, 2015, told a gathering of University students in Beijing that, leadership is a continuous process that is not just about advancement but also about having an inquiry mind, "making things happen and having followers you could work with as a team, with a shared vision."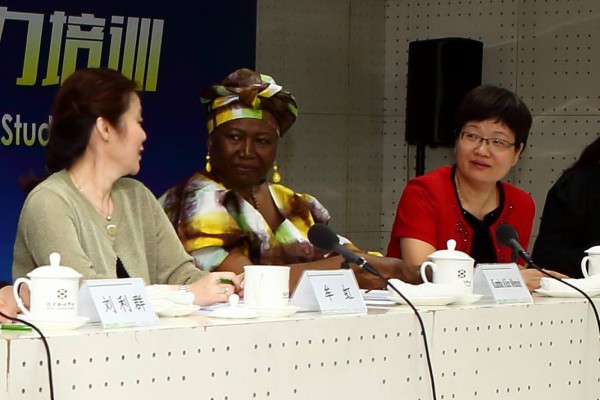 Her Excellency Kumba Alice Momoh spoke at the opening ceremony of the 2015 China Women's University (CWU) Female College Students Leadership Institute, where she had been invited by the University to share her experience on Women in Public Service.
Leadership, Madam Momoh said, is and should not always be directed from top-down, as "one could also lead from the bottom. Referencing John Dewey, Momoh said "Inquiry does not just find out things it changes them".

Madam Momoh shared with the students, her personal experience in the public service, in her home country of Sierra Leone, starting with the National Electoral Commission in Sierra Leone; the then Sierra Leone Broadcasting Service, her days in the United Kingdom as a School Business Manager and not least her political life which, she said, helped in catapulting her into her present position of trust as Serra Leone Deputy Envoy to the People's Republic of China.
She encouraged the dozens of female University students from various Universities in China not to shy away from working in the public service as it would eventually give them the satisfaction that, they are serving society and the public at large.
Speaking on country experience in the area of promoting women issues and gender equality, Sierra Leone, Madam Momoh said, has made great strides in getting more women in public service as well as in the private sector, especially in holding leadership positions.
Greater attention, she said, is now being paid by the country towards addressing challenges to the girl-child education especially in terms of reducing the illiteracy rates amongst women; upgrading the economic status of women; increasing the number of women in decision making positions at international, national and local levels and addressing issues of discriminatory, customary and cultural practices that are disadvantageous to women.
Africa, the top diplomat said, has awakened to the realization that women with the right qualifications can execute any leadership role compared to men.
"There are still many challenges faced by African women in ensuring that they get the same opportunities of empowerment as the women in the West and other Nations. Prioritizing the fundamental needs of our people will be a good starting point in being able to solve our personal advancement for women empowerment", Madam Momoh stressed.
Also speaking at the event were Beth Bader, Executive Director, Chicago University Beijing Center, Ms. Wenchi Yu, Head of Corporate Engagement, Asia, The Goldman Sachs Group, Inc, Mu Hong, Administrator of All China Women's Federation and Ms. Liu Linqun, President of China Women's University.
John Baimba Sesay
Press/Information Attaché
Sierra Leone Embassy
People's Republic of China