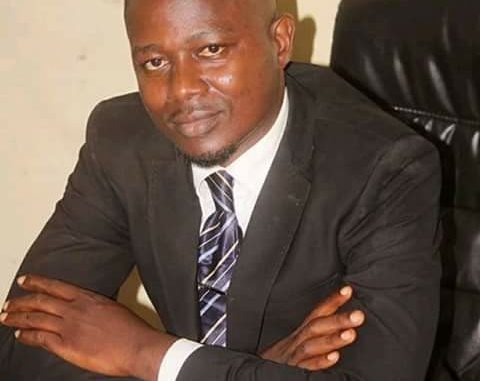 *Your Excellency President Julius Maada Bio, the citizens of Sierra Leone are calling on you as the Commander in Chief and Fountain of Honor of the Republic of Sierra Leone to please relieve your Deputy Minister of Internal Affairs, Mr. Lahai Lawrence Leema of his duties with immediate effect.*
*Mr. President, you appointed Mr. Leema because you have confidence in him and before you, he took an oath to serve in the best interest of Sierra Leone at all times.*
*Unfortunately, Mr. Leema's reckless actions since assuming office has succeeded in undermining the peace, security and stability of this nation. In addition, his inciting statements and countless threats made on both Social and Conventional Media continue to bring your Government into disrepute with the Peopel of Sierra Leone.*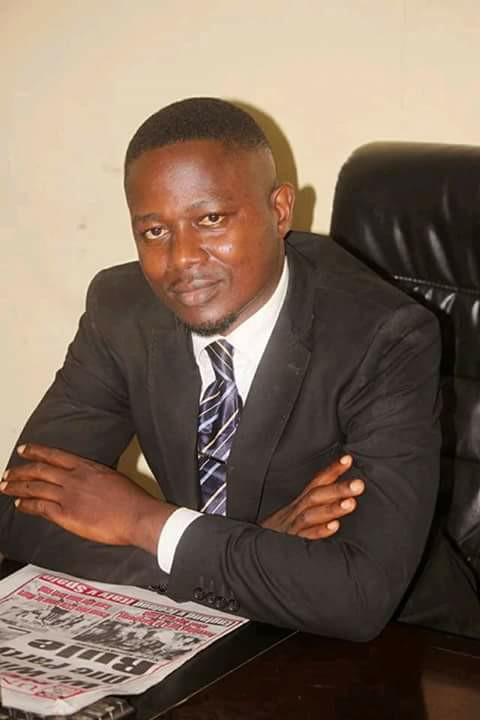 *President Bio, despite countless wrongful and baseless inciting public statements made by Mr. Leema against members of the Military and Former Heads of*
*Government, you still in your best judgement deemed it fit to appoint him in your administration to be in charge of Internal Security of the Republic of Sierra Leone. It is public knowledge that Mr. Leema's activities executed on behalf of your administration over the past few months has gone from bad to worst.**The public is now left with no doubt but to believe that Mr. Leema has your blessing and approval to continue with his unwarranted incitement against peace loving Sierra Leoneans and in the process preparing the stage for violence and civil unrest in this country.**For reference purposes, do you remeber that before becoming President that you are on record to have said to your members that you the leader should be seen to be calm at all times but, encouraged your members not to be calm at all? In that video you were seen showering praises on one of your Social Media Warriors, London Jet for inciting the public against Former President Koroma?*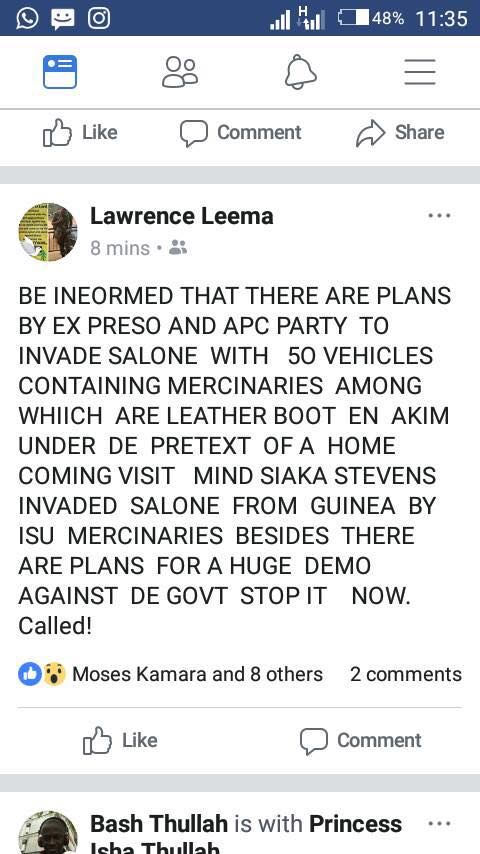 *Mr. President are you willing to go down in the history Sierra Leone as the President who encouraged untamed members of your government who find it exciting to breed and nurture Civil unrest and instability in Sierra Leone? We don't want to believe that is the reason why you joined politics in the first place. We are equally not sure that your 2018 Manifesto made provisions for the promotion of incitement, hate speech and violence perpetrated or supervised by one of your "Social Media Worriors" Mr. Leema who also doubles as your Deputy Internal Affairs Minister and the National Publicity Secretary of SLPP*
Your Excellency , where does your war on indiscipline starts and ends? We are pretty sure you must have already seen the screenshot of the recent post which your Deputy Minister of Internal Affairs, Lahai Lawrence Leema posted on Social Media wherein he once again wrongfully and baselessly accused Former President Ernest Bai Koroma of bringing mercenaries into Sierra Leone through the frontiers of our good neighbors- the Republic of Guinea.
Mr. President as a Peace and Conflict "Expert" we may want to believe that you are aware of the diplomatic implications of such accusations levied by a member of your Government against our neighbor in which he is implicating them of supporting former President Koroma to wage war in Sierra Leone?
Although Mr. Leema has deleted the post as a way to cover up the damage he has done, It was too late because the post had already gone viral and thousands of Sierra Leoneans had seen and continue to repost the said material.
Other Sierra Leoneans choose to archive the post for reference purposes. We may want to believe that Mr. Leema's actions has caused some huge embarrassment to your person and your Goverment. Except if you want to finally confirm what the Sierra Leonean public already know that Mr. Leema is operating under your command and full approval.
We the people of Sierra Leone strongly believe that an overzealous, unprofessional and uncivilized person in the name of Lahai Lawrence Leema has done enough damage to prove that he is ill prepared and unfit to hold any public office or position of trust. Therefore, he is being perceived by the general public as a trouble maker and a liability to your administration and Sierra Leone at large. However, the decision to retain or sack any member of your administration remains your prerogative. Thus, you are considered to be the person who bears the greatest responsibility if your actions or inactions contributes to any form of civil unrest whilst you still remain the President of Sierra Leone. Therefore, we hope you will endeavor to serve your conscience and in the best interest of Sierra Leone at all times.
Finally Mr. President, we would like to remind you that the Safety, Security and Stability of this great nation is in your hands.
*We wish you well as you continue to advance your New Direction program or alternatively seat and watch Sierra Leone relegate to the dark days of the civil War*
Have a blessed Weekend.
*_FROM CONCERNED PATRIOTS_*
*NEWS ALERT 
🚨*
*IT HAS COME TO THE ATTENTION OF THE GENERAL PUBLIC THAT DEPUTY MINISTER OF INTERNAL AFFAIRS, LAHAI LAWRENCE LEEMA WHO IS ON RECORD TO HAVE MADE SEVERAL INCITING STATEMENTS AGAINST THE MILITARY IN THE PAST IS ON RECORD AGAIN ON A RECENT FACEBOOK POST TO INCITE HATE AGAINST FORMER PRESIDENT KOROMA.*
*THE GENERAL PUBLIC IS AWARE THAT LEEMA IS ORCHESTRATING YET ANOTHER DIABOLICAL PLAN AIMING TO DISRUPT THE HOMECOMING EVENT OF FORMER PRESIDENT ERNEST BAI KOROMA ON SUNDAY.*
*LEAKED INTELLIGENCE INFORMED US THAT LEEMA HAS MOBILISED A GROUP OF ABOUT 500 PRO-MAADA BIO KAMAJOR MILITIA MEN TO DISGUISE IN APC OUT FIT AND CAUSE HAVOC DURING THE HOMECOMING EVENT SO AS TO IMPLICATE THE FORMER PRESIDENT AND OTHRE MARKED APC MEMBERS.*
*THE PUBLIC IS HEREBY WARNING THE GOVERNMENT OF PRESIDENT BIO TO DESIST FROM ANY PLAN TO CUSE CIVIL UNREST IN SIERRA LEONE FORTHWITH.*
*ANY PLAN TO CUSE VIOLENCE IN OUR BELOVED NATION WILL BE MET WITH STIFF RESISTANCE. PRESIDENT BIO PLEASE NOTE THAT YOU AND MEMBERS OF YOUR GOVERNMENT WILL BE HELD RESPONSIBLE FOR FAILING TO PROTECT THE LIVES AND PROPERTIES OF ALL SIERRA LEONEANS .*
*YOU HAVE BEEN WARNED!! *