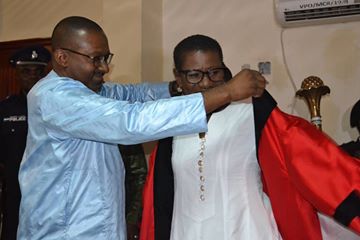 As Mayor Yvonne Akie Sawyer takes oath of office today 11th May, 2018, Hon. Vice President Dr. Mohamed Juldeh Jalloh implores her to carry out her functions as enshrined in Section 11(3) of the Local Government Act of 2004.
The Mayor was sworn in today ahead of the Presidential inauguration ceremony scheduled for tomorrow.
 Congratulations- Her Worship the Mayor of Freetown municipality- Madam 
Yvonne Aki-Sawyerr
 .
What more can we say than wish you all the best and may your service be well served in the coming years. Your service to this country since the end of the war, and during the most trying times of this nation's history (the Ebola) makes us celebrate you everyday cuz selfless Sierra Leoneans like you should be celebrated at all times across the isle!
Alas! I pray also and heartily that you put Mama Salone first and also ensure the Green, white and blue is always flown high. Sierra Leone's capital Freetown serves as the hub for everything that promotes and sustains us.
It is my belief that together we can all make Salone a better place!
It is our heartfelt desire that you succeed in all what is embedded in your manifesto- a clean, better, and friendly Freetown that will promote safer health habits, enhance better attitudes to work, justice for all especially with the Metro Politan Police), have encountered some ugly situation with them in the past,they need to be revamped. Help this city and country to be effective , efficient and also make serious and treat with utmost urgency anything that borders on your city's positive forward march.
Lest I forget, ensure you make priority women's representation in governance, you can Push for it as mayor and together we can achieved great things. Make no room for mediocrity, paddism, mainmanism and anything that won't be in the common intetrest.
For somebody I call Mum and have known since 2010, I know you believe in Competence and excellence.Ensure that they are at the core of your service delivery.
Congratulations once more, am so proud of you and always remember that a greater number of us trust and believe in your leadership, keep that as mantra for higher heights.
Serve,and serve well my mayor.
Freetown is in your hands.
Do us proud!