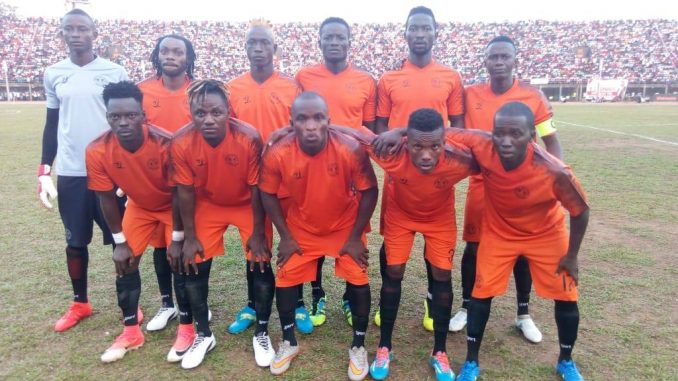 After a bad start to the ongoing Sierra Leone Premier League Competition, Mighty Blackpool have started firing on all cylinders as one of the powerful titans  of Sierra Leone football. The dismissal of Coach Abu Sankoh seems to be paying dividend, as they have won three matches in a row since then. They have demonstrated their might by moving from the bottom to fifth place. However, FC Kallon continues to lead and have conceded no goal so far.
————————————————–
Abubakarr Kamara of the SLFA  brings you this review of matches played this week.
Sierra Leone Premier League Weekend Review:
*FC Kallon Stays at the Summit after City Win
*Central Parade Humbles May Park Boys at Home
*Tis-Tas Boys Get 3 Wins in a row after RSLAF Win
*Bo Rangers Secure first Point after Tigers Draw
*Eagles & The Killers; Water Front Boys & Diamond Stars Drew Blank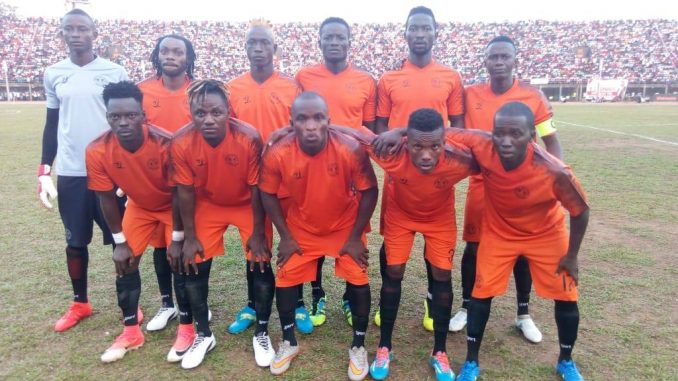 With all premier league clubs in action, save for Anti Drugs Strikers over the weekend, there was the propensity for a major shake up in the Sierra Leone Premier League table but this is not so as results keep going the expected way with no upset.
Despite three wins, a score draw and two goalless draws in the six matches played over the weekend, it was the Tis-Tas Boys that made a major jump and FC Kallon remains at the summit as Central Parade continues to stroll behind them with a point less.
Kamboi Eagles vs East End Lions
After a very good performance in Freetown against second place, Central Parade in their last match, fans were of the conviction that the Kamboi Boys will create an upset for visiting East End Lions, who had scored only three goals in four matches and conceding none.
However, both started on the high; trying to get all three points but to no avail. The Killers came close to getting the opener but were denied by a very good defending display of the Kamboi Eagles defense.
The host thought they had got the opener before the break when Alhassan Kamara's shot went into the net but the referee adjudged him to have been in an offside position.
Both teams had penalty appeals waved off but the host thought they had more penalty appeals. In the end, it was goalless at the final whistle.
Kamboi Eagles have now secured 8 points from 5 matches and drop one place down to 6th. East End Lions maintained their 3rd position with 11 points from 5 matches.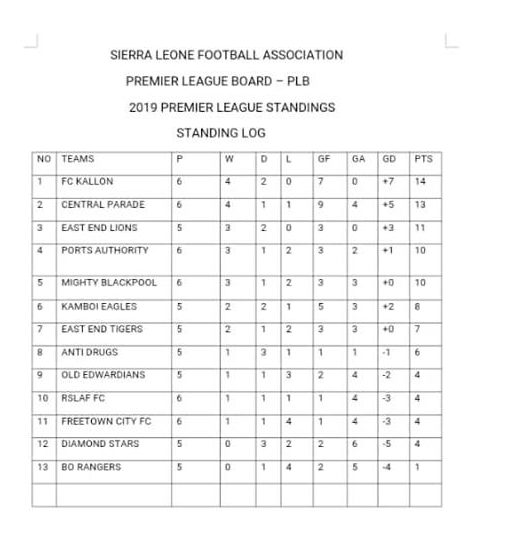 Bo Rangers vs East End Tigers
Baimba Sesay's strike before the hour mark had given the visitors the lead and the hope to bag all three points until a controversial goal scored by Musa Kargbo at extra time changed the score sheet and gave the host its first point in five matches.
Bo Rangers remained at the bottom of the pack while East End Tigers maintained their 7th position on the table with 7 points from 5 matches.
Ports Authority vs Diamond Stars
What could have been Diamond Stars first win in the SLPL and the third defeat in a row for the Water Front boys ended goalless in a pulsating encounter that witnessed a well determined but misfiring Diamond stars side.
The Diamond Boys played what many football pundits believe was their best performance so far in the SLPL and were hoping for all three points but an experience, though nervous Ports Authority side, denied them all opportunities and preferred to settle for a draw.
The Water Front Boys now join the double digits club on 10 points from 6 matches and maintained their 4th position on the table. They have failed to score in three outings so far.
Diamond Stars have secured 3 points from 5 matches and lie at 12th in the league table.
Central Parade vs Old Edwardians
Lucky Central Parade scraped through a 2-0 win against a stubborn May Park Boys; thanks to a Thomas Sanu brace, which included a controversial penalty awarded in the 87th minute.
A first half goal scored after a scramble display in the Old Edwardians six-yard box put the host ahead and shortly after the recess, the visitors thought they had equalized from a set piece that witnessed a fine finish from a May Park player but the referee had already sounded his whistle for a "controversial" offside.
The win gave Central Parade 13 points from 6 matches and still maintain their 2nd position on the SLPL table. Old Edwardians on the other hand have secured 4 points from 5 matches and stay at 9th on the SLPL table.
FC Kallon vs Freetown City Council FC
SLPL leaders, FC Kallon had to defend an early goal scored in the 17th minute by skipper Sallieu Tarawallie to clinch all three points from a disappointed and ill-motivated Freetown City Council side.
The Cavaliers are yet to concede a goal in 6 outings and have so far earned 14 points to continue staying at the summit.
The Mayor Boys failed to create an upset and therefore remain at 11th with 4 points from 6 matches.
RSLAF FC vs Mighty Blackpool
The 'Soja' Boys suffered a 1-0 home defeat to the Tis-Tas Boys despite pilling pressure on the visitors throughout the match.
Mighty Blackpool capitalised on a defensive blunder to take the lead in the 53rd minute; thanks to a Mohamed Aruna beautiful finish.
All efforts by the Soja Boys to cancel the opener were thwarted by one of the most experienced SLPL goalkeepers, Abdulai Bah.
Mighty Blackpool have now secured three wins in a row and bagged 10 points from 6 matches to move 5th on the SLPL table.