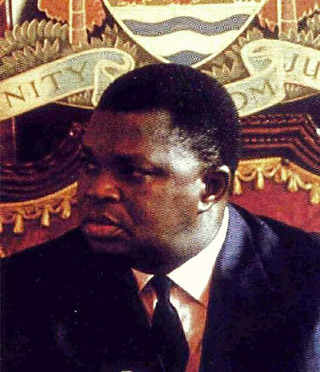 Wednesday August 24, 2005
Tamba Borbor reports from Freetown
Mrs. Fatmata Neppie Momoh, the wife of Ex-President Dr. Joseph Saidu Momoh hasrevealed all that surrounds the issue of the will of the late former President.
She has dismissed claims by Mr. Abdul Momoh- who is said to be the son of the late former President, that no will was left behind by J.S. Momoh. Producing the original hand-written will of the late President, Mrs. Fatmata Momoh who has been married to the former President for 19 years now, said that the time is now ripe for her to put things right regarding allegations made against her person and the former Head of State by Mr. Abdul Momoh in some newspapers.
"My husband left a hand-written will which he prepared on the 25th April 2003 in Nongo Tadi in Conakry, Guinea prior to his death. He instructed that the will be legally handled by his Solicitor- Terrence Terry," she stated.  In the will, it is stated: ".in the event of my death or my being either mentally or physically incapacitated, my next-of-kin who is my legally-wedded wife, Mrs. Fatmata Neppie Momoh, automatically becomes the unquestionable owner of the properties and assets." 
 Regarding a claim made in one newspaper by Mr. Abdul Momoh that the late J.S. Momoh has 20 houses, Mrs. Fatmata denied that there are only 7 houses; with 4 badly damaged beyond repairs while some of the houses she said according to the will of the late former President were given to his sons and daughters both within and outside Sierra Leone. "How would I have forged a will when it is in the hand writing of my late husband. I only got a house at Walpole Street as my own property to enable me educate my children," Mrs. Fatmata Momoh disclosed. She made reference to another publication in a local newspaper in which she said Mr. Abdul Momoh stated that his late father was taking drugs and sometimes stripped himself naked. "In the first place even though the allegation is baseless and incorrect in its entirety, how can one say such a thing about your father to the whole nation. I was with my husband until his death, while he Abdul was nowhere to be found. I know what we went through in Conakry as a family," Mrs. Fatmata Momoh lamented.
She maintained that Abdul Momoh is only trying to smear her good image because he was disowned by her late husband before his death. "There are a lot of things Abdul did which led to his falling out with the old man," the very attractive middle-aged wife of ex-President Momoh said. Meanwhile, at a family meeting held at Soldier Street, Mr. Abdul Momoh's mother- Hawa Marah apologised to Mrs. Fatmata Momoh for all her son wrote about her in the newspapers and promised that it would not occur again. However, some immediate family members of the late former President have decided to take legal action against Mr. Abdul Momoh for what they termed as smearing the image of their brother.