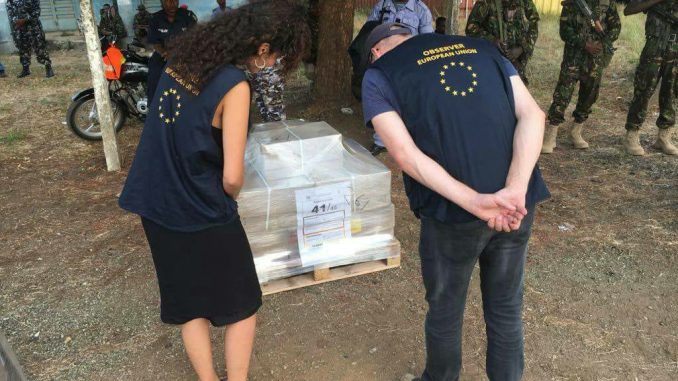 @ M. B Jalloh, Press Attache, Saudi Arabia
The Sierra Leone Police (SLP) and the Military escorted sixteen trucks carrying ballot papers from Lungi International Airport to the 16 districts and the Western Area this morning.
Superintendent Ibrahim Samura is the Spokesman for the Sierra Leone Police. He says :
"We will also be deploying 444 para military police alongside the Republic of Sierra Leone Armed Forces (RSLAF) to provide escort for vehicles carrying Tamper Evidence Envelopes to and from polling centers and a further 80 OSD personnel to escort trucks carrying sensitive materials."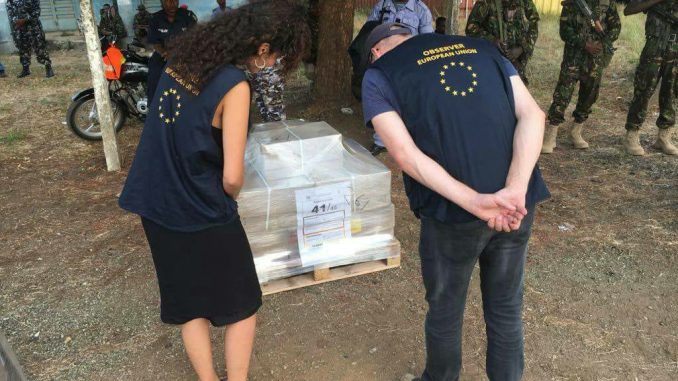 In a relaxed mood at his George Street Police Headquarters office in Central Freetown this afternoon, the Police Spokesman further says, "a total of 12,035 of our personnel will also be deployed across the country on election day and 2,181 of our sister forces from the Fire Force, Metropolitan Police, Road Safety Corps, Chiefdom Police, Correctional Service Officers, among others will be around to support us . "
Unlike the 7th March elections, Samura says, this time round, the police have the mandate to enter polling stations intermittently to maintain law and order. " This is a shift from the last orders where personnel were only allowed to go inside polling stations on the invitation of NEC staff."
He also told me that Regional Police Commanders across the country had been admonished to work assiduously with the RSLAF to maintain robust, determined and aggressive patrols, Mann checkpoints to forestall any public disorder.
Meanwhile, the security situation has been raised to level 2 in response to incidents of violence and intimidation since the announcement of the 7th March elections result. The Military Aid to Civil Power (MAC-P) has also been been invoked by the National Security Council (NSC).