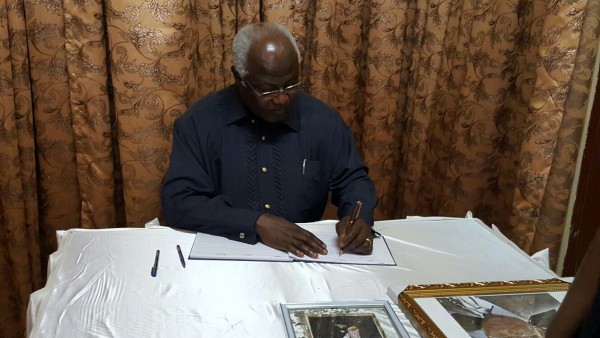 By State House Communication Unit
His Excellency the President Dr. Ernest Bai Koroma accompanied by his wife Mrs. Sia Koroma on Wednesday and Thursday 3 and 4 February respectively, joined host of mourners including cabinet ministers, Members of Parliament, friends and family members as well as government representatives to pay their last respect to the late Dr Vincent Lamina Kanu, during a civic laying out ceremony at the Miatta Conference Centre in Freetown and at the Makeni City Council in Bombali.
Also part of the signing ceremony in both Freetown and Makeni were the Vice President Victor Bockarie Foh, Her Excellency the First Lady, Mrs. Sia Nyama Koroma, wife of the Vice President, Mrs. Junta Foh, the Mayor of Freetown City Council Franklyn Bode Gibson, the Mayor of Makeni City Council among others.
Giving a brief tribute on behalf of the Kanu family, the second daughter Mahawa Kanu Turay recalled that their father was a well-focused business man who taught his children the art of perfection.
On behalf of government, the Minister of Information and Communication, Alhaji Dr Alpha Khanu gave a snap tribute about the late Dr. Vincent Kanu and prayed that paradise be prepared for the deceased.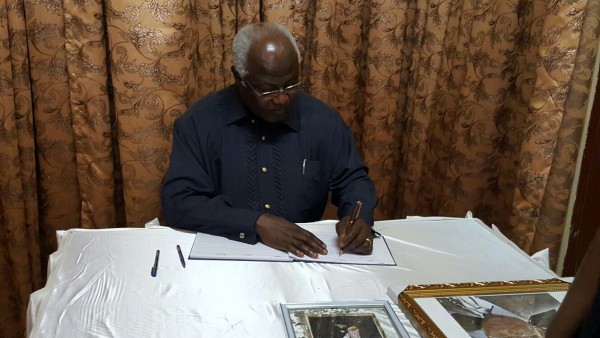 A friend of the late man, Sidi Bakarr, informed mourners that he had known the late Vincent Kanu for well over fifty years and served as his Bestman when he got married.
Ambassador Alhaji Osman Foday Yansaneh in his tribute described the death of Dr Vincent Lamina Kanu as an irreparable loss to the ruling All Peoples Congress. He said the funeral is owned by the APC, as he has always been there for the party and had made huge contribution to the APC.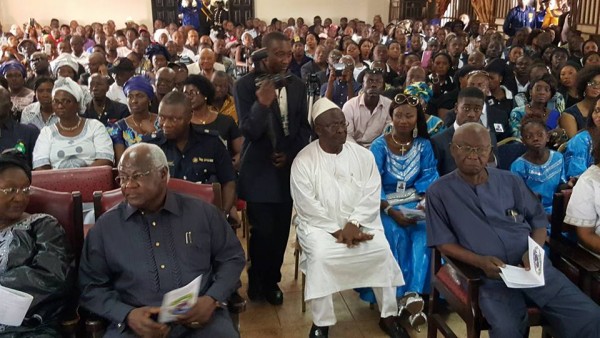 Ambassador Yansaneh said the APC party stands firmly behind the family members of the late Dr Vincent Kanu.
Tributes were also made by the Mayor of Freetown City Council among a host of other dignitaries.
Please see below short Biography of Dr. Vincent Lamina Kanu (1945-2016) delivered by the Mayor of Makeni City Council, Her Worship Sunkarie Kabba Kamara.
The Late Dr. Vincent Lamina Bompe Kanu was born in Makarie village, Bombali district to his parents Pa Abu Santigie and Ya Yeabu Kamara. The eldest of their five children, Vincent attended St. Francis Secondary School in Makeni under the guardianship of Catholic Italian priests, where he developed a strong faith that guided him for the remainder of his life.
After his early education in Sierra Leone, he received further education in Business and Management at the Institute of Business in Rose, Italy and Boston College in Massachusetts USA.
Vincent started his career as a Sales Representative in Sierra Leone for AGIP, an Italian petroleum company. There he developed a great deal of knowledge and an avid interest in the petroleum industry and through exceptional hard work, he rose to the rank of Company Manager.
He later served at the British Petroleum (BP) Sierra Leone, rising to increasingly greater heights until he became Managing Director of the National Petroleum (NP).
Vincent, as Chief Executive of NP at the time, was instrumental in the privatization of the company in the late 1990s. He served as the Managing Director of NP until his retirement in 2005.
In addition to his work, in business, from 1991 to 2002, Vincent also represented Italy in Sierra Leone as Consul and served as Dean of the Diplomatic Corps.
Vincent had a long and illustrious career and has been an instrumental figure in the development of the petroleum industry in Sierra Leone.
He served on many corporate boards in his role as Director or Chairman. In 2007, in recognition of his outstanding contribution to the nation in the field of commerce, particularly in the oil industry, he was honoured as Grand Officer of the Order of the Rokel by the President of Sierra Leone.
Furthermore in 2014, he was awarded a honourary doctorate in Social Entrepreneurship by the University of Makeni in recognition of his outstanding contribution in business and the community.
After his retirement in 2005, Vincent embarked upon a personal project to "pay back" his home town of Makeni by making a personal investment in the infrastructure of the region. He built a world class hotel called Wusum Hotel which has contributed greatly to the development of the region.
In addition to all of this, Vincent was also instrumental in launching the nation's first biofuel initiative with international investors located in the Makarie region, designed to generate jobs while reducing Sierra Leone's dependency on imported petroleum. Vincent, or Vinco as his friend and loved ones affectionately called him, was well known, well-loved and well respected. He was a rain maker and often the life of the party. He will be sorely missed.
He is survived by his children Isatu, Mahawa, Zainab and Vincent; his brothers Brima and John; his sisters Makarie and Rugiatu Baby; and his grandchildren Ibrahim, Neneh, Kaira, Safia, Mathew and Esther.
We love you but God loves you best. Sleep on beloved one, sleep and take your rest.
May God's perpetual light shine upon you.
May his soul rest in perfect peace.