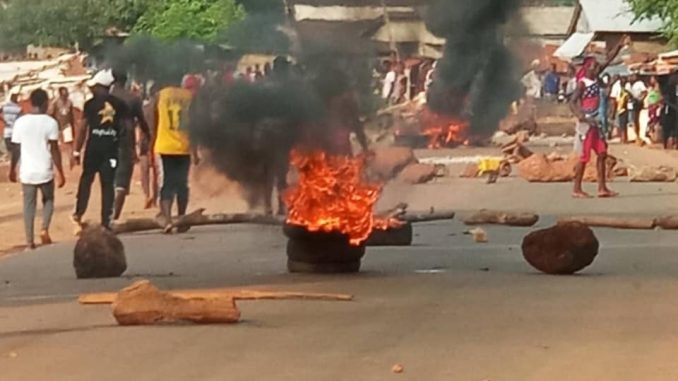 By Alpha Kamara
Riot in Tombo leaves 2 dead and offices burnt down.
Riot in Tombo,outside Freetown leaves 2 dead and houses burnt down. My sources say the riot started after the authorities instructed that only 15 boats out of over 400 are permitted to go fishing because of the COVID19 restrictions.
The youths tried to negotiate but they were turned down. They went embarked on a running battle with the police and bullets and tear gas canisters were fired killing two youths as at 12 midday local time.
The youths also destroyed the FSU unit of the police station in Tombo, the community health center and the chief's house.
Tombo Sherbro tribal head Micheal Benga told Ayv Sierra Leone that youths were told to stop listening to social media commentator (Adebayor) on loud speakers in the town to avoid attracting crowd be because of the COVID19 regulations.
Deputy District Council Chairman for the Western Rural says two youths were gunned down by the security personnel and others were injured before he arrived at the scene.
Arrests have been made. A temporal curfew has been announced in the Town until the security situation improves.
Tombo is a community in the western rural district where over 90 percent of the people rely on fishing for survival.
By Karim Bah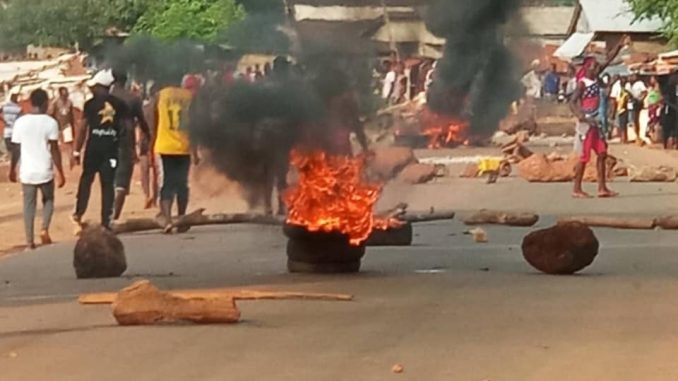 Riot in the fishing village of Tombo this morning. Details are sketchy but what we know from reports by journalists is that the people of Tongo whose livelihoods depend on fishing are not happy with a Govt policy of stopping/reduction of fishing and fishermen going to sea as part of its Covid 19 response.
I also heard from Tumac Radio journalist – Charlie Mahoi that the local chief had earlier ordered that no one should listen to Social Media Audios by Adebayor. That anyone caught listening to Adebayor on their phones will be arrested and prosecuted? This is very unfortunate. Such a chief cannot lead the local fight against Corona because he's not trusted and will not be trusted by the people. He's now seen as partisan, working for the Govt and not his people.
The people of Tombo depend on fishing for their livelihoods. No fishing No Money. Therefore any such policy is bound to cause resistance. This is why some of us have been arguing for a bottom up, community led approach to the fight against Covid 19, not the top down militaristic approach which was employed during the Ebola epidemic and is now being replicated by this Govt. For example the COVID 19, EOC is led by Brigadier Kelly Conteh.
The communities need to be put in charge and decide together with the people what is the best way forward. Each community is different so therefore a local solution will be the best way forward. A fishing community in the west and south of Sierra Leone will be different from a cattle rearing community in the mountains of Koinadugu and Falaba.
In fact there should be a Local COVID EOC in each community or neighbourhood led by people who are very much trusted by the locals with trusted local youth and women representatives to take decision. The national government will supervise and provide logistic and other support.
One worrying development is that partisans from the Govt/SLPP aside continue to give these riots a political tone and blaming the Opposition even without evidence. This is the wrong direction and approach to go with this. At this stage it is not helpful to continue this toxic and divisive innuendos in the country. Not especially by the Govt.
Karim Bah
Curfew declared in Tombo
Following violent skirmishes between residents and police officers that left at least one dead in the fishing village of Tombo, a curfew order has entered into force.
Dunstan Cookie Cole
What state institutions bro. You lock pipul at home for three days and three nights and you stop them on the 4th day to go out and earn a living. What do you expect to happen?
Pious Bangura
Trust me my brother, when u take revenge against another you lose some of your innocence. And also before u embark on a journey of revenge, dig two graves, because only a fool will revenge, the wise will allow God's karma!!
RIOT IN TOMBO INCITED BY ADEBAYOR?
OR FISHERMEN REVOLT?
Has the "The King Himself " Mr. ADEBAYOR successfully incited a riot in tombo, a small town in the outskirts of Freetown city?
Well on the 5th of May 2020 Mr. ADEBAYOR in one of his usual insult littered rants started his "lef bat at" audio blog by telling his avid loyalists that the tribal chief MANGAI of Tombo have threatened to arrest(s) anybody found listening to his audios in the Tombo community in a radio interview.
"If I was in Freetown I would have burnt
down his house right now" Mr. Adebayor.
But According to a Mr. Morlai Dumbuya live in Tombo
After the 3 days lockdown fishermen at the town who were expecting to go about their normal businesses where suddenly ordered by the Chief to only take 10 boats to fish and this has caused a huge riot in the town as many people in the community depend on fishing for their survival.
BBC News PidginAlJazeeraEnglishCNNFRANCE 24 English
The level of violence in Sierra Leone is becoming threat to the peace and stability of that nation. The government, political parties and civil society groups needs to engage in meaningful dialogue and engage the youths with peace loving messages. Give peace a chance!!!