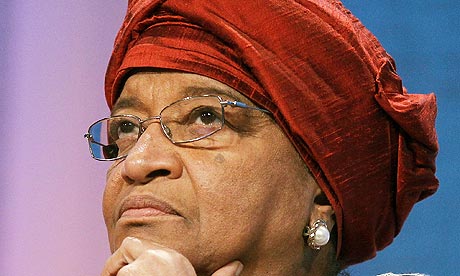 Ellen Johnson-Sirleaf's past association with coup plotters and rebel leader Charles Taylor have continued to haunt her in her quest to become the first  elected woman President of Liberia and Africa.
Former Charles Taylor protege and war-time spokesman, Tom Woewiyu,  has written the Unity Party ( UP) Presidential candidate for next month's elections a blistering letter in which he made damaging allegations against Mrs. Johnson -Sirleaf. On the line from Monrovia, Jlateh Doe talked with COCORIOKO Editor, Rev. Wilfred Leeroy Kabs-Kanu :
Editor : What does Woewiyu plan to accomplish with this line of attack on Mrs. Johnson-Sirleaf ?
Jlateh Doe : Mrs.Johson-Sirleaf's opponents are trying to cast her as a selfish, ambitious , power -seeking woman who will do anything to further her ambition to be President of Liberia. They want people to look at her with the same eyes they are looking at Charles Taylor, that she is over-ambitious, selfish and contributed as equally as Charles Taylor to the problems Liberia finds herself in today. They also want the public to see Mrs. Johnson-Sirleaf as a woman who is not honest with the Liberian people when she told the BBC  the wrong story about alleged careless statements she made during the war which they feel encouraged Charles Taylor not only to be intransigent but to resort to reckless military actions that cost Liberia thousands of lives.
Editor : But hasn't Mrs. Johnson-Sirleaf apologised to the Liberian people ?
Jlateh Doe : She has, but her opponents do not think that was enough. They feel that she did not tell all the truth and was concealing more important facts about her role in the NPFL, especially. They want her to tell everything she did truthfully and honestly.
Editor : Will Mrs.Johnson-Sirleaf's past affect her bid to become President ? What do the Liberian people think about these allegations against her ?
Jlateh Doe : It is difficult to know now whether these things will affect her because right now what I hear the people saying is that they will vote for the person who is capable of reconstructing the country, provide food, education, housing and better living conditions for them .Personally, I do not think these allegations will destroy her because most of our politicians here one way or the other played some kind of role in the war.
Editor : What about Woewiyu himself who is launching this attack ? Does he have credibility with the Liberian people ?  Does he have the ability to make people listen to his allegations ?
Jlateh Doe : Right now, Mr. Woewiyu is not the issue. He is not a Presidential candidate and he is not the first person who has tried to link Mrs. Johnson-Sirleaf's past to atrocities committed by power-seekers which made the Liberian people suffer. As I said , it is hard to know  now whether these allegations will affect Mrs.Johnson-Sirleaf .There are so many problems in this country that if she is able to convince the Liberian people that she is able to solve them ,I think they will vote for her, irrespective of her past complicity in coups and the rebel war.
Editor : With one month left for the elections, how do you rate Mrs. Johnson-Sirleaf's chances ?
Jlateh Doe : Right now, she is the favourite of many would-be-voters  who express their views in public and radio talk shows but again it is hard to predict anything because George Weah  too is very popular with the youth and he has a very large fan base in this country. I think it will be a tough fight and things can change any moment.
EDITOR'S NOTE : Despite the attacks on her, Madam Ellen Johnson-Sirleaf is the most credible presidential candidate and the one the West looks upon as the most likely to spur Liberia's postwar reconstruction , if elected. She has better leadership credentials than her critics.