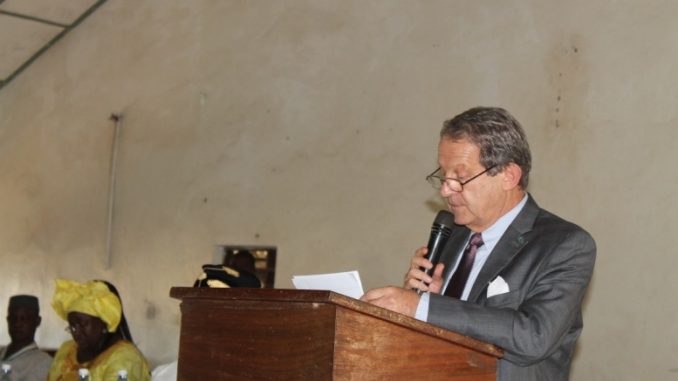 PRESS RELEASE
(Kenema, 30 January 2014) – Over 100 Paramount Chiefs gathered from 28 to 30 January in Kenema to discuss the review of Sierra Leone's 1991 constitution as well as their own role in ensuring an inclusive and transparent process. "The constitution is the highest legal document of our country," Justice Edmund Cowan, Chair of the Constitutional Review Committee (CRC), pointed out. "To make it credible and to include rural areas, Paramount Chiefs have to empower their people, make them understand and enable them to participate in the review process."
  Jens Anders Toyberg-Frandzen, the United Nations Secretary-General's Executive Representative and head of United Nations Integrated Peacebuilding Office in Sierra Leone (UNIPSIL), chats with Justice Edmund Cowan, Chair of the Constitutional Review Committee (CRC) at National Meeting of Paramount Chiefs in Kenema, 29 January 2014. Photo: UNIPSIL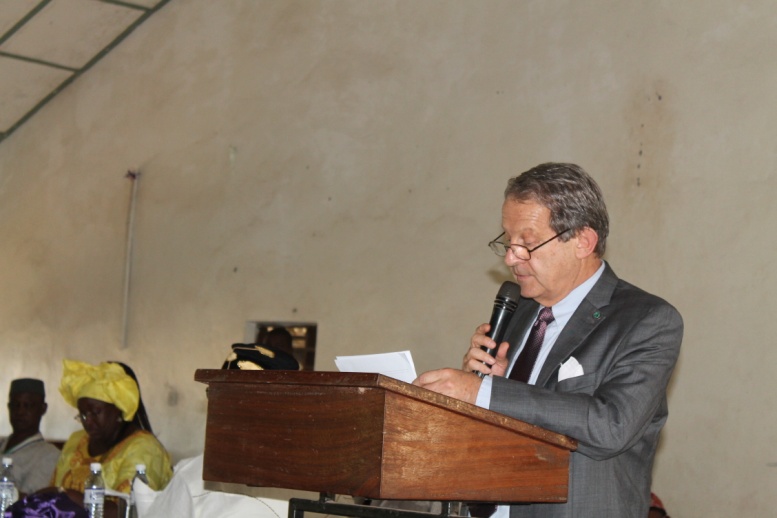 Jens Anders Toyberg-Frandzen, the United Nations Secretary-General's Executive Representative and head of United Nations Integrated Peacebuilding Office in Sierra Leone (UNIPSIL), addresses National Meeting of Paramount Chiefs in Kenema, 29 January 2014. Photo: UNIPSIL
Over 100 Paramount Chiefs gathered to discuss the importance of reviewing the constitution as well as their own role in ensuring an inclusive, non-politicized and peaceful process from 28 to 30 January 2014 in Kenema. Photo: UNIPSIL
Jens Anders Toyberg-Frandzen, the United Nations Secretary-General's Executive Representative and head of United Nations Integrated Peacebuilding Office in Sierra Leone (UNIPSIL) with Diana Konomanyi, Minister of Local Government and Rural Development at National Meeting of Paramount Chiefs. 29 January 2014. Photo: UNIPSIL
"The Constitutional Review Process is a unique opportunity for voices to be heard and to consolidate and safeguard Sierra Leone's hard-won gains over the years in an inclusive way," Jens Anders Toyberg-Frandzen, the United Nations Secretary-General's Executive Representative and head of United Nations Integrated Peacebuilding Office in Sierra Leone (UNIPSIL), said in his statement at this two-day National Meeting of Paramount Chiefs.
"The Constitution is owned by and applies to all citizens of Sierra Leone, equally.  This needs to be understood by everyone to whom the constitution applies." Toyberg-Frandzen further emphasized in his statement the importance of having an informed and inclusive approach to the Constitutional Review Process.
The meeting organized by the Justice and Peace Commission with the support of UNIPSIL, was attended by representatives of national and local government, parliament, the Constitutional Review Committee as well as the United Nations as part of nationwide efforts to make the review process inclusive and owned by all people of Sierra Leone.
Ongoing UNIPSIL support to the constitutional review process focuses on the participation of Non-State Actors and will continue after the mission's closure in March, Toyberg-Frandzen ensured. He extended a thank you to the Chieftains for their partnership and highlighted their important role in helping to lay the foundations for the peace Sierra Leone enjoys today.
BACKGROUND: UN Support to the Constitutional Review Process Project
In July 2013, President Ernest Bai Koroma launched the Constitutional Review Committee (CRC), tasked to review Sierra Leone's 1991 constitution and to find solutions for challenges related to governance, democracy development and peace consolidation. Following a series of countrywide consultations, a revised constitution is expected to be adopted by a referendum.
The United Nations Integrated Peacebuilding Office in Sierra Leone (UNIPSIL) has been working with political parties, traditional and religious leaders, youth and women groups to enhance their understanding on constitutional issues and support their initiatives for an inclusive and participatory constitutional review process since December 2013.
UNIPSIL activities complement the "UN Support to the Constitutional Review Process" project led by the United Nations Development Programme (UNDP), with funding by the UK Department for International Development (DFID) and the European Union (EU).
+ + + + +
Media contact:
Ms. Silke von Brockhausen
Communications Specialist
United Nations in Sierra Leone
Resident Coordinator (RC) Office
Tel.: +232 79 95 6666 | @svbroc
silke.von.brockhausen@undp.org
Skype: silke.von.brockhausen