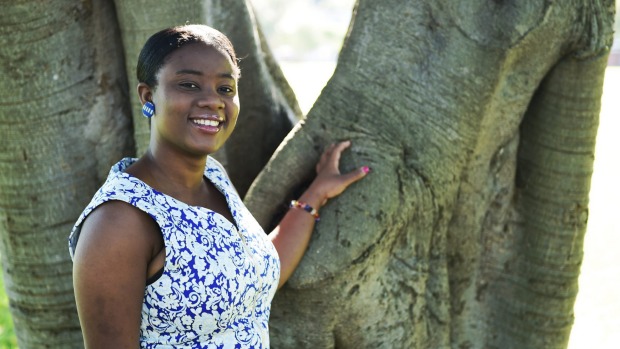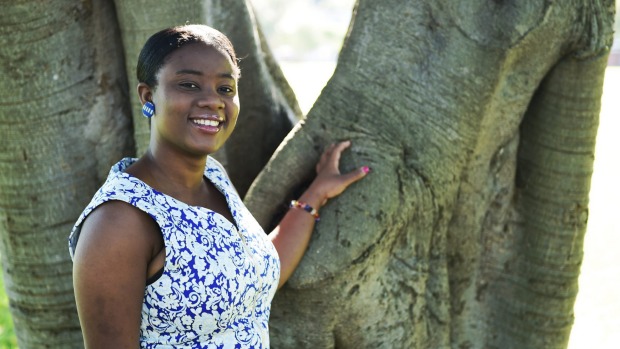 Yarrie Bangura has been announced as a youth representative for the United Nations High Commission on Refugees. Photo: Nick Moir
Australians should appreciate how lucky they are, Yarrie Bangura says as she holds back tears.
She should know. The 20-year-old refugee from Sierra Leone escaped violence in the war-torn country where an estimated 50,000 people died in the civil war, and more than one million people have been displaced, according to Human Rights Watch.
"One morning we saw everything was on fire, people were killing each other, dead bodies were everywhere, people were chopping hands and feet off. This is what happened in Sierra Leone," she said.
"We managed to find our way through the violence to Guinea where we were living in a refugee camp.
Advertisement
"I was young and I was very ill while I was in the camp because of the environment.
"It was horrible, I can't forget that. You see no hope and it's easiest the worst part of life and it feels like you are locked in a place [and] there is no way out."
But those days are far behind Yarrie, who has now forged a successful life in Australia as a singer and human rights activist.
Yarrie was finally told in 2004 that she would be allowed to live in Australia. It was one of the happiest moments of her life, she said.
And on Friday she was to be announced as the second ever youth representative for United Nations High Commission on Refugees, where she will tell Australian audiences about her experiences and encourage them to pursue their dreams.
The first contact Yarrie had with the UNHCR was in the refugee camp in Guinea with her family. She didn't know who the UNHCR was, but recognised the blue symbol each aid worker wore when visiting her camp. It was also stitched into the blankets and the food packets given to Yarrie and her family.
"I used to see them, I used to admire them, 'wow I want to be like those people'," she said.
But it was only when Yarrie travelled to Canberra years later that she recognised the symbol as the UNHCR and her plan to work for them formulated.
"For UNHCR to ask me to be a special representative, is like dreams and wonder," she said.
"I think of my life in the camp and I lost everything. When I am lying in my bed I think I am dreaming."
Yarrie joins former cricketer Ian Chappell, fashion designer Sarah-Jane Clarke, soccer player Mark Schwarzer and comedian Jane Turner who are also representatives for UNHCR.
THE SYDNEY MORNING HERALD