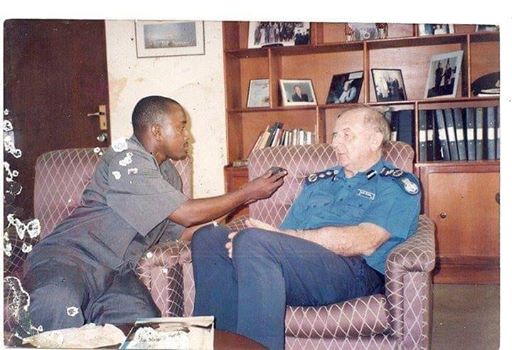 By Alhaji M.B. Jalloh
"A force for good" was the motto of the Sierra Leone Police (SLP) some 19 years ago, when British-born Keith Biddle headed it as Inspector General.
Before then, the force was nothing to write about. Not only was it highly politicized; many saw it as it was corrupt to the core, with low standards and increased unprofessionalism. Things changed to some extent when Mr. Biddle and the Commonwealth team stepped in with their police reform programme. The force was retrained by British and Commonwealth officers after the war.
I interviewed Keith Biddle some 18 years ago (see attached photo). In that interview, he was very worried about "the lack of adequate incentives" for police officers in terms of salaries and remuneration, but much worried about "the high level of political interference" in the force when he would have left – a tendency, he believed, had the propensity to undermine the efficiency of the force. Before he left, he made reference to some senior officers who benefitted from some senior level training at the UK Bramshill Police Staff College – referenced them for their professionalism.
And one of the officers who benefitted from that British sponsored police training is the current Deputy Inspector General of Police, FUK Daboh who reportedly gave instructions to the Local Unit Commander, Mr. Bornnoh, in charge of Port Loko District; leading to yesterday's unfortunate incident in Port Loko city.
Keith is now a retired police officer having good time with his family. But I am still in touch with him. The last time we spoke, he was on holiday in France. This is what he always says. "I am honoured that I was able to serve your wonderful people at that difficult time. The transformation was not my work but that of many people in Sierra Leone and especially colleagues at all ranks of the SLP. My role was to guide and encourage ideas that were already there."
Since leaving Sierra Leone in June 2003, he told me, I have worked for the UK, UN, EU, Australia and New Zealand in many places in the world. "One of my proudest times was in East Africa seeing many of my SLP colleagues working for the EU and AU in Sudan, Somalia and as officials in Addis. All rewarding stuff – I doubt any of us imagined that the SLP would supply so many fine women and men to help other countries."
I am sure, if Keith who I understand is still following events closely in Sierra Leone hears or reads about the current hostile relationship between the police and the civilian population they (the police) are supposed to protect, he would be highly disappointed. I will find time to do an interview with him in the not – too -distant future, God willing.
About Keith Biddle
He was a consultant on police reform efforts in Africa and a retired officer of the British police. He became involved in international police reform in 1994 as a member of the British police force, in which capacity he served as deputy assistant commissioner in the Metropolitan Police and later as assistant inspector of the Constabulary in the Home Office.
In 1994, he became the policing adviser to South Africa's Independent Electoral Commission in advance of Nelson Mandela's election. Following his work in South Africa, Biddle began to work with the U.K. Department for International Development on issues involving police reform, including in Indonesia, Ethiopia, Namibia and South Africa. Between 1999 and 2004, while working with the United Nations under DFID, Biddle headed the police force in Sierra Leone during the Tejan Kabbah era. He subsequently worked on police reform projects in the Democratic Republic of the Congo and Somalia, and continued to be involved in police reform efforts in Africa.