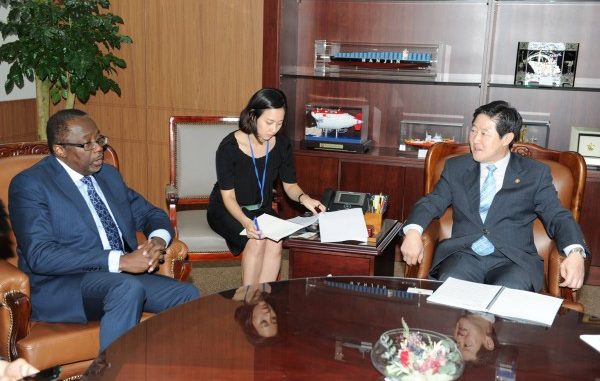 Sierra Leone's Ambassador to the Republic of Korea, H.E. Ambassador Omrie Michael Golley, on Monday 14th September 2015 met and held discussions with Korea's Minister for Oceans and Fisheries, The Hon Kijune Yoo at the Government Administrative Complex at Sejong City, near Seoul, the South Korean Capital.
The Ministry of Oceans and Fisheries is a cabinet level division of the Government of South Korea and covers a variety of maritime and fisheries affairs including ports, shipping, logistics and fisheries.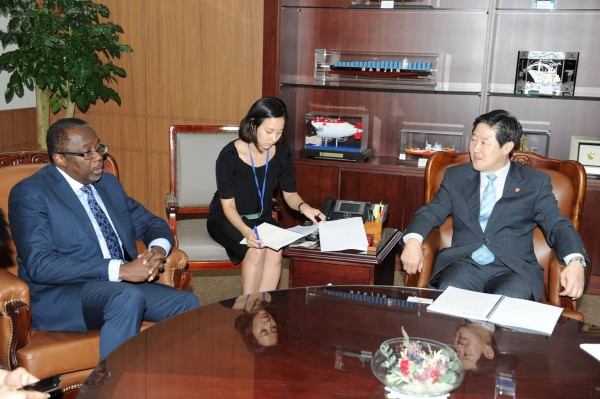 The Ministry has in recent times been actively pursuing cooperation projects with developing countries around the world, by tapping into Korea's infrastructure, construction and information technologies.
Welcoming Ambassador Golley to his Ministry, Minister Yoo indicated that Korea shared the Ambassador's desire for close bilateral cooperation in the maritime and fisheries sector between the two countries, and highlighted a number of projects that the Ministry of Oceans and Fisheries had already concluded with other countries including overseas port development, fisheries protection, and maritime education.
The Minister also discussed Korea's plan to set up an FAO (UN Food and Agricultural Organisation based) World Fisheries University in 2016. This Institution would be a graduate level educational Institute with the objective of contributing to the economic development of developing states and the fight against global hunger through sustainable fisheries.
His Excellency Ambassador Golley welcomed Korea's efforts to combat illegal fishing off the West African Coast, with stringent new regulations currently being enforced, and highlighted a number of areas that Sierra Leone could benefit from Korean cooperation, including port development, the repair and maintenance of fishing vessels, and the education of Sierra Leone nationals in Port development and maintenance, additionally maritime affairs.