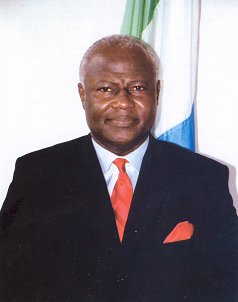 FROM THE ARCHIVES OF THE WE YONE NEWSPAPER OF MONDAY OCTOBER 10, 2011 :
Addressing Members of Parliament at past Friday's State Opening of the Fifth Session of the Third Parliament of the Second Republic of Sierra Leone, His Excellency President Dr. Ernest Bai Koroma has outlined successes made by the ruling APC since its election to governance in 2007 and re-echoes commitment to political tolerance, socio-economic independence and non-violence.
PRESIDENT ERNEST BAI KOROMA
"A little over four years ago, the people of this country affirmed their belief in the manifesto of the All People's Congress and my ability to lead the implementation of our programmes by electing me President. Just after those memorable elections, I laid before this Honourable House the translation of our manifesto into government policy, and my government's strategies for moving forward the transformation of our country.  We promised to restore electricity to our capital city, and we did; we promised we would restore people's confidence in the ability of government to bring its projects to fruition, and we did; we promised to remove impediments and pave the way for our international partners to unfreeze funds for development and other projects, and we did. In our Agenda for Change we stated our commitment to improving the lives of our people by transforming agriculture, energy, infrastructure, health and education. We stated that we would be a government of infrastructure; a government of implementation; and a government of action. We said we would be a government of visible achievements, a government that puts greater emphasis on programmes for the common man and woman, and a government with a sense of urgency, self confidence and fair distribution of services to every region, district and town," President Koroma started-off in what political commentators describe as the most eloquent and forthright speech of a head of state in post-war Sierra Leone.
President Koroma pointed out to Members of Parliament that from Tower Hill where our Honourable House stands, to the streets of Bo, Kenema, Makeni, and Koidu, the signs of infrastructural transformation are very visible and from the completion of Bumbuna to the building of medical stores in all districts, the APC government's commitment to implementation is evident.
"From our support to the smallholder farmer to our provision of free health care for mothers, pregnant women and children under five, our dedication to action for the common man and woman is manifest. From our independent funding of the widening of road projects at Wilkinson Road and Spur Road, to our commitment to shoulder the greater costs of our elections; from our increased budgetary allocations to local councils irrespective of which political party controls them, to our construction of roads in many towns regardless of which party stronghold they are located; our increasing self confidence and fair distribution of services to the ordinary citizens of our country is very noticeable," President Koroma highlighted.
The President further spoke on the need for political tolerance and for Sierra Leoneans to co-exist in peace and work concertedly for development.
"Mr. Speaker, out there, within the boundaries of this great House of Parliament lie the mortal remains of the two towering figures of independent Sierra Leone. Sir Milton Augustus Strieby Margai and Dr Siaka Probyn Stevens had their political differences, but they are eternally united within this great house of the land. This shows that our country wants a unity of the great men's respective legacies of tolerance and infrastructural development as the best way forward," the President pointed out, adding "this country wants us to harmonize the better values that they asserted, to pray for their souls together and to garner strength of purpose from those prayers to move the country forward."
"In this gathering, I see partners for transformation.  I see them in the SLPP, the PMDC, and the APC," the President said.
The President said he believes politicians share much more than opposing each other in the political arena.
"Most of us share a disposition for tolerance, friendship and non-violence.  I call upon all of us to use the great resources of our friendships, our common dispositions and values to build bridges over the antagonisms of politics. Let us use these resources to keep the extremists and the violent at bay. The force of our determination must be the greatest deterrent against those who seek to debar our progress," President Koroma admonished.
"We the peaceful, the non-violent and the development-oriented are in the overwhelming majority in all political parties, all ethnic groups and every region in the country," he further pointed out.
President Koroma outlined the APC government's achievements in the agriculture, infrastructure, energy and water, health, education and mineral resources sectors. He also spoke of gains made in the economy and attracting private sector investment.
President Koroma also spoke about the APC government's unblemished human rights record pointing out "We have created the space for freedom of expression to thrive, allowing for independent voices everywhere, respecting the rights of journalists to freely practice their profession. Our support for the independence of the Human Rights Commission has allowed it to improve its effectiveness resulting in its recent elevation to "A" status by the United Nations.  The Commission has maintained a third comprehensive annual state of human rights report thus complying with its statutory obligations to government and to this House.  It has also provided assistance to government that ensured successful reporting and participation in the United Nations Human Rights Council Universal Periodic Review."
The President re-echoed the APC government's determination to ensure free, fair, transparent, and violence free elections.
"We will not allow the perpetrators of violence to derail our continuing transformation into a democracy respected by all, a development-oriented nation lauded by multi-lateral and other institutions, and a country of immense potential that is courted by investors from all over the world," he warned.
The President maintained Sierra Leoneans should not allow the violent to take the country back to the era of gross violations of human rights insisting the era of impunity is over.
"We will enforce the laws to the fullest and ask for the maximum punitive measures for those engaged in electoral violence and other human rights abuses and violations," the President assured peace loving Sierra Leoneans disclosing further that government will be seeking the cooperation of the International Criminal Court to ensure that no one escapes the net of fair, just and impartial trial for electoral and other gross violations of the rights of our people.
"There will be no hiding place for perpetrators," he said.
President Koroma concluded his 15 pages statement by appealing to Sierra Leoneans that our national heritage should be the cord that binds us closer as one people and that the people should all accept that we have a common destiny as Sierra Leoneans and work together relentlessly for peace, freedom and prosperity.
"I hereby call on all peaceful Sierra Leoneans to come together in an alliance of strength, unity, and commitment and prevent our country from being taken over by the agents of retrogression," President Koroma said.