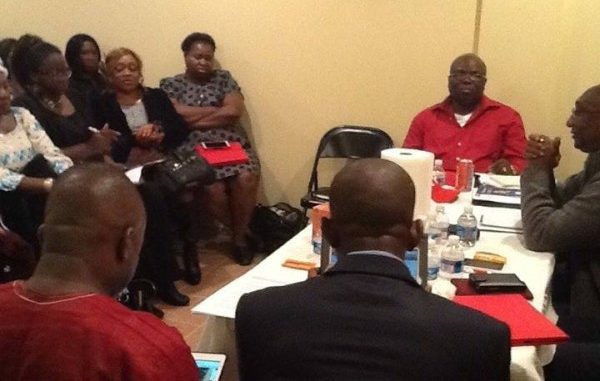 By KABS KANU :
The National Campaign Coordinator of the ruling All People's Congress ( APC ), Mr. Leonard Balogun Koroma ( Who is also Sierra Leone's Minister of Transportation and Aviation ) has told  COCORIOKO  that ongoing  consultations with all the various stakeholders in the APC- North American Branch are expected to yield good fruits with the setting up of an interim administration today Saturday December 7, 2013 that will lead the Branch to elections  after credible chapter by chapter membership registration. The date for the elections was not indicated.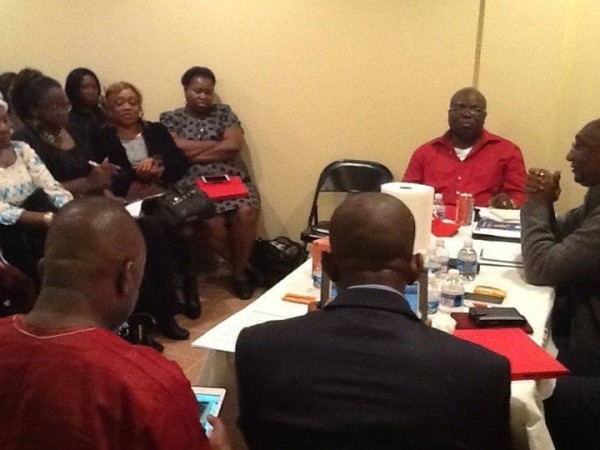 LOGUS KOROMA AND MINKAILU MANSARAY AT THE HEAD TABLE IN ONE CONSULTATION
Mr. Koroma  is a member  of an 8-man peace delegation from the APC Headquarters in Freetown, Sierra Leone, that was despatched last month by President Ernest Bai Koroma to come to the diaspora to help unite the party's many branches and  help them conduct elections or set up interim administrations , where applicable,  as steps towards restoring peace and sanity in branches torn apart by internal feuds and chaos .
THE WOMEN'S WING OF APC-NA IN CONSULTATIONS WITH THE PEACE DELEGATION
The team is made up of  the Hon. Minkailu Mansaray, Deputy Chairman, All Peoples Congress and Minister of Mines and Mineral Resources;  Alhaji Ambassador Osman Foday Yansaneh  the National Secretary General ; Hon. Leonard Balogun Koroma, National Elections Coordinator of the All Peoples Congress and Minister of Transport and Aviation ,  Captain M. A. Pat Sowe – Regional Chairman, Western Area and Minister of Fisheries and Marine Resources ; Deputy Internal Affairs Minister Sheka Tarawallie, Madam Elizabeth Mans – President APC Women's Congress; Mr. Emmanuel Yoni Sesay- Former, Vice Chair, UK in charge of Membership and APC Data Collation Manager and Youth Leader Bai Mahmoud.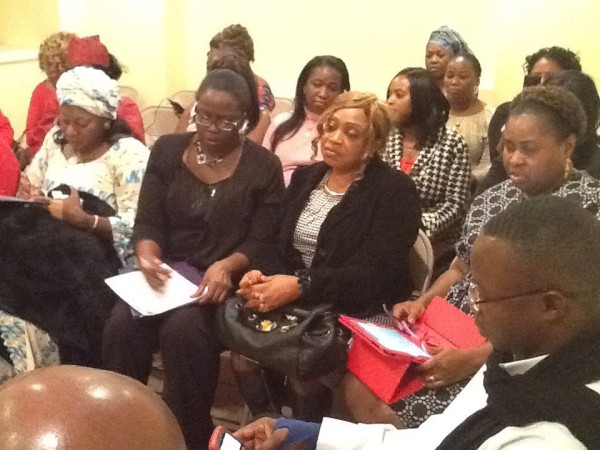 According to Hon. Balogun Koroma , "Since our arrival on Monday evening , we have been holding consultations with the outgoing A. P. C. North America executive ; the A. P. C. North America Chapter Presidents , Aspirants and the A. P. C. North America Women's wing , all with a view to holding a successful convention with an acceptable outcome. Following the 3 day consultations, it has emerged that A. P. C. North America like A. P. C.  U. K . does not have a credible and verifiable membership list from the chapters to be used as the voter register for an election . The acceptable view therefore is that an Interim Executive be put in place , through consultations/selection after the signing of a binding Communique by all parties tomorrow in conformity with the A. P. C. December 5, 1995 operative constitution . "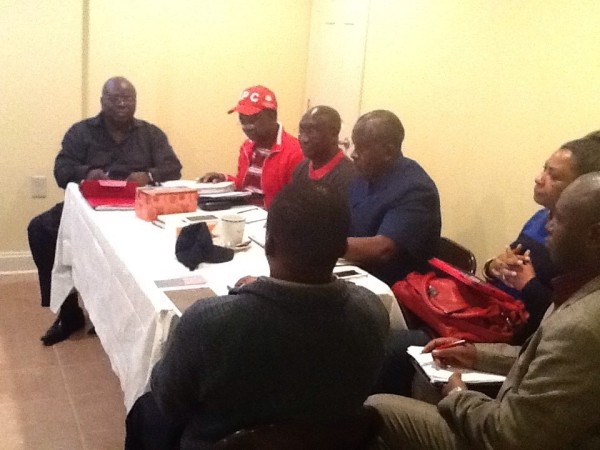 AT THE HIGH TABLE , FROM LEFT :  LOGUS KOROMA, OSMAN YANSANEH , MINKAILU MANSARAY AND PAT -SOWE
Mr. Koroma , who spoke with COCORIOKO before midnight yesterday, further stated that " Ongoing late night consultations , running past midnight with all stakeholders present are expected to yield fruit with the setting up of the Interim Executive tomorrow that will lead to elections after credible chapter by chapter membership registration . "
YESTERDAY afternoon, the peace delegation held consultations with the Chapter Presidents of APC-NA. Chapter Presidents present at the  meeting were ; Mr. Ibrahim Kamara- Washington DC ;  Mr. Abubakaar Kanu- Atlanta , Georgia ; Mrs. Abie F. Kanu- Sesay , California ;  Mr. Joshua Murray – Minnesota ;  Mr. Sheik Daboh- Dallas Texas ;  Rtd. Major Matthew Kamara- Houston ; Mr. Kebbie Turay –  Pensylvania, Delaware and South Jersey ;  Mr. Abdul Sesay- Boston ;  Mr. Pavi Jalloh – New Jersey and  Mr. Samuel Koroma- New York . The remaining  Chapter Presidents for Arizona, North Carolina and Ohio are expected tomorrow , according to Mr. Koroma.