Mr. Mohamed Aziz Nabe passed away at 7:40 pm this evening at the at the JFK Nursing Home in Edison New Jersey. Mr. Nabe was Ex-President of APC New Jersey, and former Chairman, APC NA Rapid Response Team . His passing has plunged the New Jersey community into another shock and inconsolable grief as it still struggles with the recent death of journalist Sekou Dauda Bangura, who died two weeks ago .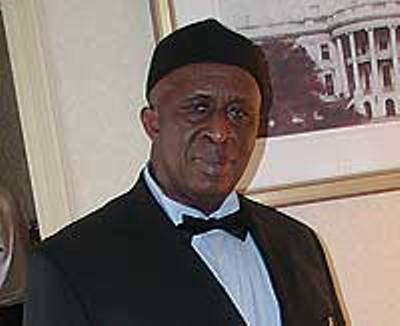 Because of Mr. Nabe's state of health, it was decided not to tell him that Dauda had died and he passed away today without knowing that one of his greatest friends who had been standing by him steadfastly in his sickness had predeceased him .
Both men were last seen in public in New Jersey on January 18, this year when they attended the APC-New Jersey program in honour of the elected parliamentarian, Ms. Isata Kabia , who had come to the United States on a short visit. Dauda Bangura was the MC at the program and he even sent a news report on the event to the Patriotic Vanguard the next day, while Nabe stood up and made a statement during the program. Liittle dd everybody know that it was going to be their last appearance in public. Dauda Bangura died on Thursday February 28 after a brief illness and today March 11, Aziz Nabe passed away.
I last saw Mr.Nabe last week when I visited him at the Nursing home along with the newly-posted Head of Chancery of the Sierra Leone Permanent Mission to the UN, Mr. Alhusine Sesay . Though he was critically ill, we who visited him and his wife, Halima Nabe, still held out hope that there will be a turnaround because Mr. Nabe was a man of remarkable faith. I told him that he had been a model to all of us his colleagues in the area of exercising faith and after we prayed for him I urged him to continue holding on firmly to his faith as God is a miracle-working God. Nabe was a great fighter , even in sickness . He was never a man to give up easily. His faith was amazing and he has left us an indelible example in living by faith . For him to succumb to death is a clear demonstration that there is no armor against fate. Once again, we have all been reminded about our mortality. First, it was Ahmad Mustapha. Then Dauda Bangura and now Aziz Nabe. It will take this community ages to recover from the grief and trauma of the past 5 months.
Another bulwark of the APC and icon of New Jersey has passed away. Nabe was a ferocious fighter for the APC, a fierce defender of President Ernest Bai Koroma, whom he regarded as his hero. Nabe was also a staunch Muslim and not even sickness kept him out of the masjid. He was the wise man of APC-NA whom everybody consulted for advice.
Our condolences to his wife, family and numerous colleagues in the APC.
The burial is on Friday .We will bring you more details tomorrow.
By Kabs Kanu