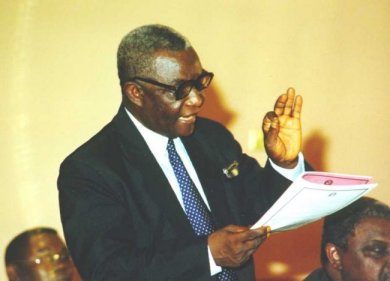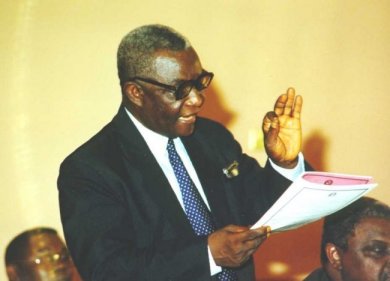 Vice President Solomon Berewa has acknowledged that the unemployment of youths in any country is a potential security threat, adding that this issue was lengthily discussed at the recently Consultative Group (CG) meeting which underscord the need  to find effective solutions to the youths' problems.
He made this acknowledgement last Friday at a press conference held at State House in Freetown, to brief journalists on the outcome of the CG meeting that was held in London last week. Below are excerpts of what Vice President Berewa told journalists:
"You may recall that few days before the departure of the government of Sierra Leone delegation to London/UK to attend the fourth Consultative Group (CG) meeting on Sierra Leone, a press conference was convened to inform you and the rest of the   country about the essence of the CG and the  expectations from the International Community. At that briefing, I informed you that the World Bank, in partnership with the GOSL, the United Nations and the UK Department for International Development (DFID),  were going to host the CG for Sierra LEone from 29th – 30th November 2005.
"In addition, I also mentioned at that meeting that the CG would lay the basis for a new partnership between the government of Sierra Leone and its development partners around the Sierra Leone PRSP. I am pleased to inform you that the CG was successfully concluded in London on the scehduled dates and to also share with you some of the outstanding outcomes of that meeting:
"The meeting was well attended with over stwenty (20) of our development partners in attendance and this included the World Bank, DFID, the UN agencies, European Commission, ADB, Saudi Fund, Kuwaiti Fund, the USA, Japan, Sweden, Denmark, Switzerland, Ireland, Italy, Germany, Egypt, Algeria e.t.c
"The donors appreciated the substantial progress made by GOSL in consolidating peace and stability since the last CG meeting in 2002. The Government of Sierra Leone was congratulated on its impressive record of macro-economic management, which has fostered consistently strong economic growth and low inflation. However, the government was encouraged to continue its focus on improving public financial management and fighting corruption."
"With regards to donor support for the Sierra Leone PRSP which covers the period 2005-2007, donors pledged a total of US$ 800 million, for the various activities as outlined in the Activity Matrix. This figure does not include the projected gains from HIPC debt cancellation nor does it include the gains f rom the multilateral debt initiatives.
The GOSL and donors agreed to use two funding mechanisms for the PRSP. These include the Multi-Donor Budget Suport (MDBS) and the Trusst Fund."