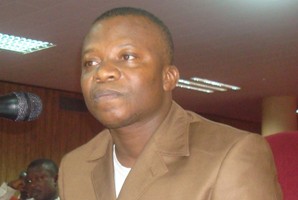 The Deputy Minister of Information and Communications, Hon. Sheka Tarawallie , yesterday said that the first-ballot victory was the best way Sierra Leoneans rewarded President Ernest Bai Koroma for his tremendous work for the nation. President Koroma won last week's all-important election at the first ballot by beating his main challenger, Mr. Maada Bio of the Sierra Leone People's Party ( SLPP) , by 58%  to 37%.
The Minister , who was talking to COCORIOKO  in a snap post-elections interview, said because of the gratefulness of the Sierra Leonean people, President Koroma  is now motived more than ever before to do more for his people.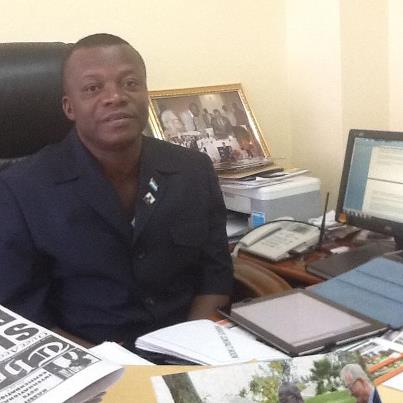 DEPUTY MINISTER OF INFORMATION HON. SHEKA TARAWALLI. PICTURE CREDIT–JOHN BAIMBA SESAY
Asked how he felt about the President's and the All People Congress (APC ) party's victory at the polls, the Minister responded :  "It's re-assuring and rewarding. After doing a good work, one needs to be rewarded; and I believe President Koroma did so well in his first term that a first-ballot victory is the best way to reward his works. " He went on :  "Personally, I feel gratified to be part of this historic victory. This victory is a victory for Sierra Leone as the conduct of the elections, as hailed by all international observers, has helped in re-branding the image of Sierra Leone".
Yesterday, while talking with former Vice-President  and SLPP Presidential candidate in 2007, Mr. Solomon Berewa , who had gone to State House to congratulate him, President Ernest Koroma promised that he would be meeting very soon with the executive of the SLPP  who on Tuesday asked their victorious parliamentarians and Chairmen and their councilmen not to occupy their seats until further notice in protest against the elections. COCORIOKO wanted to know whether Minister Tarawalli favoured the idea of the meeting ( The reactions of Sierra Leoneans to this proposed meeting is mixed ) . Responding, Mr. Tarawalli said he welcomed the meeting. "I believe one should be magnanimous in victory. Extending the olive branch is not a sign of weakness; it is not a capitulation. jesus says the one who wants to be a leader must be like a servant. Reaching out and meeting the opposition is good; but it does not mean the president will succumb to their demands. There will be no power-sharing. The people of Sierra Leone have elected the government they want; and they want it to be the APC's ".
COCORIOKO  asked the minister to explain further in his view what was responsible for the comprehensive manner the APC defeated the SLPP at the polls .  Replying, the minister said : "As I've said, it's a reward for a job well done. President Koroma worked assisduously for the people of this country – in providing free health care for pregnant women, lactating mothers and children under five, in constructing roads all across the country, in providing apprecaible electricity to a country that was once regarded as the darkest in the world, in transforming the agricultural sector that provides employment for a great many of our people, and many many more areas including education, sport, and marine resources  So it was a foregone conclusion the enlightened electorate would re-elect the president whose human rights record and good governance ratings are unprecedented. "