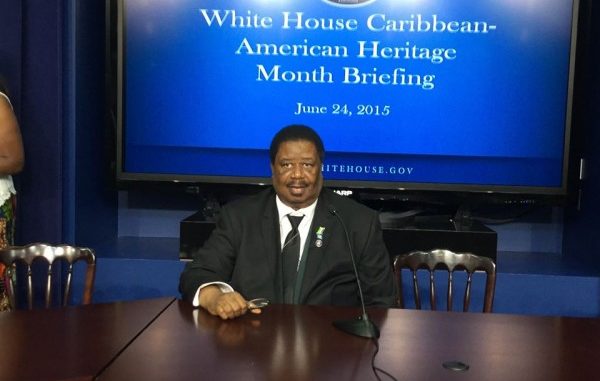 I was  humbled for the privilege  God gave me  to accompany the quintessential Woman of God and humanitarian, Mammy Dora Dumbuya  to the White House  where she was going to be honored on Wednesday  June 24, 2015  for a lifetime of working for God and promoting the welfare of the people . I have heard so many good things about her for the mighty way God was using her in Sierra Leone but frankly I had never met Mammy Dumbuya before . She never knew me before. I was therefore humbled when she called me a week earlier and said she was in the U.S. for an honoring program and would like me to be one of the 4 Men of God to accompany her to the White House.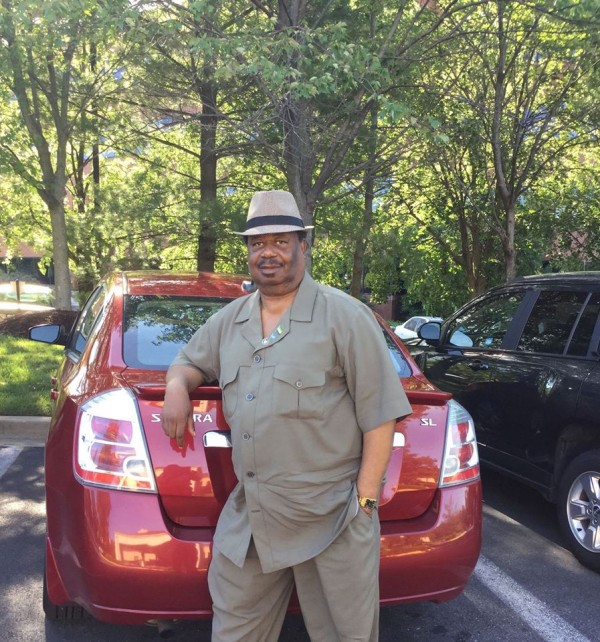 SHORTLY AFTER OUR ARRIVAL IN DC TO ACCOMPANY MAMMY DUMBUYA TO THE WHITE HOUSE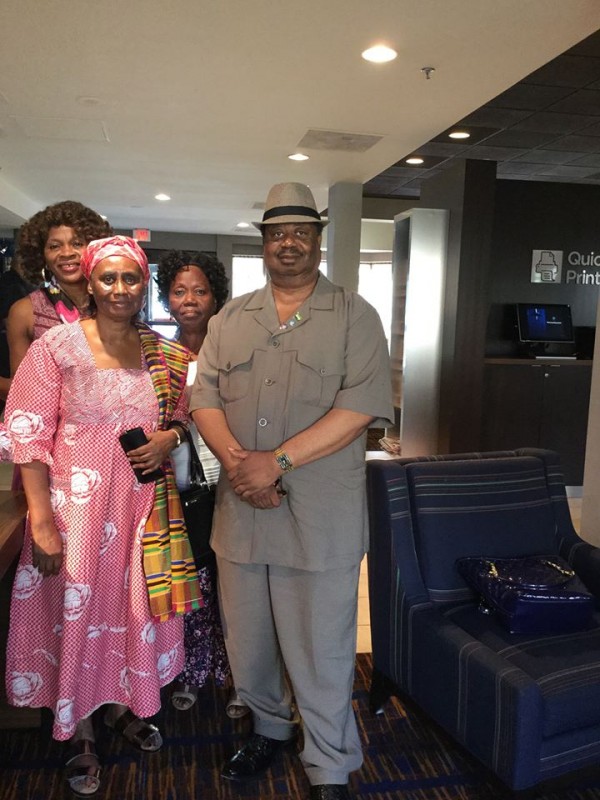 The first question that came to my mind was  : "Why me ? With all the bishops, evangelists, apostles , preachers and prelates from Sierra Leone living in the U.S,  why the humble and unknown man of Covenant Child World Ministries of Franklin Township, Somerset, New Jersey ? "But then the answer came to my mind immediately. God is at work again as he has done in my humble life throughout. God has chosen me. God has appointed me to accompany His faithful servant to the White House. My enemies might have all their views about me, but God looks at me differently. God loves me and wants to always elevate me.  Alleluia . God' does not look at man the way puny and sinful man looks at him. Man looks at the outside, but God looks at the heart. "For the LORD sees not as man sees: man looks on the outward appearance, but the LORD looks on the heart." ( 1 SAMUEL 16: 7 ). "For the gifts and calling of God are without repentance" ( Romans 11 : 29 ) . I must say yes to Mammy Dumbuya.
My mind flashed back to the many honors and awards  I have received in life for serving my country and for serving God.  Also, I vividly remembered what my elder brother , Max Kanu told me just few weeks ago when we discussed the envy and malice of mortal men . "Never take seriously what man says about you. With all the things they wrote about you at  online forums and Facebook, look at where God has put you today, far above those who hated you and said mean things about you. Where are they today ? " God has indeed been good to me. He has put all my enemies to shame, who are always jealous of me when God gives me good things. But what God is doing for me should teach them a lesson that God loves me and he does not look at anybody as his enemies do.
Also, it is a manifestation of the fact that whatever my enemies write about me, my work is being highly appreciated , thanks to the grace of God. Whatever I am doing is resonating with good people of the world. God gets all the glory. When they are not giving me awards, they are inviting me to high places.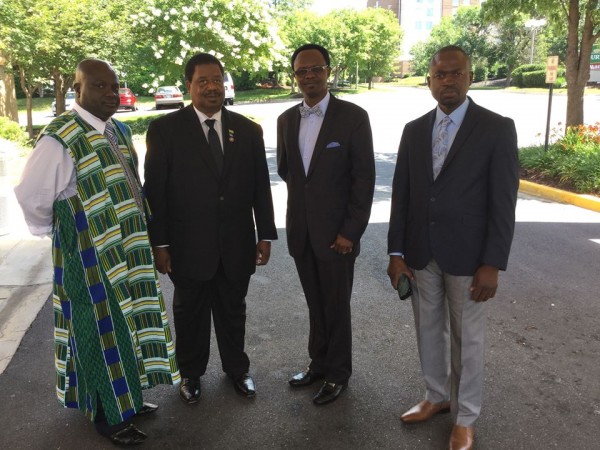 I AM SEEN HERE WITH THE THREE MEN OF GOD WHO ALSO ACCOMPANIED MOTHER DUMBUYA TO THE WHITE HOUSE : FROM LEFT -Pastors Abdul Jesus , Kabs Kanu, Sengulay and Gibrilla Dumbuya. THIS PICTURE WAS TAKEN BEFORE WE LEFT THE HOTEL FOR THE WHITE HOUSE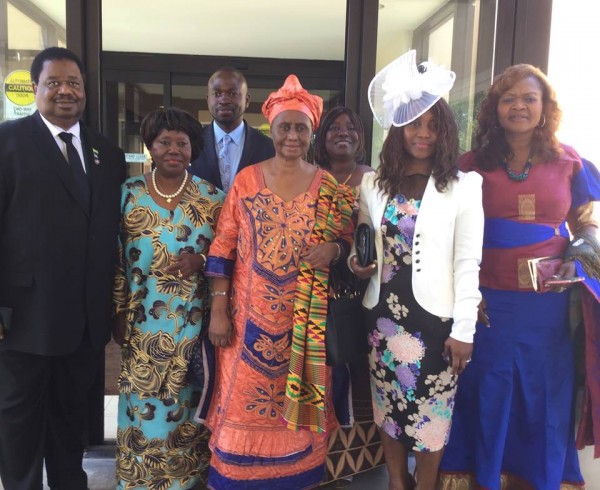 MAMMY DUMBUYA AND SOME MEMBERS OF HER ENTOURAGE TO THE WHITE HOUSE : FROM LEFT , PASTOR KABS-KANU; SISTER MASSAH  NDOEKA; PASTOR GIBRILLA DUMBUYA ; APOSTLE DORA DUMBUYA ; SISTER FATMATA DARAMY; MAMMY DUMBUYA'S DAUGHTER MARGARET ; AND SISTER ABIBATU DUMBUYA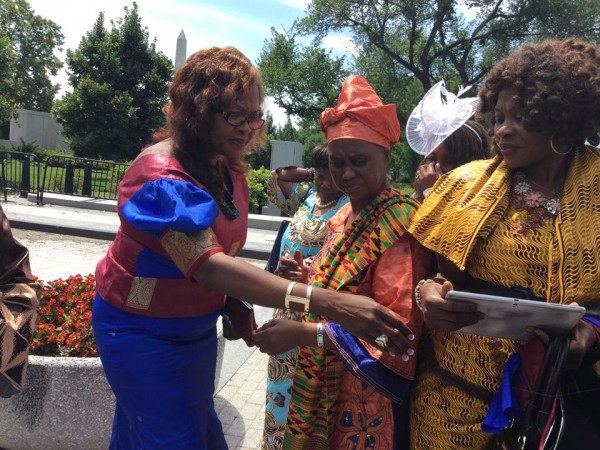 SISTER ABIBATU DUMBUYA GETTING MAMMY DUMBUYA READY TO ENTER THE WHITE HOUSE SECURITY POST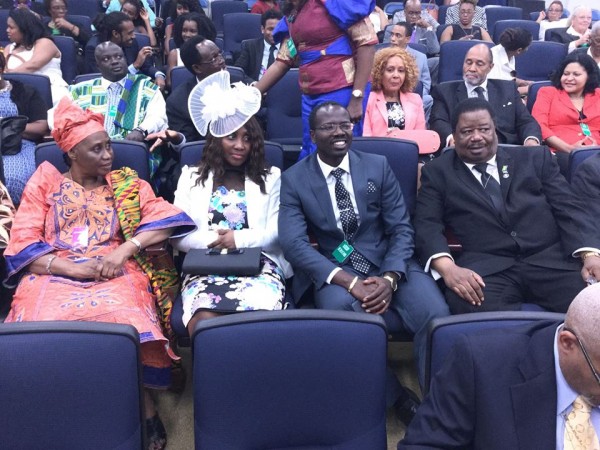 AT THE WHITE HOUSE : FROM LEFT, APOSTLE DORA DUMBUYA ; MARGARET DUMBUYA A GUEST AND YOUR HUMBLE SERVANT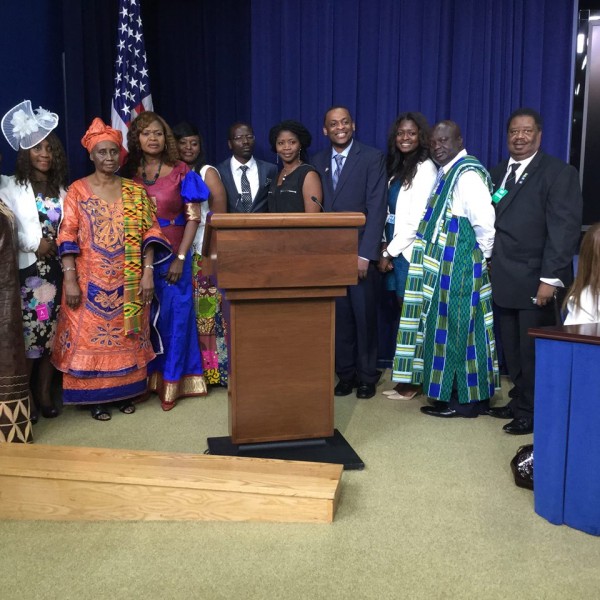 AT THE WHITE HOUSE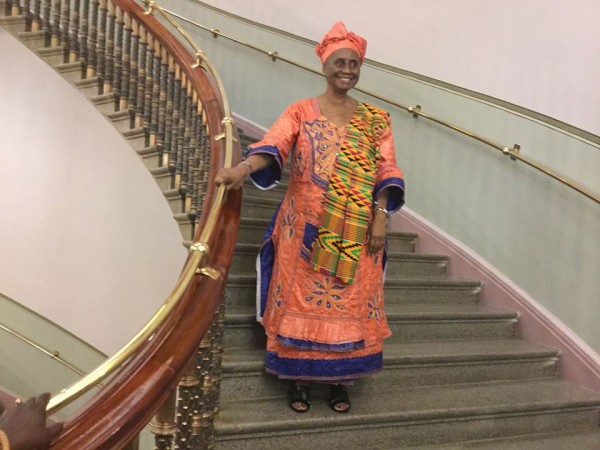 MAMMY DUMBUYA AT THE WHITE HOUSE
Other thoughts came to my mind . It would be  such a great privilege to meet  and serve this great woman of God from Sierra Leone, Mammy Dumbuya, about whom I have heard so much . It is a privilege to be always called upon to serve. It is a calling I always relish. When God is with you, He makes you meet the great and good people of the earth. I started being  thankful to God that he was about to give  me the opportunity to meet and serve  one of his greatest servants, Mammy Dora Dumbuya, who has preached the gospel to thousands of people ; has been used mightily by God to change, through His Word and His Spirit , the lives of people; has built 37 churches all over the country and has been used to heal many sick,  deliver many troubled pregnancies , helped countless people trust God to get jobs and other blessings through His Spirit . It was a privilege to me to be called upon by this woman of God to accompany her to the White House.
But what about the privilege of going to the highest seat of political power in the world, the White House ? Who would pass by the opportunity to go to the White House and savor the once-in-a-lifetime opportunity of being in person at the residence of the Leader of the Free World, the President of the United States of America ? After all, has God not  promised us :
ISAIAH 58: 14
"Then shall thou delight in the Lord ; and I will cause thee to ride upon the high places of the earth , and feed thee with the heritage of Jacob your father: for the mouth of the Lord has spoken it. "
It was a fulfillment of the promise of God to his servants . I will make you ride upon the high places of the earth.
Pastor Gibrilla Dumbuya , our Associate Pastor at Covenant Child , who had also been invited , and I drove to Washington DC on Wednesday morning to honor Mammy Dumbuya's request.
She was so simple, humble and meek. She listens to you eagerly and oh, that eye-contact. It is so compassionate and full of love.
It was such a great opportunity to meet the humble  Woman of God. She was very grateful that , despite all my health issues , I was ale to travel from New Jersey to meet her in Washington DC and accompany her to the White House.
She was so disarming .  She acknowledges and affirms everybody , something I learned during my clinical pastoral training at the Robertwood Johnson University Hospital Clinical Pastoral Education ( CPE ) Program. You have to acknowledge and affirm other people of God  to be able to connect with them. It is one area that few of our men and women of God fail. It is always about them. They do not acknowledge and affirm their fellow preachers. Mamma Dumbuya is blessed with the ability to be so affirming. She is a very good listener and oh, that eye contact ! ! !  It is so loving, so compassionate. May God continue to bless this great woman of God who gave God the glory for the award she was given in the U.S. (I am serving another humble woman of God in New Jersey, my Senior Pastor and wife, Rev. Tigidankay Kabs-Kanu ) .
I was also privileged to meet a young , humble and nice man of God, being used mightily by the Lord, Rev. Abdul Jesus. May God bless him and enlarge his ministry.
That afternoon, we accompanied Mammy Dumbuya to the White House . It was such a delight to be part of the entourage of a worthy citizen of my country who received the honor she deserved at the White House last Wednesday .I was very proud for Mammy Dumbuya and Sierra Leone. She was the only minister of the gospel invited from the whole of Africa to come to the White House to be honored for her outstanding leadership in the House of God and for spreading the message and love of God.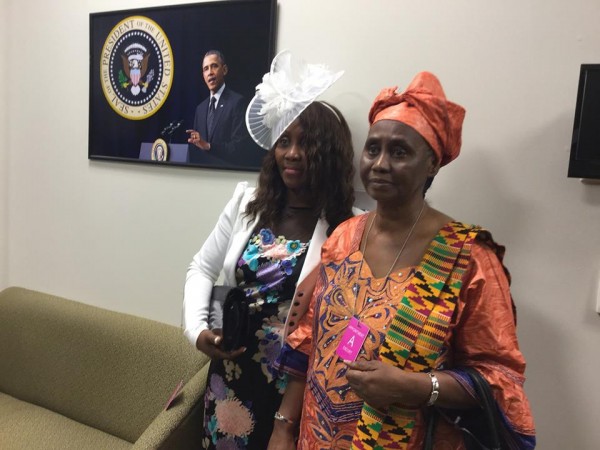 MAMMY DUMBUYA AND HER DAUGHTER MARGARET AT THE WHITE HOUSE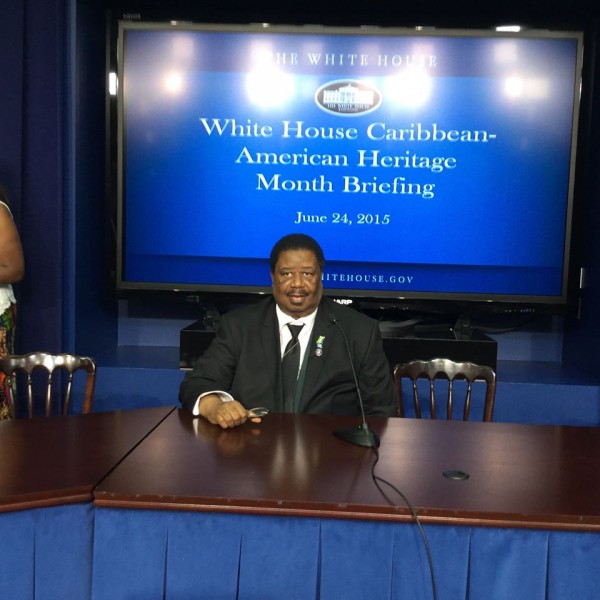 I AM SEEN HERE AT THE ROSTRUM OF THE WHITE HOUSE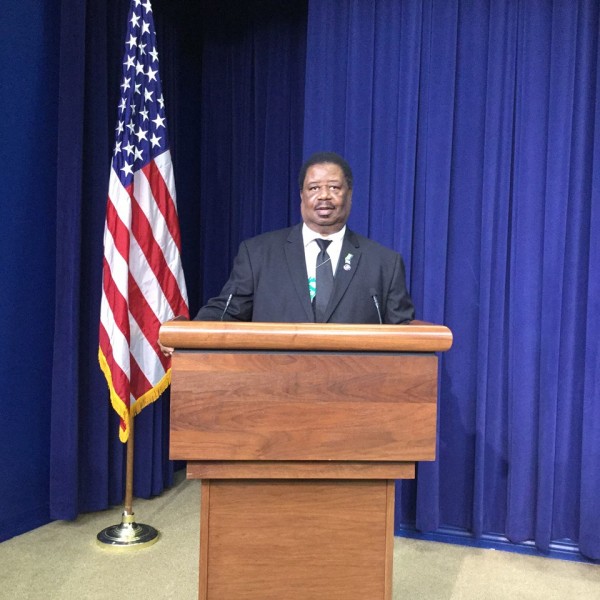 AT THE WHITE HOUSE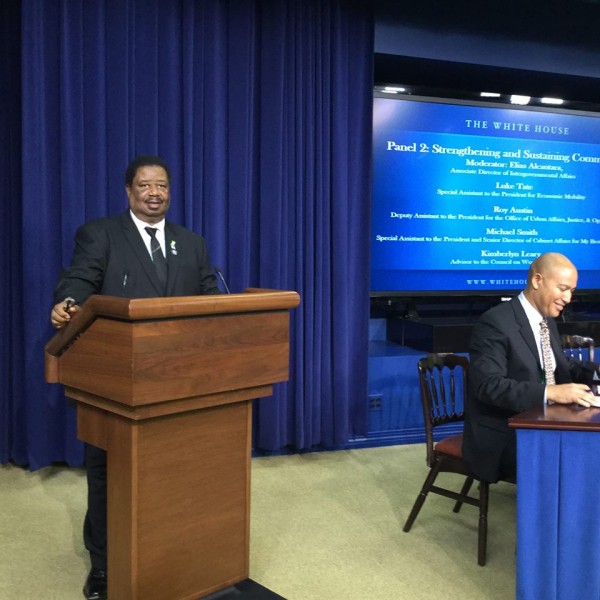 I did not get to see President Obama . It was not my program. It was the Woman of God, Mammy Dumbuya's. It did not matter. I have met President Obama, so to speak, whenever he comes to the UN to address the UN General Assembly. If it is the will of God , I will meet him one day face-to-face. Nothing is impossible with God.
Being counted worthy to accompany Mammy Dumbuya to the White House to be honored was enough.
I have also been to the White House, and I thank God for the opportunity .
God has been good to me, and I am thankful to the Master for his eternal goodness and grace.