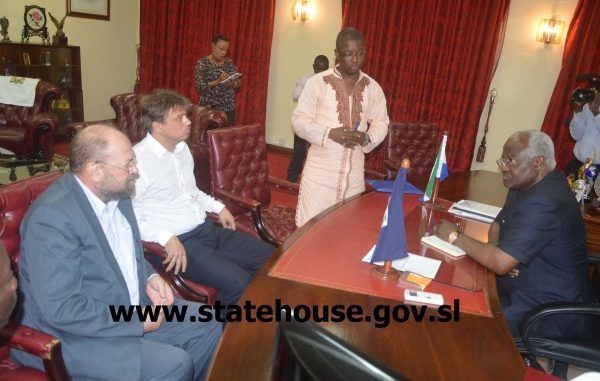 By State House Communications Unit
President Ernest Bai Koroma Tuesday 2nd December stressed the significance of breaking the chain of transmission at community level in the ongoing fight to defeat Ebola.
He made this statement when addressing a delegation of Welt Hunger Hilfe led by the Resident Minister East Maya Kai-Kai at State House, Freetown.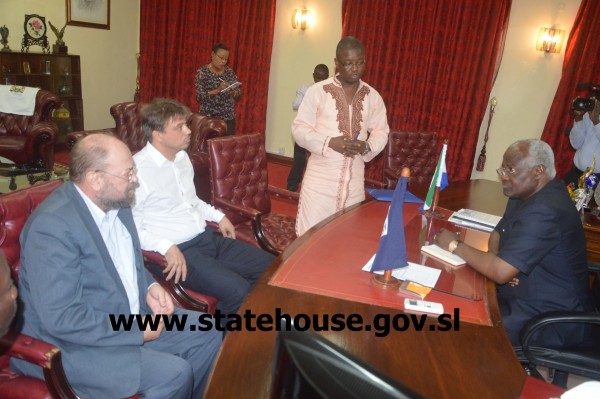 The president thanked the delegation for efforts in containing the virus and reenergizing over 30,000 farmers to develop the value chain of agricultural production, adding that such programmes are in sync with the country's Agenda for Prosperity.
He clearly stated that the focus now is to fight Ebola saying that all efforts should be harnessed to the stop transmission at community level noting the importance of social mobilization to halting the spread of the virus. President Koroma urged every Sierra Leonean to redouble efforts to eradicate Ebola.
He however expressed serious concerns over the spiking rates of new cases in the Western Area, Port Loko and Bombali, and noted that the object of the fight now is to eradicate the virus out of the country and the sub-region in order not to reverse the gains already made.
As lots of efforts have been put into the fight against Ebola, President Koroma said he felt encouraged that Welt Hunger Trust is still in the country and expressed determination to work with the Trust in post Ebola activities
The country Director of Welt Hunger Hilfe Mr. Jochen Moninger said in as much as they are involve in the revitalization of the agricultural market, they have also been involved in the quarantine process to stop the chain of transmission. He stated that they have been successful in exporting the responses of Kenema District to the Northern Districts of Bombali and Port Loko and decentralized the response to the crisis.
He said they are also putting efforts to ensure that cash gets back to the local market and noted they will be working very closely with the Ministry of Agriculture, Forestry and Food Security (MAFFS) to ensure a good working relationship.