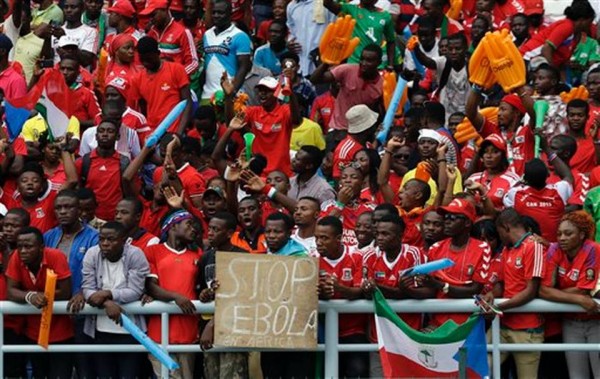 Thanks to Lucie Lecomte for sending the link to this report in Goal.com: Ebola expert: Hosting Afcon in Equatorial Guinea is 'big, big mistake'. Excerpt:
The build-up to the 2015 Africa Cup of Nations has been dominated by questions about the decision to award hosting rights to Equatorial Guinea after Morocco pulled out over the Ebola pandemic.
Equatorial Guinea's location on the west coast of central Africa leaves it as prone to an Ebola outbreak as the likes of Egypt, South Africa and Ghana – who also rejected the chance to host the tournament.
The tiny oil-rich nation's status as an authoritarian dictatorship with huge inequality has also left experts worried if it is able to contain an outbreak in the event one happens.
"Let's get this clear – there is always a risk and the risk is real for every country in the world, as we have seen in the United States and Spain. No nation is immune to the disease," leading Ebola expert Dr Karl Blanchet, who plans and co-ordinates responses to health crises in the developing world, told Goal.
"While Equatorial Guinea has not been directly affected yet, it is more prone because of its location, and will become more at risk during an event which will see fans, players and officials travel from affected areas. If cases arise, is Equatorial Guinea capable of managing the disease?"
Any problems with Ebola could be worsened by political factors. The flow of information is strictly controlled by President Teodoro Obiang's authoritarian regime, there is no free press, and data regarding healthcare is difficult to access. What is clear, though, is that there is incredible wealth for the elite, while much of the population lives without clean water.
According to Blanchet, Equatorial Guinea is woefully underequipped to manage any public health crisis.
"It's a country we only hear about when mercenaries make mistakes," he said in reference to British ex-solider and security consultant Simon Mann, who Goal interviewed regarding the nation's safety and infrastructure.
"But the [World Health Organisation, CIA and United Nations'] figures show clear discrepancies. Despite being a high-income country, with a Gross Domestic Product per capita [approximately $20,000] on a par with some European nations, in 2011 the life expectancy at birth was just 52! This is very, very low, even for sub-Saharan Africa, where you have very low income countries but an average life expectancy of 55-56, which is higher than Equatorial Guinea.
"The infant mortality rate is 100 per 1000 live births – higher than the sub-Saharan average. Only 50% of the population has access to safe drinking water. They claim they will buy equipment to screen and contain Ebola but do not have the human resources. The average healthcare spending for the region is around 6% of GDP, but Equatorial Guinea only spends approximately 4%, despite being much richer.
"In terms of doctors, they have 0.3 physicians per 1000 people. As a comparison, high-income non-OECD countries have an average of 1.5 doctors per 1000. Equatorial Guinea doesn't have enough doctors, nurses, pharmacists to provide basic healthcare for its basic, exiting population, yet somehow it is capable of hosting a mass gathering event, with fans, officials, journalists and players transiting via other countries, such as Guinea, which has been severely affected by Ebola.
"Morocco, Ghana and South Africa have solid health systems but they were honest – they are fully capable of hosting the event in football terms, but did not feel confident they could manage it regarding public health."