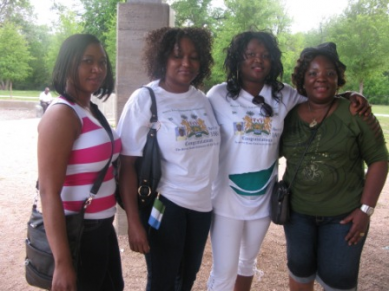 By Sanpha Sesay :  Texas Correspondent : 
 As the nation continues to celebrate the independence anniversary, Sierra Leoneans from various organizations at the metropolitan cities of Dallas Fort Worth in Texas came together to celebrate the 53rd independence anniversary in a spectacular style.  Sierra Leoneans and friends of Sierra Leone were jam-packed at the Valley View Park in Dallas to celebrate the country's birthday.  The event made time together immensely meaningful and allowed different organizations to come together and build solidarity to create a path for future collaboration in their bid to form a united Sierra Leone community.
SIERRA LEONEAN GIRLS DRESSED IN THE NATIONAL COLOURS
Sierra Leoneans, young and old from different nationalities took part in traditional performances reflecting Sierra Leone's heritage and music. With family and friends, this year's celebration was done in an atmosphere that exemplifies a never to be forgotten spirit of oneness. Organizations, which responded to the call of national celebration through their finances and time, were Krio Descendant Union (KDU), Sierra Stars Soccer Association, Fullah Progressive Union, Texas Paddle, All People's Congress (APC) and Sierra Leone Peoples' Party (SLPP), and all the alumni associations. Although forming an umbrella organization is fraught with complexities, yet these organizations understand the importance and are ready to come together for national consideration. Notably absent from this national celebration was Tegloma Association.
In this year's celebration, several events were highlighted. The festivities surrounding the celebration of Independence Day include picnic and soccer matches.  Volunteers of the picnic brought varieties of delicious cuisines, considered cultural and American cuisines.  Barbeques, hot dogs, hamburgers, chicken and roast-beef were enough to satisfy the celebrants.  There was also a breathtaking soccer match between Sierra Leone and Cameroon, but unfortunately, the host, Sierra Stars lost to Cameroun by 4 goals to 3. To promote our national heritage, performances such as "Gorboi" and the most popular Texas "Paddle" were also encouraged to perform at the park.
The main brain behind this success story was Mr. Kinie Rueben Ndomahina. After several years of failed attempts at forming a united Sierra Leonean organization in Dallas Fort Worth, Mr. Rueben Ndomahina never gives up at the formation of what we all considered to be a worthwhile venture. With his trademark style of commitment to issues bordering along national lines, he decided to champion this course again by sacrificing his time, money, and energy to ensure that the Sierra Leone community in the metropolis achieve a national cohesiveness goal.  Mr. Ndomahina believed that building an umbrella organization, which is to be called Sierra Leoneans at DFW, is the right direction for the community and for other Sierra Leone communities across the United States to emulate.
REUBEN NDOMAHINA POSES WITH A LOCAL MASQUERADE , GOBOI
Following the picnic, was a night dance to spice up the celebration. Sierra Stars Soccer Association organized it under the directives of Mr. Patrick Dangawali. During the dance, the President of Sierra Stars, Mr. Patrick Dangawalli, awarded to Mr. Reuben Ndomahina a black and white football signed by all members of that organization in appreciation to Mr. Ndomahina's courage and inspiring effort to champion the course of uniting the entire community under one umbrella. The Independence Day celebration in the city provided another opportunity for social interactions during which community members demonstrated the love and pride of Sierra Leone cultural heritage.
Prior to the 50thanniversary, a temporary coordinating committee was established. The coordinating committees worked relentlessly to facilitate this successful venture. Meanwhile, the umbrella organization at DFW will continue to provide resources and services that foster a national identity.
THE SIERRA STARS SOCCER SQUAD
Next year will be full-scale celebration activities for the 54th Independence Day celebration. According to some of the coordinating committee members; nothing will deter them from moving forward with a national movement. Sierra Leone is bigger than any one organization and no organization will ever be allowed to put its interest and personal agenda again over national interest in Dallas Fort Worth.
FUN TIME AND MASQUERADE DANCING
Long live Sierra Leoneans at DFW, Long live Sierra Leone and long live the United States of America.
© 2014, COCORIOKO. All rights reserved. – Discuss this and other related articles on the Salone Forum
Leave a Reply