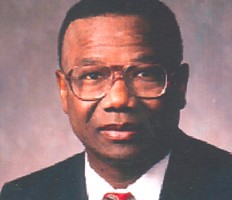 By KABS KANU :
In perhaps the most no-nonsense tones ever heard in an incensed public official, Dr. Zubairu Kalokoh today dared saboteurs to try their nefarious plans to  interfere with the supply of electricity in Sierra Leone. The National Power Authority Boss warned that those who attempt it will suffer dire consequences and will  have nobody to blame for the results. Dr.Kalokoh was talking to COCORIOKO this evening in an exclusive interview following reports that some ill-disposed persons were planning to sabotage the  Government of President Ernest Bai Koroma on the eve of elections by cutting off  electricity and water supply and plunging the whole nation into  darkness to turn voters against the Government.
DR. ZUBAIRU KALOKOH
Dr. Zubairu Kalokoh stated in very strong terms that he will not allow anybody to tarnish and fritter away the precious time and resources the Government and he had put in to ensure that Sierra Leoneans now enjoy a free flow of uninterrupted electricity in the nation. He took his time to outline the resources and time Government has put into the electricity quest and he warned repeatedly that anybody who thought he would  get away with it  if he interferred with the flow of electricity was  sadly mistaken..
He said that  he had been preparing for this election since 2010 and  he had put strong measures in place to forestall any acts of sabotage. He said that he  declared all power stations and sub-stations high security zones and even  right now, he is working with the Inspector General of Police to provide maximum security at all power and sub-stations . which are being manned by heavily-armed Police squad  drawn from the Operational Services Division (OSD ) and the Military Police.  Each of  the Freetown sub-stations alone have three well-armed police personnel while  the main stations have officers each.
Dr. Kalokoh also said that the NPA  has over 1, 000 transformers all over the capital and he had talked to people in the various communities to stay alert and vigilant , help guard these structures and to promptly report to Police any suspicious activities around these transformers. He said that no country in the world has ever achieved economic and social transformation without electricity. He noted that the greatness of the United States is dependent on the availability of electricity at all times because without electricity the country would not have been able to make the technological advancement that has put her over other nations.
"The President, Dr. Ernest Bai Koroma,  is very much aware of the importance of electricity which is why he has made it one of his utmost priorities", he added."The President recruited me from America, based on my qualifications and 40 years experience working in the field of electricity to help him and the nation restore full electricity to this nation. We have done our best and today though we were at one time the darkest nation in the world, we have changed the situation completely and Sierra Leone is today generating more electricity than even  countries like Nigeria. I work 7 days a week and 18 hours a day. We will therefore not sit down and allow anybody to tarnish our work and efforts ", he warned." Try to sabotage electricity supply and you will pay a dire price", he said.
Dr. Kalokoh praised President Koroma very highly for his efforts in restoring electricity in Sierra Leone. He said that the President,  being a man of his word, made a promise to the nation that if elected he would restore electricity within 90 days , which promise he fulfilled . Then on November 6, 2009 he commissioned Bumbuna. The President , he went on, also entered into an agreement with the Japanese International Cooperation Agency ( JICA ) who provided a primary sub-station at Regent . The Kingtom Power Station was also reactivated and it is also providing power. Makeni, he announced , is now receiving 24 hour electricity from Bumbuna and at Lungi the government has built  a 6 megawatts power plant which will soon be completed. The Government has plans to take electricity to all parts of the country, he told this paper gleefully.
Dr. Zubairu also enumerated his achievements to confound those he complained are busy talking nonsense about him on radio and in the newspapers. He said that before he became General Manager the NPA used to collect onlt 1 billion leones a month in revenue . He disclosed that during his first year in office he collected 45 million leones .During his second year , he collected 66 billion ; in the third year 28 billion leones . In his fourth year, he collected 105 billion leones and this year he has collected 120 billion leones .
Dr. Zubairu also said that in the history of Sierra Leone nobody has been able to maintain electricity power supply for long. He boasted that he has been able to maintain it the longest – for 5 years. "Nobody has ever done it. Only President Ernest Bai Koroma has done it. "
Dr. Kalokoh described those criticising him unreasonably as people who do not really know him. He said that those who know him are aware of the great job he performed in America where he contributed to  developing the electricity grid in Philadelphia , Pennsylvania .He said he is more educated and experienced than his critics and is in demand internationally.