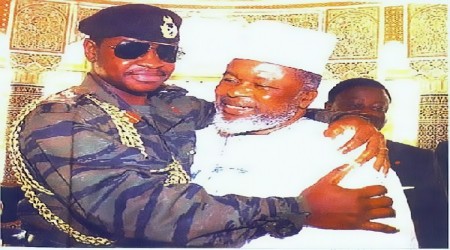 DR. ERNEST BAI KOROMA WILL NOT DEMEAN THE PRESIDENCY. In five years of impressive leadership, he has restored respect, dignity  and class to the Sierra Leonean fountain of honour, hot seat and presidency. Today, even the international community that had lost confidence in the quality of our national leadership are scrambling statements of praise and admiration and vital resources and aid to help our country, even at elections time when they usually cut off all assistance, the reason being that they are highly  impressed and satisfied with President Koroma's hard work, credibilty , productiveness, achievements and his promotion of fundamental human rights and the Rule of Law in Sierra Leone.
BIO AND FORMER RUF REBEL LEADER FODAY SANKOH ARE TWO PEAS IN THE SAME POD : MERCILESS KILLERS
Having restored such respect and credibility to the highest office in the land, President Ernest Koroma knew he would have  demeaned himself and the Presidency and grant credibility to a man who does not care for human rights, the rule of law and  constituted and tribal authority , if he  had shared the same podium with JULIUS MAADA BIO, the ill-conceived presidential candidate of the opposition Sierra Leone People's Party ( SLPP ). It was a matter of moral principles. We, as a nation, must never sacrifice our moral priniciples on the altar of political expediency and we support the President's decision not to honour the Sierra Leone Association of Journalists' planned presidential debate with Bio.
The idea of presidential debate being planned by the PATRIOTIC SIERRA LEONEANS where all the presidential candidates appear on a rostrum and being posed questions by journalists demanding clarity about their manifestoes is not a bad idea because other presidential candidates who have not thumbed their noses at our laws and human rights convention –like Mr. Charles Margai of the People's Movement For Democratic Change (PMDC), Mohamed Bangura of the United Democratic Movement ( UDM ) and the representative of the National Democratic Alliance ( NDA )–will be there. But we are strongly opposed to a head-to-head debate between President Koroma and Mr. Bio because Bio does not deserve such respect. The nation and men and women of moral and social value will be granting undeserved respect and credibility to a man who does not respect himself, people who disagree with him, our presidency, chieftaincy, womanhood and the sanctity of human life. Respect is mutual. The measure you give must be the measure you receive. If Bio has no respect for anything and anybody , why must he be afforded respect ?
As part of a military junta  that ruled Sierra Leone in 1992, Maada Bio shared collective responsibility for the extrajudicial murder of 29 innocent Sierra Leoneans who committed no crime whatsoever. The men and women were abducted from their homes, subjected to the most macabre torture imaginable before they were bayonetted  to death , acid poured on their mangled  bodies to hasten decomposition and buried in unmarked graves. As if that was not enough , Bio went on to stage a palace coup and overthrew the military leader , Valentine E.M. Strasser , with the intent and purpose of perpetuating himself in power and convert himself into a civilian head of state. He did everything in his power to subvert Sierra Leone's transition into multi-party democracy and if women and men had not gone into the streets to protest , at the risk of their lives, and spurred the intervention of the international community who threatened sanctions and other punishments, Bio would have clung to power. Is that the kind of man that a champion of democracy and human rights like President Koroma should go and have a one-on-one national debate with ?
After being driven from power in Sierra Leone, Bio was transported to the United States by the international community , which gave him and junta colleagues the opportunity to improve their lives. While other junta members lived peacefully in America and obeyed the laws of the land, Bio brought his lawlessness to America and was deported for brutalizing his wife and biting off the ears of her secret lover in whose embrace he found the woman. Because of this crime, Bio cannot get a visa to enter the U.S.
Since German-born Sierra Leonean, John Benjamin-Hircsh and some party bullies engaged in backroom maneovres to force Maada Bio on the SLPP  as their Presidential candidate, Bio has gone on to show his true colours. His marijuana-smoking thugs brutalized dissenting members of the party at the SLPP Headquarters and beat up and injured journalists of the Awareness Times newspaper who reported on the incidents . They have not stopped at that. Anyone who does not support Bio's mad determination for power is in danger of being attacked . Mr. Bio's supporters are so lawless that they have destabilized the country. They engaged in violent attacks and stabbings of APC  supporters in Freetown, Bo , Pujehun and Tongo Field. Only last Saturday, they plunged Kono District into chaos as they launched attacks on APC  supporters. During the bedlam, they rained profanities even at the deceased mothers of President Ernest Koroma and the First Lady, Mrs. Sia Nyama Koroma. In Freetown, Bo and Kono, Mr. Bio's supporters have been busy tearing down and defacing symbols and handbills of President Koroma. For all intents and purposes, their aim is to ignite chaos in the country. There is every indication that Bio endorses this lawlessness and vandalism because he has never made any public statement to restrain them.
Two weeks ago, Mr.Bio ignored police instructions and obstructed the motorcade of President Koroma in the capital, Freetown. If President Koroma had not exercised restraint and order his security and supporters not to react, there would have been utter turmoil.
Now ,Maada Bio is trying to ignite tribal conflict in Sierra Leone. The  Awareness Times newspaper Publisher, Sylvia Blyden posted this disturbing complaint about Bio today :
"My Sierra Leone Ladies & Gentlemen, I have a question. What should we do to a presidential candidate who goes to his tribesmen and openly asks them to vote for him because they are from the same tribe and then goes on to say his opponent for the presidency does not speak their tribal language and so is not fit for them to vote for him. What should we do to such a candidate? "
"For 40 years now, this country has not had a Mende President. Vote for me because I am a Mende like you. Vote for me because you deserve a President who speaks same Mende language like you!" –  'A very desperate Maada Bio preaching raw tribalism to residents of Baoma Koya & Dama Chiefdoms in Kenema District on Thursday October 25th 2012. Maada Bio was speaking in open desperation after tens of thousands of Mende indigenes have been coming out to endorse President Koroma's second term because of Koroma's progressive strides of last five years which have seen the entire country enjoy development. WE HAVE THE RECORDING FOR THOSE WHO LIKE TO JUMP UP AND DENY. HE SAID MUCH MORE BUT STAY TUNED FOR TOMORROW'S EDITION OF AWARENESS TIMES FOR THE FULL DETAILS. THIS IS JUST A TEASER.'
Sierra Leone is not ready for a tribal war. Bio must not be given any credibility or respectability.
President Koroma must not engage in any debate with Bio. When Bio decides to be a model citizen and restrains and controls his thugs, the request for a debate between him and the President will be reviewed.