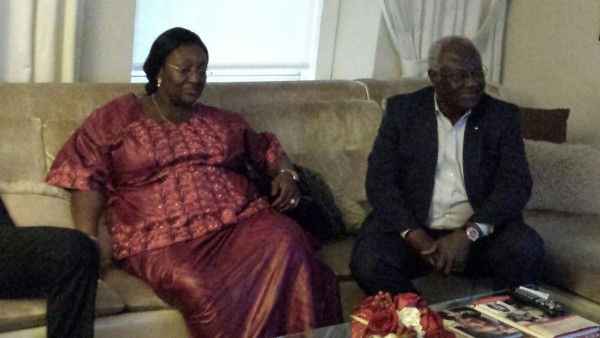 Sierra Leone's President, His Excellency Dr. Ernest Bai Koroma, has arrived in the United States to attend one of the most important United Nations General Assemblies in the history of the international organization.
The President and First Lady Mrs. Sia Nyama Koroma and the presidential entourage were received at the airport   in New York this evening by Sierra Leone's Ambassador to the U.S, Mr. Bockarie Stevens , the Permanent Representative to the UN, Ambassador Vandi Minah and the Head of Chancery of the Permanent Mission of Sierra Leone to the UN, Mr. Alhusine Sesay.
An elaborate welcoming ceremony planned by the diplomatic corps of Sierra Leone in the U.S and party activists and well-wishers did not take place because the President arrived four hours ahead of schedule. However, he was well received at his hotel by members of his delegation already here and staff of the Permanent Mission.
This is a very important session because, apart from all the programs usually addressed by the UN,  the world organization will be adopting and launching the new global development agenda called Sustainable Development Goals ( SDGs ) which will replace the Millennium Development Goals ( MDGs ).
Another reason that this UN General Assembly is very important is that the organization will be celebrating its 70th Anniversary.
We will bring you updates.