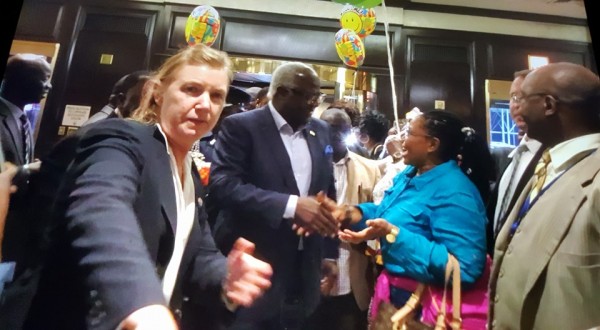 By KABS KANU and PASCO TEMPLE :
PRESIDENT ERNEST KOROMA was yesterday given a stirring , comely and colorful welcome when he arrived in New York to attend the 71st Session of the UN General Assembly.
Scores of supporters, well-wishers and members of the New York, New Jersey , Georgia and Washington DC Chapters  of the APC stormed the President's hotel to welcome him. He was also  presented with a bouquet of flowers and widely cheered off by the welcoming throng when he stepped into the lobby of the hotel.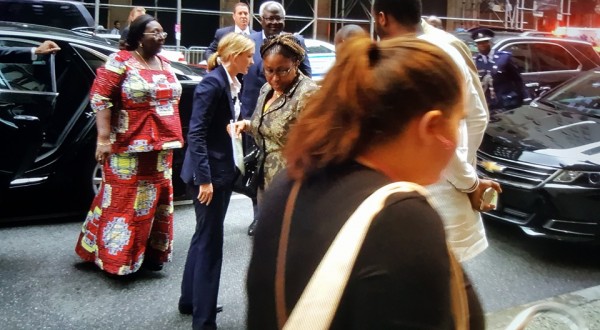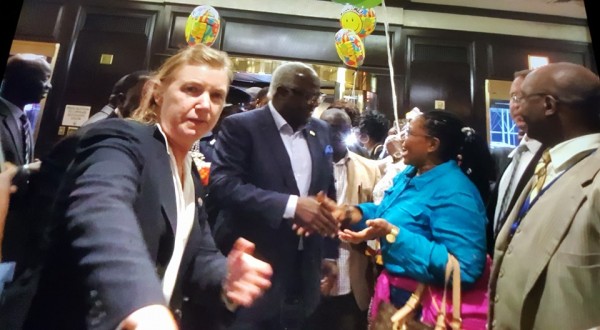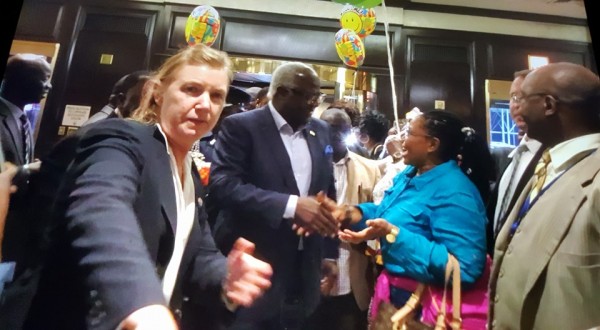 The President, who was in a very hearty mood, greeted and joked with his supporters . His popularity is never in doubt wherever he goes. It was fascinating that President Koroma knew either the names of supporters and party members or remembered them enough to share jokes with them about one or two humorous matters about them . He once again demonstrated the amazing quality of the politician with a personal touch with his supporters. He is really the man of the people.
President Koroma 's suite upstairs was jammed with supporters and he took the opportunity to engage in photo-ops with them before he even had time to rest.
President  Koroma has a jam – packed program which includes high-level and side events within the margins of the General Assembly.
This morning, the President and the First Lady will attend the welcoming reception in honor of Heads of State and government, Vice-Presidents and Crown Princes /Princesses and their spouses hosted by the Secretary General of the UN, Mr. Ban Ki-Moon, and his wife, Mrs. Ban-Soon-Taek.
President Koroma will then attend the General Debate at the UN General Assembly Hall where U.S. President Barak Obama will be the second speaker of the day.
Another program the President is expected to attend includes the ECOWAS Heads of State meeting requested by the Chair of ECOWAS, President Ellen Johnson -Sirleaf who will be giving a briefing on developments on the situation in Guinea Bissau.
In the afternoon, there will be a luncheon in honor of the Heads of State and government hosted by the UN Secretary General.
Later, the President will have a meeting with the CEO  of the Millennium Challenge Cooperation ( MCC).
In the evening, President Koroma will attend a reception for Heads of State and their spouses , hosted by President Obama.