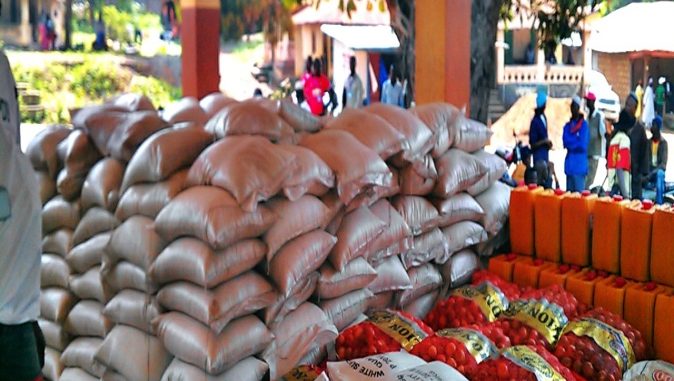 By Gunther Daramy
Sierra Leone's High Commissioner to Ghana, who also doubles as the national Secretary General of the ruling All Peoples Congress Party (APC), has taken leadership in Kamakwei, in response to the clarion call of the President of Sierra Leone (Dr. Ernest Bai Koroma), for prominent people to engage their diverse localities, as part of plans to stem the tide of the ravaging Ebola Virus Disease outbreak, which struck May this year.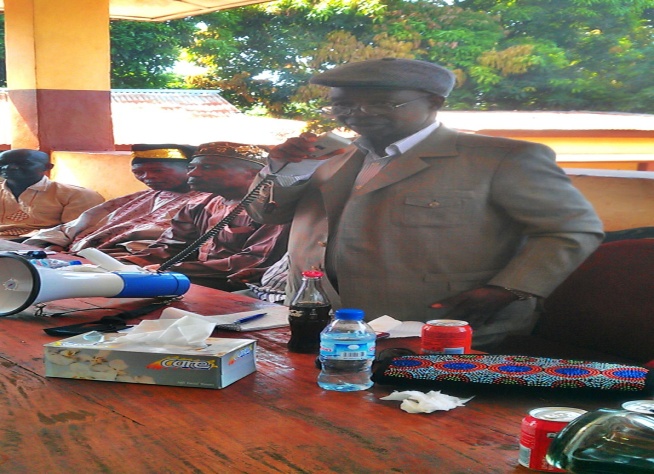 His Excellency Ambassador Osman Foday Yansaneh presented food and non food items. These items include: 300-25KG bags of rice,20 bags of onion, 20 bags of sugar,10 bags of salt,30 cartons of  tomato,10 carton sadine,50 medium batter size  oil,40 carton of 72% soap, chlorines, gloves and 32 hospital beds. He also donated 10 Million Leones Cash to the paramount chiefs of both Sella Limba and Tanbaka Chiefdoms respectively, in order for the items to reach their final destinations.
Ambassador Yansaneh said the Ebola response task forces in these Chiefdoms have been doing extremely well, moving ahead of the plaque. His intervention, he maintained, was to cushion their challenges as the containment of Ebola is off the ability of a single individual. He says both Chiefdoms are dearest to his hearts.
Ambassador Yansaneh disclosed the presentation was done on behalf of his family and friends both home and abroad.
O.F. Yansaneh, as he is fondly called, confirmed his gestures were not unconnected to the clarion call of President Dr.Ernest Bai Koroma for prominent people to take political leadership in their homes of birth. The APC National Scribe noted his Chairman and Leader, [Dr. Ernest Bai Koroma] was speedily taking the country to national prosperity before the infamous Ebola rudely interrupted. Sadly, he fumed, the ominous outbreak had had untold sufferings to the lives of selfless citizens of Sierra Leone.
These category of people, he pointed out, are doctors, nurses and other health care givers.
He added they succumbed to the Disease while they were trying to save the lives of scores of compatriots.
Ambassador Yansaneh said it is sad that the country over seven months of the outbreak can't heave a sigh of relief, urging the need for all to collectively do what they could to break the chain of transmission, and put the scourge behind the country once and for all.
Giving a short but articulate key note address, the Resident Minister North, Hon. Alie D Kamara thanked Ambassador Yansaneh for what he called a timely gesture, conveying to the people in that platform that their son has made similar donations in other parts of the country. He also informed the people of President Koroma's concern to transforming their lives, but soberly noted the Ebola had put serious challenges that had hampered progress. Thus, he encouraged the people to abide by the advice giving by health workers.
Also, describing the APC national scribe's   donation together with government's intervention in the EVD fight, as a clear manifestation that the APC Party and government of Dr. Ernest Bai Koroma is responsible, Mayor of Makeni City Council said she was proud to witness the event as he vehemently echoed, the Ebola can't continue to rage on. Madam Sunkarie Kabba Kamara said the level of effort in the fight so far is not bad but warned it is not yet the time to celebrate.
Host Member of Parliament for Constituency 036, Hon. Roland Foday Kargbo thanked the government for providing ambulance and other utility vehicles. He also thanked community investors that contributed to boost effort of Ebola response. Ambassador Yansaneh's support, he lamented, does not came as a surprise to him as he (OF Yansaneh), he maintained, had been a person with a difference.
Earlier in the programme, PC Alhaji Kandeh Lunsanie 3rd of Sella Limba Chiefdom; and PC Kandeh Sorie 3rd of Tanbaka Chiefdom individually appreciated the donation among other eminent speakers that share the similar sentiments.