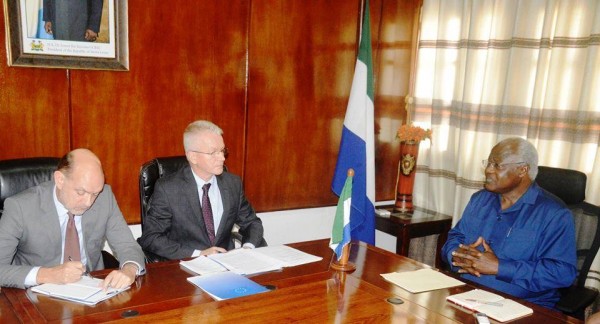 By State House Communication Unit
FREETOWN, Sierra Leone, Monday 15 February, 2016// – A high powered delegation of the European Union led by Peter Versteeg paid a courtesy call on President Dr Ernest Bai Koroma at State House this morning. The aim of the meeting was to update and review Sierra Leone's development programmes since their last political dialogue in May 2014.
President Koroma commended the European Union for its remarkable support in defeating the unprecedented Ebola epidemic which struck the country almost two years ago. He said 8government is now equipped, capacitated and prepared to respond appropriately to any spike or future outbreaks of the disease. He also reported that government has made significant progress in the implementation of the 6 – 9 months post-Ebola recovery plan and working on rolling out the 12 – 24 months programme. President Koroma pointed out that a DEPAC meeting was held to enhance effective delivery of the programme through effective implementation and collaboration between implementing partners and the government.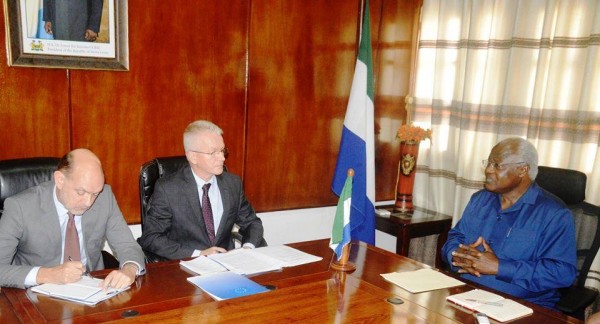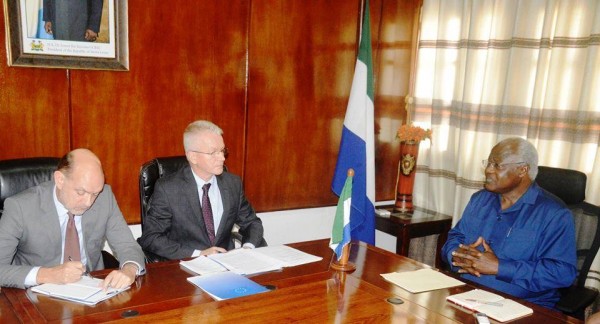 Further updating the delegation, the president informed that Statistics Sierra Leone has concluded the 2015 Housing and Population Census and its preliminary results which will be out next month will be used by the National Electoral Commission (NEC) in the boundary delimitation and in preparing the electoral calendar for the conduct of 2018 presidential and parliamentary elections.
On Human rights, he said, government has successfully presented its Universal Periodic Report, and stated that government remains committed to the fight against corruption, empowering the Anti-Corruption Commission with prosecutorial powers and authority, giving the Audit Service the capacity and enabling environment to function, Parliamentary discussion of reports to enhance accountability and transparency for actions taken appropriately. He expressed hope that the dialogue will serve as a forum to strengthen collaboration between government and its partners.