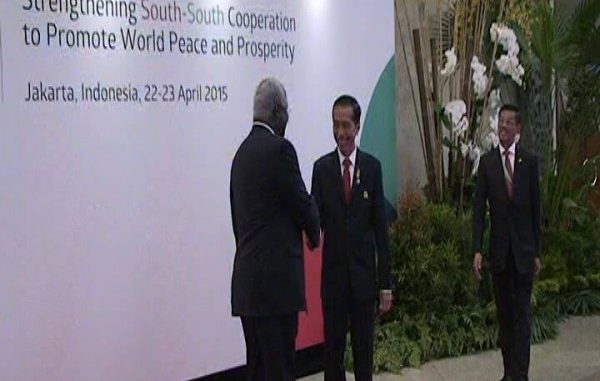 Statement by His Excellency Dr. Ernest Bai Koroma,
President of the Republic of Sierra Leone
at the Asian African Conference
– Jakarta, Indonesia
April 23, 2015
Co-Chairs
Your Majesties
Your Excellencies
Distinguished Leaders,
Ladies and Gentlemen
We deeply appreciate the hospitality accorded our delegation by the government and people of Indonesia. This is a country that towers in the annals of South-South cooperation. And it is here, in this very country, in Bandung, that leaders from all over the global South stood firm to announce to the whole world 60 years ago that South-South cooperation was a nobler proposition; and that South-South cooperation would yield bigger dividend for our peoples' aspirations for political independence, economic development and social advancement.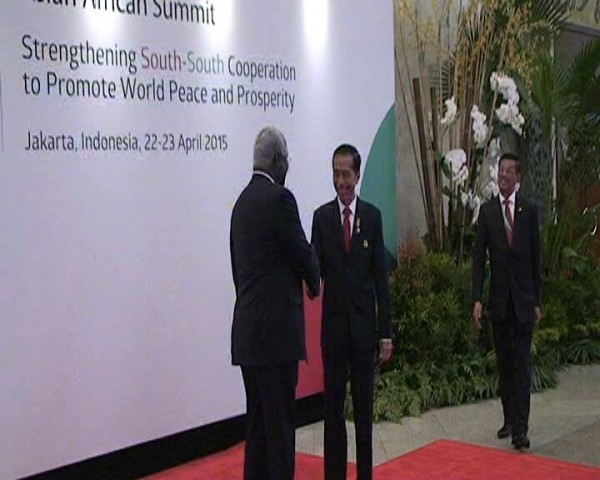 Today as we remember the towering stance of the leaders of that generation, let us also be reminded that what they ultimately stood for is relevant to the emerging issues of today.
They stood for a greater voice for the people of the global South; today that greater voice should be integrated into the reforms of the United Nations, and Africa seeks the support of Asia for greater voice in the United Nations as espoused in our Ezulwini consensus and Sirte Declaration. That Africa, with 54 members does not have permanent representations in the Security Council where over 70% of issues discussed relate to Africa is a grave injustice that must be redressed, and we seek Asia's support to redress this wrong. As Chairman of the Africa Union's Committee of Ten on the Reform of the United Nations, and on behalf of all Africa, I call on our friends in Asia and the global South to stand with us on this most important position for our continent.
The Bandung Generation stood for peaceful negotiations of disputes; today the world is in dire need for peaceful resolutions to conflicts in the Middle East and Africa, and for solidarity against terrorism, which today constitutes a foremost threat of violence against ordinary people in Nigeria, Mali, Kenya, Syria, and Iraq. We note that criminals and terrorists would want to use anything close to them to do evil and legitimize their crime. I call on nations gathered here today to resist criminals who would want to use the divine and peaceful religion of Islam, or the noble ideals of liberation to kill and maim the innocent. We must urge our religious, cultural and intellectual leaders to continue to teach the eternal values of tolerance and peaceful co-existence.
Today, we are also witnessing the increasing virulence and quicker spread of diseases that threaten the very survival of humanity. From Marburg to SARS, HNI and then Ebola, these viral diseases are no respecter of boundaries. They are becoming diseases of the world, and not of any particular region. Sierra Leone, Liberia and Guinea may be at the battlefront of this current outbreak, but like terrorism, this is a fight for all of us.
With support from your countries, the UN Agencies and the rest of the international community, and the resilience of our people, victory against Ebola is now in sight. We deeply appreciate and thank the countries and international organizations who supported us during these trying times. We are almost getting to zero cases of the disease, but we should not be complacent. The last steps of a journey are often the most tiring ones; but we must continue to march with vigour until we get to zero cases, and we call upon our friends to continue to support this march towards zero cases.
Our economies and societies have been devastated by the outbreak. We are determined to recover from this scourge and build more resilient societies, but we cannot do it alone. We the Presidents of the three most affected countries of Guinea, Liberia and Sierra Leone have drawn up a regional Ebola Recovery plan and we seek your support for it and for the individual national recovery plans which are drawn from this overall Mano River Union Post Ebola Recovery Plan. The major priorities of the plan are firstly, restoring and building more resilient health systems; second, supporting the revitalization of education; third, enhancing social protection for the vulnerable; and fourth, economic recovery through investments in job creation, promotion of private sector involvement in our huge mineral deposits, agriculture and infrastructural development across the sub region. We also seek your support in calling for debt relief for the three most affected countries.
Countries like Sierra Leone, Guinea and Liberia, which were registering remarkable democratic and economic recovery from war now need, more than at anytime, support from countries inspired by the Bandung Generation. We faced similar circumstances, so we know how to ensure the construction of resilient systems in the face of similar challenges.
Coming together to overcome the common challenges at times like this, is at the center of the Bandung spirit. And more than ever before, we invoke these aspirations as we face the challenges of terrorism, climate change, small arms control, reform of the world's financial and governance institutions, defeating viral outbreaks, and building resilient social and economic systems.
But even as we do this, let us be reminded that Africa is a land of great opportunities, a continent that has some of the fastest growing economies in the world, and a continent brimming with great potential for mutually benefitting investments for Asia and Africa. Let us seize these opportunities for new investment partnerships and for redressing Africa's under-representation at the United Nations' Security Council as our way of delivering on the promises of the Bandung Generation of leaders. I thank you all for your attention.
SHCU©2015