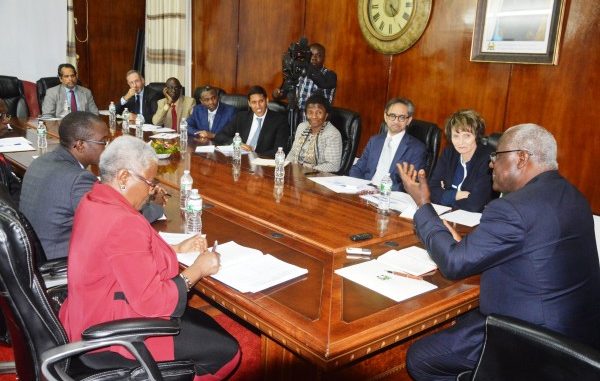 By State House Communications Unit
President Ernest Bai Koroma Tuesday 4th August, 2015 assured a High-Level Panel on Global Response to Health Crisis that the principles of the New Deal and Mutual Accountability framework will be fully adhered to in the implementation of the Post-Ebola Recovery plan.
He gave the assurance during a courtesy call on him at State House, by a delegation of the Panel led by Her Excellency, Micheline Calmy-Rey, former President of Switzerland.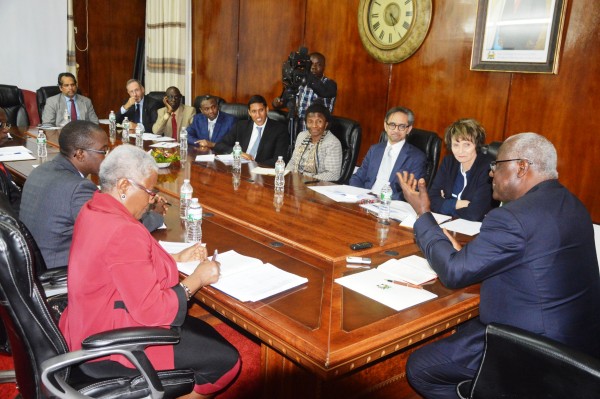 The visit is part of a tri-nation needs assessment tour of health systems of the worst-hit Ebola countries of Sierra Leone, Liberia and Guinea, where the Panel discussed among others, funding for post-Ebola recovery plans, the role of World Health Organization (WHO), governance from national and local authorities, research and development, and accessibility to vaccines for patients.
"As members of the G7, we are all committed to it and we have to see it implemented to the letter," he vowed. He described the issue of accountability and transparency as a serious challenge in the fight against Ebola.
The president revealed that most of the allocations were channelled through NGOs that resulted in difficulties in collaboration and coordination. He encouraged the Panel to ensure proper coordination to minimize wastage of resources.
President Koroma gave a synopsis of the devastating effects of Ebola on the country's socio-economic life and status update insofar as national and international efforts to extinguish the virus are concerned. He urged for quick response in aiding Sierra Leone's journey on the path of recovery, saying if the International community had responded earlier to the Ebola outbreak, more lives could have been saved, and prevent an international crisis of such nature. "So we relied on the advice, direction and motivation of the international community as Sierra Leone did not have the capacity to respond to the disease in the initial period of the outbreak,'' he said.
President Koroma further disclosed that government was able to put the disease under control by the end of January with adequate capacity and trained personnel, increase in the number of labs among other logistical needs that bolstered the fight and brought it under control. The president said government's main focus is to build a robust health structure with a national character as NERC and the DERCS, cascading it to community levels to enhance ownership and participation. He highlighted gains recorded in the implementation of the free health care, rolled out in 2010 for pregnant women, lactating mothers and children under five.
He underscored the magnitude of the disease and the timeliness of the responses, pointing out that hundreds of lives have been lost to the disease.
The Head of State went on to note that government had prepared post-Ebola recovery priorities to get the country back on its feet, and informed that a team has been put together for the implementation of the recovery plan. He reminded the Panel of pledges made in New York and in Malabo, noting the timeliness of the interventions to assist in the recovery process.
Ms. Micheline Calmy-Rey on behalf of President Jakaya Mrisho Kikwete of Tanzania said they were in the country to have firsthand knowledge of funding gaps, governance from local authorities and the role of World Health Organisation, and looking at Ebola beyond health issues, research and development as well as accessibility to health priorities