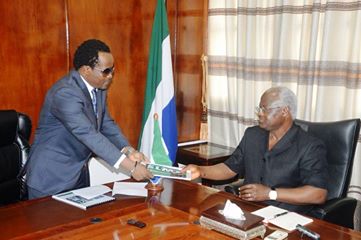 By State House Communications Unit
At a meeting with representatives of the Sierra Leone Music Federation, President Ernest Bai Koroma Wednesday 28th January assured the federation of government's continued support to creating the enabling environment for the Arts and Music sector to flourish.Welcoming the delegation, the president expressed appreciation to the federation for their tremendous role and relentless support toward the fight against the now waning disease, adding that members of the federation went on nationwide social mobilization for community involvement, understanding and acceptance of precautionary messages through songs and movies. He pointed out that Ebola can only be defeated through public ownership and personal responsibility induced by effective social mobilization.Commenting on the proposal by the federation, President Koroma indicated government's determination to promote the great talents and potentials possessed by members of the federation so they can realize their God-given talents and attain stardom.

According to the president, government has put in place the required legislation and will ensure structures and measures are put in place to give effect to the implementation. This, he said, will enhance the achievement of the expectations that will take these talents to the international level.
Moving forward, he called for continuous engagement stating that the industry could be pivotal in the transformation of the country. President Koroma also underlined the need to start addressing development and transformative issues that will positively position the country on the international map once more, particularly when the country is now approaching the end of the outbreak.
The Chief Executive Officer of Paradise Films Mr. Jimmy Bangura, speaking on behalf of the federation, thanked President Koroma for his continued interest in the future of the music industry. He said that Sierra Leone was wasting a marketable, untapped and renewable resource that could be generating significant revenue and employment among the youth.
He maintained that the lack of structures, support facilities, unfettered piracy, music scenes and recording studios hamper their collective ability to compete internationally. As a federation, he noted that their mission is to position Sierra Leone artists to tap into the growing African and international music market, adding that they need an active partnership with government that will rebrand the country as a place of hope, resilience, dynamism and a viable economic sector. He proposed a commission or a new ministry of Arts and Entertainment to promoting Sierra Leonean music as a specific brand to moving the industry forward.Forming part of the delegation were Naaser Ayoub, Abu Bakarr Konteh aka DJ Boxx, Mutala Mohamed Kamara, Milton Koker aka Colabo, Lansana Sheriff alias Steady Bongo, Master Bitustex, Didi Abu of Cassette Sellers Association among others.
©SHCU 2015