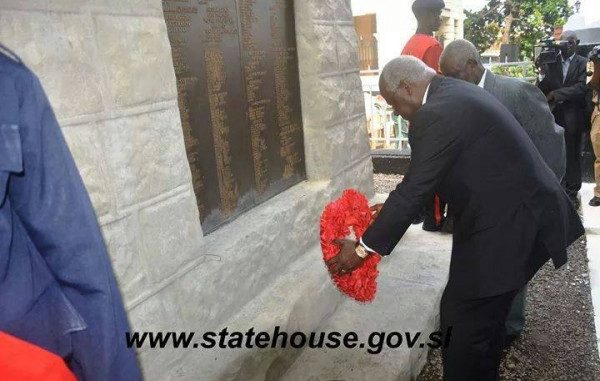 President Ernest Bai Koroma attended this morning the 67th Remembrance Day service at the Cenotaph to remember before God all who have died in the cause of Freedom, Justice and Peace.
The president laid a wreath at the base of the Cenotaph followed by the Speaker of Parliament, the Chief Justice, the Dean of the Diplomatic Corps, the Mayor of Freetown and Chief of Defence Staff.
Tributes were paid to the soldiers and all those who have died in the course of protecting humanity.
The ceremony was held at the Secretariat Building, George Street, Freetown today Sunday, 9th November, 2014 in remembrance of the Fallen in the 1st and 2nd World Wars and the Rebel War in Sierra Leone.
It would be recalled that on 28th October the president launched the commencement of poppy week where he noted that this year's commemoration is not a normal one as the country is right in the middle of a bigger fight against the horrific Ebola virus disease (EVD). He described the current state of affairs as a trying moment in the country's history.
President Koroma also stated at the launch of poppy week that despite the current crisis the Fallen still deserve to be remembered because of their supreme sacrifice for universal peace and democracy, during the rebel war and the pivotal role currently being played in peacekeeping missions to promote democracy in other African countries. He noted that their commitment has been a source of motivation and inspiration for Sierra Leoneans.
It is worthy to note that 11th November marks the end of the 2nd World War and therefore the right day to commemorate Remembrance Day each year. But it can be observed on the Sunday closest to 11th November, especially when the date doesn't fall on Sunday.
SHCU 2014